"Once in every" month, you see one of more shows that astound you with their quality and impressiveness. Hardly a surprise with the talent in the city of Manchester but when you attend, with an open mind, not knowing anything about the show or having any preconceptions the pleasure of seeing such a spectacle unfold is more enjoyable. This stands for NK Theatre Arts' latest offering of the ("lovingly ripped off") Monty Python and the Holy Grail musical adaptation for stage "Spamalot".
Based on the story of King Arthur, a king named Arthur (Darren Stannage) seeks to find knights to sit at his very very very round table, before being sent on to hunt for a cup given the name 'The Holy Grail'. On the way he meets such nights and is forced to find a shrubbery for the Knights of Ni (of those formerly known by that collective) as well as enduring a demon rabbit puppet missioned to guard the way to the French empire (also guarded by Jake Ridgeway and Ian Speak who are taken my surprise by a giant wooden rabbit that the knights are 'supposed to' jump out of).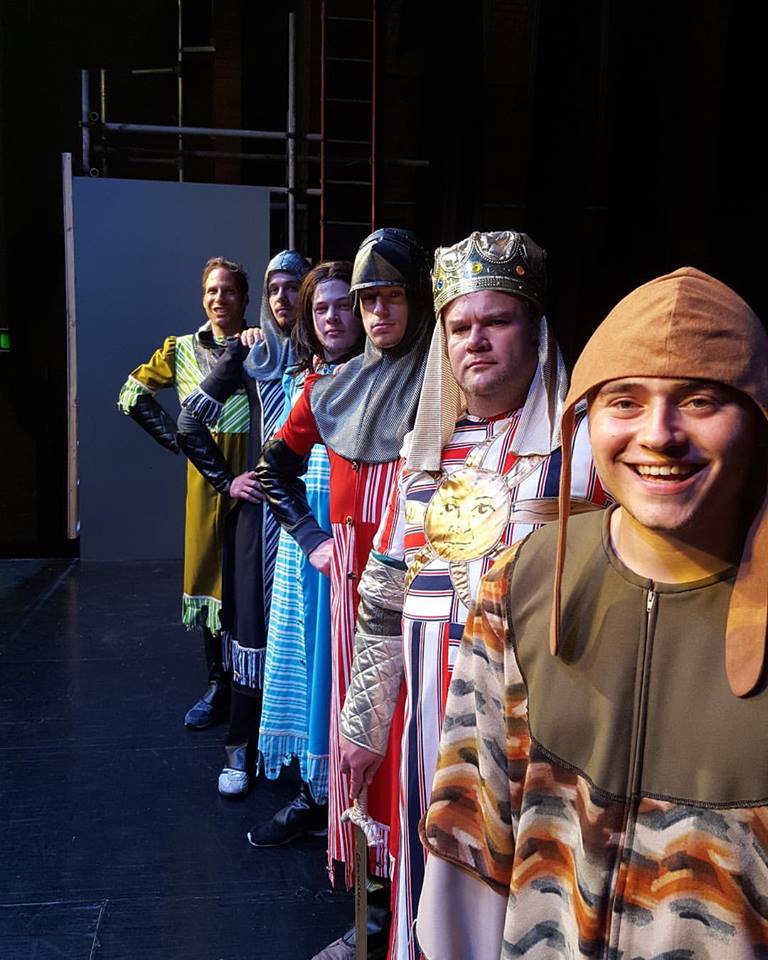 A script of utterly pointless nonsense, but well-structured and entertaining, this show is very much a tongue in cheek of the musical 'Camelot' and the typical Broadway musical, and America (which an original member of Monty Python threatens to invent), in that there are 'Laker Girls' who turn into 'tappers' and generally over the top, camp and big song and dance numbers, well choreographed and directed by Hannah Gorst.
With "King of the Britons" (Darren Stannage) at the helm, the show instantly makes impact, helped I guess by the overture and the 'Historian's Introduction' (presented with confidence and articulation by Owen Wilson). Alongside him (He's Not 'All Alone') is his trusty Patsy (Tom Leonard) who carries his "heavy load" and is, in sound and nothing else, his steed. After a song about England, not Finland!, the knights in which they meet and gather up along the way include two who have a debate about species of sparrows, from their respective towers; namely Sir Robin (Michael Shneck, who also plays Brother Maynard) who bears a 'dirty habit' and Lancelot (Joe Gallogly, who also portrays the Scot Tim). who we gorgeously see plenty of in what has to be my favourite part of the show (other than the inclusion of the line "can we go to Wythenshawe").
Bedevere (Luke Viney), who also has a habit of letting things out, and "Dennis" (not Thomas or Neil/Kneel) Galahad (Ben Mackenzie) complete the 'round' up. We also meet Dennis' mother (Terry Halliday) and, of course, the impressively-voiced diva Lady of the Lake (Nickie Simms), whose duet and solo are highlights, along the way. As well as an ensemble of "Not Yet Dead", we are given the 'honour' of meeting young sexuality-battler Herbert (Jake Martin) - and his father (Martin Thorpe) - who sends a letter-bearing arrow through the heart of Lancelot's sidekick Concord (Jay Dodd) in the hope to lure the knight to his rescue ("Where Are You?/Here Are You!"). Upon revealing the true colours of Sir Lancelot, the campest song off the show commences to my much enjoyment.
With other characters being doubled up, the talents and pride of this award-winning group are clear. This is also evident, and contributes to the show and enjoyment of the audience, through the ad libs and reactions to the audience and their reactions. I have no doubt, from the standing ovation ("always face the audience with a bow"), that the audience thoroughly enjoyed what they saw and heard and I am sure any first-timers to the Monty Python institution and NK will seek out both and be firm fans.
"Some things in life are bad, they can really make you mad, other things just make you swear and curse". This doesn't. But if you do miss the opportunity to see this you'll have to "Run Away" or "Look on the Bright Side of Life" that they will continue to perform shows of such scale and quality, even with the unsung scaffolding stalwart. It was nice to applaud the programme seller (Jenni Wallis) and stage hand (Kat Bond) during "All Alone". Well done to all involved. Showing until Saturday. Just be careful where you sit!
Reviewer: Chris Oatway
Reviewed: 23rd September 2016