A Delightful and Entertaining Production
First published in 1902, The Hound of the Baskervilles was a return to the story of Sir Arthur Conan Doyle's famous sleuth, Sherlock Holmes, after an 8-year hiatus although this story is set before the latter events of his 1893 story, 'The Final Problem', when Holmes was apparently killed off. The story behind this play, adapted for the stage by Tim Kelly, draws from the legends and supernatural folklore of Devon and Dartmoor where the play is set.
Rainhill Garrick Society are faithful to the period setting under the direction of David Parker as amid howls and drumbeats, that humorously morph into the Mastermind theme for the opening scene, the curtains part to reveal the drawing room of Baskerville Hall in which both acts (three scenes in each) are set. We are introduced to the curse of the Baskervilles as Lady Agatha Mortimer (Margaret Brown) reads from an 18th C manuscript, through voiceover, the history of the mysterious hound that did for Sir Hugo Baskerville and his descendants ever since. Soon on the scene are an excitable Dr Watson (Rick Young) and the sleuth himself, Sherlock Holmes (George Lowe), as we learn of the demise of the latest family member, Sir Charles Baskerville, apparently frightened to death, and the recent arrival of the next-in-line, so to speak, Sir Henry Baskerville (Richard Parker), all the way from the Americas and the only known heir.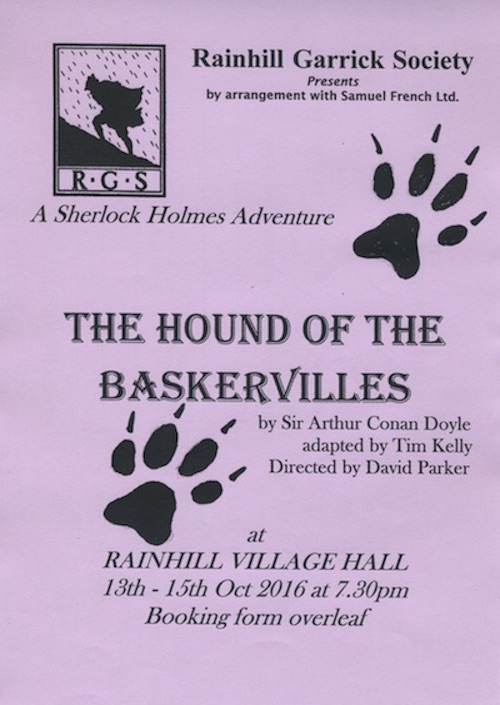 But Holmes has other more pressing matters in Bristol and London and departs to leave his faithful but not so bright assistant Watson in charge of the safekeeping of Sir Henry. He is supported in this by the servants in waiting as we meet the appropriately disdainful Barrymore (Rob Williams) and his wife, Mrs Barrymore (Ruth Proffitt), who are responsible for the upkeep of the hall but who, having been left a significant sum in the will of Sir Charles, now seem somewhat keen to depart. They are assisted by a young maid, Perkins (Sophie Brogan), who hails from the local village and is armed with all the gossip on recent events. The one thing that Sir Henry has not been saved from is Cupid however as we meet his love interest, Kathy Stapleton (Lucy McEllin), and her initially hostile to the match brother, Jack (Tim Evans).
Watson bumbles around, ever keen to jump to every conclusion possible, as he uncovers details of an unseen neighbour, Mr Frankland, and unearths the surviving fragment of a burned letter addressed to Sir Charles and mysteriously signed 'LL', and which refers to meeting on the very day and in the very place and time that Sir Charles met his demise. It transpires that the letter is from Frankland's estranged daughter, Laura Lyons (Alison Mawdsley), a divorcee left penniless by her father for marrying a wayward man without his approval and to whom Sir Charles had been providing financial assistance.
And so the scene is set for a delightful combination of suspense and horror, with some healthy doses of humour thrown in for good measure, as we try to make sense of all these strange goings on. But Holmes is never far away as plot diversions are cleverly unravelled and much is not as we were first led to believe – no plot spoilers though, go and see it, you will not be disappointed.
All of the cast are regular members which was evident in their on-stage chemistry. Lowe and Young played off each other perfectly as Holmes and Watson, and Williams captured the enigmatic Barrymore to a tee. Parker stood out with his exquisite Sir Henry, complete with a soft American accent that suited his gentler approach to this character, in contrast to the brashness reflected nowadays, and which made the 1930's setting for the play all the more believable.
Much credit as always to those front of house and back of house in delivering this production although this is the first time I have seen Gerald Walker off-stage and I look forward to seeing him perform again soon. The set design and construction (Parker/Williams) showed great attention to detail including the backdrop to the moor through the working French doors. Superb stage management & lighting (Rosetta Parker) and sound effects (Lynn Aconley) created great suspense at the conclusion of each scene and left the audience 'oohing' and 'aahing' as well as jumping out of their seats on occasion, yours truly included. As one audience member noted to me at the end, 'they never let you down this lot'. Never a truer word said.
Rainhill Garrick Society was formed in 1942 and the Hound of the Baskervilles is their 226th production. They are actively seeking new members – they meet Tuesdays and Thursdays at Rainhill Village Hall – and have now confirmed their forthcoming productions for the season which include James & the Giant Peach in January; Sleuth by Anthony Shaffer in February; and a Farndale 'Murder Mystery' in May. For further information on their productions or to get involved then visit their website http://rainhillgarrick.co.uk/
The Hound of the Baskervilles plays at Rainhill Village Hall on Friday 14th and Saturday 15th October 2016, both starting at 7.30pm. Tickets are available at Rainhill Village Post Office or by calling 01744 813 429.
Reviewer: Mark Davoren
Reviewed: 13th October 2016