Tonight, Meighan Youth Theatre Productions (MYT) presented us with an evening jam packed full of songs from a total of 29 different musicals. There was no MC, just performance after performance with no pause in between songs (very smoothly done I have to say).
There were many songs sung as solos – the first of these being "Heaven on Their Minds", performed by Jackson Hayes. What a powerful voice and commanding presence he has. You could really feel his anger coming through in this performance and he conducted himself with confidence and self-assurance.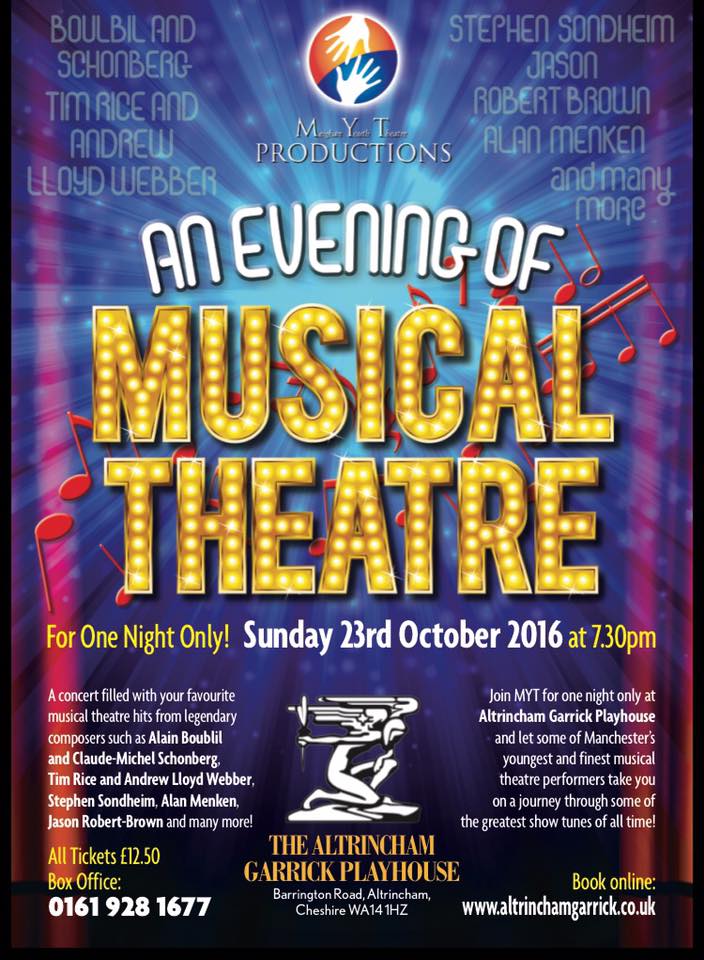 I very much enjoyed Rianne Kerry's performance of "Ireland". I don't know the song and really, it does help to know the musical and the song to get a feel for it but Rianne held my attention with her excellent voice and good portrayal of the humour in the song. I could also hear every single word she was singing very clearly.
An absolute stand out number for me tonight was "Old Red Hills Of Home". I saw 'Parade' at Hope Mill Theatre earlier this year (twice) and tonight's rendition of this song sent shivers down my spine. Sam Bate's and Chris Wagstaff's voices were perfect for the solos and then when the ensemble joined in, it was absolutely mesmerising. This song showcased the ensemble at their very best. It was powerful and it was moving. I think this would have been a good way to end the first half as some of the impact of it was lost as we quickly moved on to the next number.
"Send In The Clowns" which was sung by Kat Rawling was another stand out moment. It was stripped back with just a piano accompaniment (beautifully played by Ruairi Leonard) and Kat's voice was pure and perfect for this song. She had the audience in the palm of her hand. She was very exposed as there are some long instrumental moments but she filled the silence with her stage presence excellently and the whole piece was quite captivating.
Chris Wagstaff's rendition of "The Music of The Night" was the best amateur version of this song I have ever heard. He instantly put me in mind of John Owen Jones (who for me, is THE Phantom of the Opera). He gave the song the emotion and passion that it demands and his performance, as well as his singing, was pitched perfectly.
The first half ended with "One Day More" which the whole ensemble performed and it was rousing and a good choice for the final song of the first half. I found myself drawn to watching Jackson Hayes again – his voice was startlingly powerful and he is a pleasure to listen to and watch, his face conveys so much of the feeling of the song. I also enjoyed watching Harry Jackson who is one of the most expressive performers I have ever seen. He just does not stop performing for a second!
Chris Wagstaff gave another sterling performance, singing "Out There". Although I didn't know the song, his performance carried me through it and captured my interest and held it. He just knows how to harness the depth of emotion in everything he sings.
Lara Hancox virtually had everyone in tears when she sang "With You" - I have seen 'Ghost the Musical' twice and this song has never particularly moved me...until tonight. When you thought she couldn't possibly give it any more emotion, she found more and it kept on coming.
One song which wasn't in the programme was "Any Dream Will Do" - I felt that this was a little underperformed as the cast stood still and I didn't spot a single smile from any of them. For me, this made it feel a bit flat.
The comedy for tonight came through in "Let's Hear It For The Boy" - Harry Jackson came into his own here with comedy dancing and fantastic facial expressions. This was also evident in "I Wish I Could Go Back To College" - Harry made me laugh a lot in this but so did everyone else, it was acted brilliantly and was so entertaining to watch.
The show ended with "Take Me To Heaven" - personally I would have preferred a more well known song for the finale but it was upbeat and fun everyone was clapping along.
On the whole, the ensemble numbers were very well done indeed with some stand out moments. I did feel, however, that some of the ensemble songs didn't showcase the cast to their best, whereas others really highlighted the talent in this company. The pitches of some of the non-ensemble songs didn't always suit the chosen performer and on occasion, there were a few tuning issues but they didn't detract from the passion and enthusiasm of each and every person on that stage. They all perform and conduct themselves very professionally and what shines through most of the time is that the performers are loving what they're doing and having fun: this was particularly evident in "When I Grow Up" and "I Wish I Could Go Back To College".
An observation I would make is that sometimes when all the cast are singing together, not everyone finishes singing at the same time which gives it less of a clean, crisp finish. This could possibly be because the Musical Director was behind them and not in an orchestra pit.
The band deserve a mention of their own: they played on stage at the back and the music was performed excellently, adapting from one musical style to another with ease.
There were several very well known songs performed tonight but there were also a lot which I believe are more obscure and I did feel the show was lacking in more classic songs. Whilst I appreciate that there is more to musical theatre than West Side Story and Grease, the songs from those productions and other more long-running shows are known by almost everyone and very well loved and appeal to all ages. That said, although I enjoyed some songs more than others, that is my personal taste and does not reflect on the performance of all involved. Well done, MYT. Now go and have a lie down in a darkened room, you've earned it!
Reviewed by: Nicky Lambert
Reviewed: 23rd October 2016