Life & Beth is Alan Ayckbourn's 71st play and is the final of his three "supernatural" plays, preceded by Haunting Julia and Snake In The Grass (It merges the all-male cast from Julia and the all-female cast from Snake) and it's a light and whimsical tale covering the certainty of death and the continuity of life.
After 33 years of marriage, Beth (Joan Duffin) has come to except the death of her overbearing and conceited husband Gordon (Jon Comyn-Platt), a health and safety officer who had an uncanny knack of having accidents. Over the course of a family Christmas we discover that she is the only one of her family that has truly accepted, with some relief, his death.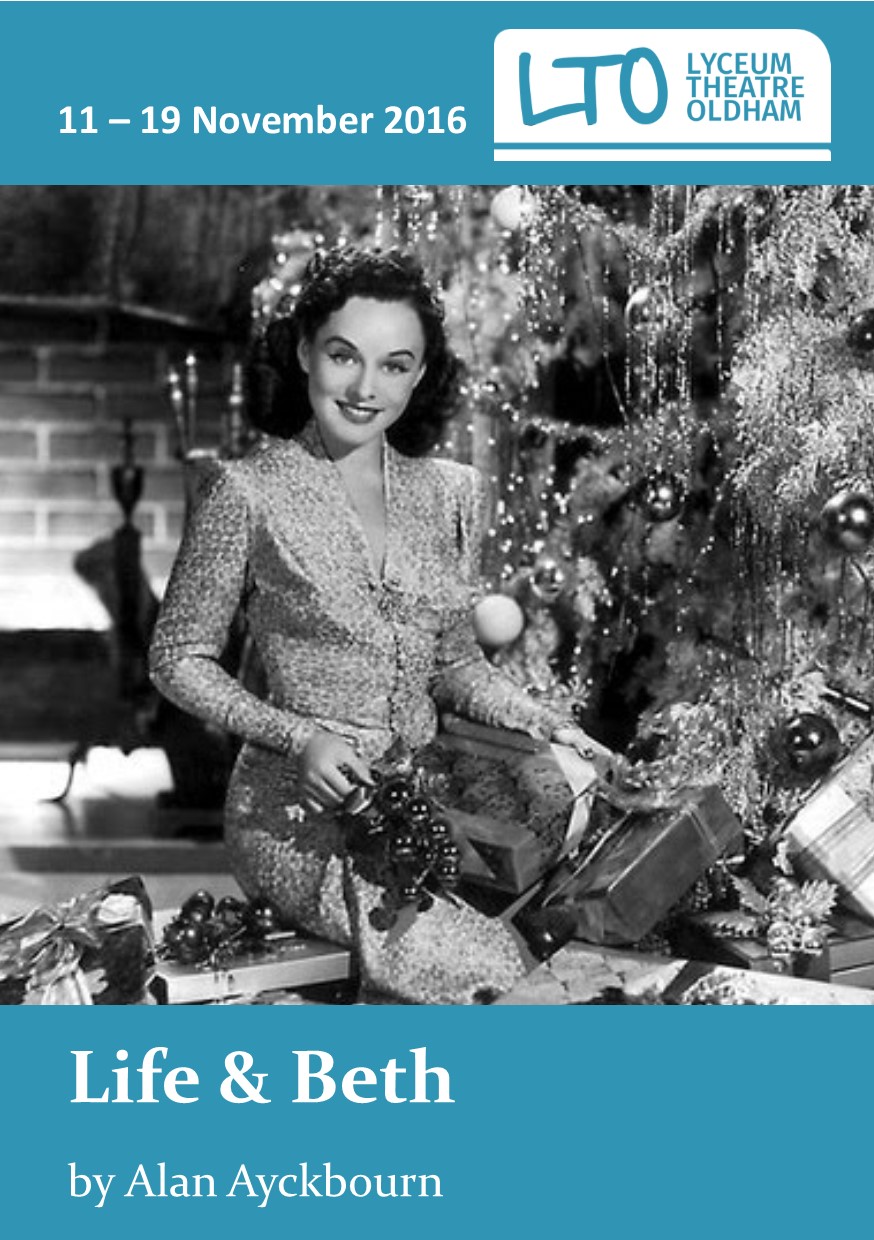 The story is set within the living room of a semi-detached house, owned by this middle class family, as they gather together over two days, Christmas Eve and Christmas morning.
It is within this setting that we are introduced to Beth and her drunken, self-pitting sister-in-law Connie (Pauline Walsh); her selfish son Martin (Richard Parker) who is an unfortunate replica of his father; his sullenly and silent girlfriend Ella (Helen Dawson) a cordon bleu chef and the local Priest David (John Rhodes) himself recently bereaved.
This comical and touching ghost story follows Beth through the emotional damage wrought by her infuriating husband legacy and the return of his ghost.
Just as the 'put-upon' Beth starts to embrace a brand new independent life, she is confronted by Gordon's' Ghost who continuing to subjugate her, just has as had when he was alive; he is revealed to be a rather pedantic and tedious man.
The main theme of Life and Beth is subtle, emotional control over others through insensitivity and bluntness. It is Beth who eventually shows that you can ultimately triumph and as the Priest gushes "accentuate the positive, eliminate the negative". You are left feeling optimistic.
Directed effectively by Ian Orry who provided some fine touches. It is Pauline Walsh who has the best part and demonstrates how to handle comedy with some good sharp repartee. This is nicely counterbalanced by Joan Duffins' subtle character acting. Richard Parkers delivers a confident and energetic performance with some lovely character nuances.
However, it should be stated the whole cast work really hard to bring to life, what at some points felt like a predictable 70's Sitcom. Even if the play lacks some flare, this observant and cosy farce is life affirming.
Reviewer: Mike Neary
Reviewed: 11th November 2016