Godspell, as you might expect, is a Musical about the spell of God... in fact, it is based around the parables found in The Gospel According To St. Matthew, with particular reference to Jesus's last days on earth and his crucifixion. However, if Andrew Lloyd-Webber can do it and get away with it, then why shouldn't Stephen Schwartz.
Godspell was written in 1971, and as the music, dialogue and book attest, it comes towards the end of America's hippy, flower-power days and points towards (musically at least) something a little more rock. However, don't let the title or the story put you off. You don't have to be a Christian, or even remotely religious to enjoy this Musical. It is a story, just like any story, with good and bad characters just like all stories, and the overall message is one of peace, love and inner truth, told in the most innocent and feel-good of ways.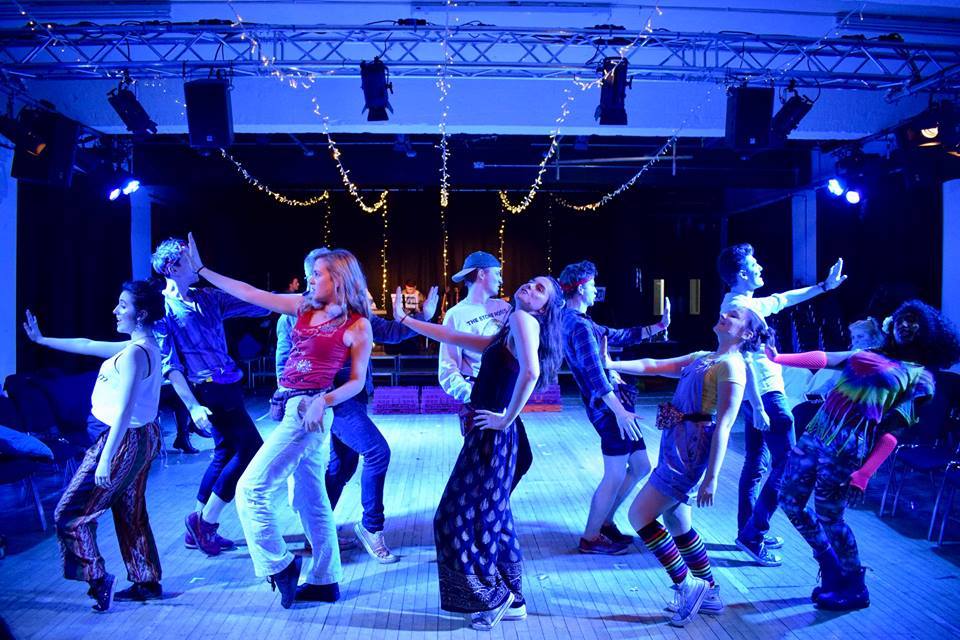 In this particular production, by UMMTS (that's The University Of Manchester Musical Theatre Society), director Madeleine Brooks stayed very close and very true to the original concept, and with a seemingly hand-picked group of performers, brought this Musical very much to life. It was a winning formula indeed. This was easily the most competent, confident, complete and mature production I have thus seen from this society, and, after having directed this Musical twice myself and seen countless other incarnations, it was also one of the most enjoyable, fresh and alive productions I have seen.
The trick is to utilise young, multi-talented actors and actresses (tick); inventive, creative but never overplayed direction (tick); keep the narrative simple and clear (tick); use an uncluttered stage (tick); have strong choreography and wonderful harmonies (tick); and you can't fail.
The Musical has a notoriously difficult opening number, and is very slow to get going because of it; hence why in most professional tours of this show, it is cut. However, here the society chose to keep it in, and credit to Brooks here for somehow she certainly made it work and made it feel like a natural part of the show, not something that was added later, as an afterthought (as indeed it in actuality was!).
To learn after the show was over that none of the cast were older than 21 was also quite something. Not only do these students come from all different schools within the university - very few of them are actually music or drama majors - but they are all also still very young, and yet the cumulative talent amassed on stage this evening was really quite astonishing.
The role of Jesus was played with quiet ease and calm, by the most personable Dom McGann, bringing with him a serenity to the proceedings but never losing his sense of fun. I do feel he could have given more anger and become much nastier in the dialogue lead up to 'Alas For You', but otherwise, this was a solid and totally believable performance. Playing opposite him as Judas (and John The Baptist at the start) was a young man with a beautifully sonorous deep singing voice, and excellent stage presence, Jordan Jones.
The ensemble, a further 9 performers, were just that, an ensemble. This show is a complete group effort and if there is even one weak link, then the whole show falls down. There was no weak link, not even a slight crack. These 9 and the other 2 too when required were as tight a group as you could possibly get, and all had their moments in the spotlight too with solo songs etc. However, allow me please to just highlight a couple which for me, were the absolute highlights of the show...
First to make me sit up and beg was 'Bless The Lord'. This was excellently choreographed and performed, and the girl lead singer, Becca Hatch, was stunning. Her acting throughout the whole show was focused and intelligently portrayed.
Second, the young man to start off the singing in 'Light Of The World', Tom Carswell, is a natural born comedian; his timing and physicality know no bounds, and was an enigmatic, essential, and highly talented addition to the cast.
And third, 'By My Side' was simply the best I have ever heard it. It gave me goosebumps and a lump in my throat.(Catriona Darroch and June Lau) It has always been one of my favourite numbers from the show due to it's simplistic but emotive power, and it being the cathartic moment for the show's protagonists; but never have I heard it sung (and acted) quite so beautifully.
Of course, it was opening night, and a couple of things didn't quite work as well as perhaps they could have. The lighting was late on some cues, and the drummer was over-zealous in his reprimanding of the drums; and I would have appreciated a tap dance for Learn Your Lessons and more Fred Astaire flair in All For The Best (but those are just personal preferences); but on the whole, this was a highly intelligent and excellently measured interpretation of the Musical, with the comedy and fun element high on the agenda, making the ending all the more plaintive and sorrowful.
Aine Mallon (singing Day By Day and excellently focused acting); Georgia Brown (singing Turn Back O Man and playing the flute solo); High Summers (singing All Good Gifts ); Anuli Changa (singing Learn Your Lessons Well); and Tyler Holland (singing We Beseech Thee with flair and aplomb) complete the talented ensemble.
Godspell runs for three nights only, and with limited capacity, get booking now, it guarantees a wholesome and entertaining evening out which will have you laughing loudly and coming away singing the tunes! What more could you ask for?
Reviewer: Mark Dee
Reviewed: 17th November 2016