Well if I had a pair of ruby red slippers, I'd click my heels together three times and wish to be back in Z-Arts on the opening night of MYT's production of The Wizard of Oz.
This is an enchanting, funny and heart-warming production, performed to the optimum level of professionalism by an unbelievably talented company. Seriously – if you don't go and see this show before it finishes on Saturday 17th December, you will have missed something absolutely wonderful.
Sadly, tonight's audience was low in number and I felt so sorry for the cast who deserved a packed house to play to. None the less, they gave it their absolute all and the audience were very appreciative.
The set is done imaginatively with a raised series of platforms which are present for the whole show. This means that the cast have to constantly navigate it, climb over it and walk round it, but they handled it with aplomb and style and literally took it in their stride.
Tara Kitson as Dorothy totally captures the wide-eyed, wholesomeness of the character. Dorothy is the 'straight man' out of the four main characters (Scarecrow, Tin Man, Lion) and so doesn't have a great deal of humorous lines but she gave an excellent performance and her singing voice is beautiful. Her rendition of "Somewhere Over The Rainbow" at the beginning was compelling – and it takes a great deal of confidence and assurance to sing on your own as she did.
We had a real life Toto – tonight played by Angus. I realise that Toto is an integral part of this show and it can't be done without him but I was quite distracted as I was concerned that Angus wasn't happy being picked up and held so much and was clearly happier when he had all four paws on the ground. Possibly there could be some very slight adaptions made so that he isn't being held for the majority of the time?
Lara Hancox takes the role of The Wicked Witch of the West and wow, is she scary! She is so wicked! She plays it in a way that would rival Margaret Hamilton, the Witch in the 1939 film and oh, the screeching and the cackling laugh! She has really got that down to a tee. I hope her voice can sustain it until Saturday, I wanted to pass her a soothing throat lozenge!
The Munchkins are hilarious and very entertaining to watch – what a superb ensemble. Every single person gives a strong and confident performance and is totally in character. I really enjoyed "Ding Dong The Witch is Dead" - it is performed with such gusto and enthusiasm and they really put their heart and soul into it.
I must mention "The Lollipop Guild" and in particular, Joshua Smith, who commanded my attention straight away. There are two excellent future stars there!
One by one we are introduced to the other three members of Dorothy's temporary and dysfunctional little family. The Scarecrow (Jackson Hayes) is particularly endearing and lovably dopey. Plus he can really fall well! He really embraces this role and is totally perfect for it. He plays the comedy just right and is absolutely spectacular.
A special mention has to go to the crows – who unfortunately I can't name as the crows aren't listed in the programme but the three of them had me laughing right from the start. I loved the interaction between them and their contempt for the scarecrow. Plus the imaginative use of yellow baseball caps is hilarious!
As I'm mentioning the crows, I also have to mention the three trees with attitude. So sassy! So snooty! So brilliant!
The Tin Man (Harry Jackson) is a star right from the beginning. What an actor. He is utterly compelling to watch and is totally at ease on stage and totally understands what the role demands. He plays it perfectly and has such an expressive face.
Finally, the Lion (Aidan Burgess) is perfectly cast. He has the empty bravado and bluff and bluster that so defines the Cowardly Lion.
Put them all together and you have something that is absolutely amazing and so much bigger than the sum of its parts. Watching Dorothy and her companions perform "We're Off To See The Wizard" is absolutely spellbinding. They truly are a fabulous foursome. I take my hat off to the director and choreographer, Joseph Meighan. It was Broadway style and a joy to watch. Not only that, they perform on a narrow raised platform which is no mean feat.
One of the highlights for me was "The Jitterbug" scene. What fantastic choreography! I could have watched it over and over again. The Fabulous Foursome really excelled themselves.
The Wizard himself is played by David Beeby. We hear his voice first and what a fantastic voice it is too. Commanding, ever so slightly intimidating (and also a little reminiscent of Peter Dickson – the Britain's Got Talent announcer) and totally what you expect the Wizard to sound like. He puts his own stamp on the role, as you would expect. Together with The Fabulous Four, this made for an evening of unsurpassable talent.
Chris Wagstaff as The Emerald City Guard is quirky, hilarious, a little eccentric and a joy to watch. I really loved "The Merry Old Land of Oz" which he sings with the rest of the company and again, it is beautifully choreographed. Clearly the direction given to all the cast is superb.
Joseph Meighan is to be congratulated for this absolutely first class production. I saw "The Wizard of Oz" at the London Palladium in 2012 and it left me cold. This production is undoubtedly superior in every way. Everyone is 100% perfectly cast. I had a big smile on my face from the start and it lasted all the way through. What a fabulous evening.
Never mind "there's no place like home" - right now, there's no place like Z-Arts so follow the yellow brick road and get down there!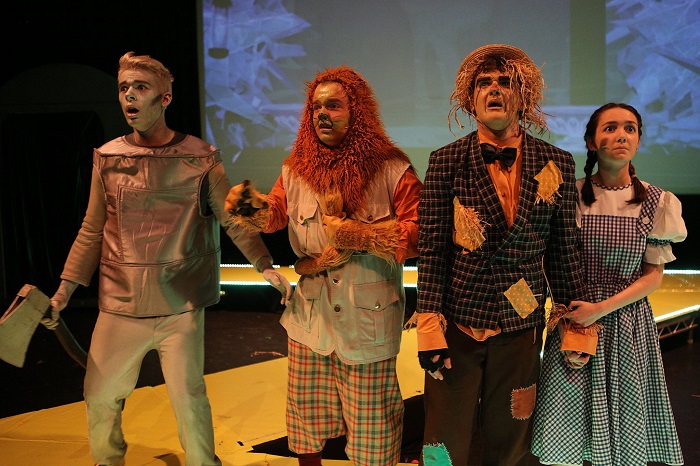 Reviewer: Nicky Lambert
Reviewed: 14th December 2016
North West End Rating: ★★★★★
Photo: Martin Ogden