It is not always necessary to travel into the city to get you fill of theatre and live drama, we are very lucky to live in a region with fantastic theatres dotted around in the suburbs here, there and everywhere and one such gem is the Garrick Theatre in Altrincham and I was lucky enough to catch their performance of Gaslight by Patrick Hamilton.
Gaslight is a gripping melodrama set in 1897 and tells the tale of Mr Manningham who is deceiving his wife into believing she is going insane.
Mr Manningham is played by the wickedly menacing Jonathan Black and he really brings depth to the character, keeping you hooked throughout, with such intense scenes with his onstage wife; played by the extremely talented Parissa Zamanpour. They both play their roles to such a standard that the audience are transported out of the theatre and into the couples residence in 1897 London.
This is helped by the fact the set is impressive and I must give a mention to the scenic artist; Mandy Cooke for creating a set which is so authentic and gritty.
As the story unfolds with many twists and enough edge of the seat moments to constitute a cardio workout, we are really drawn into this couples drama, we meet the help played by the talented Julie Broadbent and the humorous Vicky Siddle providing us with moments of light relief with little quirks and gestures throughout and as the first half comes to a close, we meet our Detective Rough played by Mark Butt. Butt plays the character in such a way that you are immediately on his side and I think that is a credit to Mark himself but also to the director; Ros Greenwood who has turned an already thrilling piece of theatre into something spine-tickling.
You maybe forgiven for thinking something as old as Gaslight would be tame and outdated to modern standards but this simply isn't so, it's just as relevant a thriller than it was when it opened at Richmond theatre back in December 1938, and of course it has been brought to stage and screen various times since then but I must say, the production value at the Garrick is extremely high, if I were not to tell you, you would not think this was an amateur performance.
With a stellar cast, a fantastic set, lavish costumes and a thrilling storyline, this is the perfect alternative to a quiet night in.
Verdict: This Tuesday night was anything but boring, a thrilling show, catch it while you can, till 21st January. http://www.altrinchamgarrick.co.uk/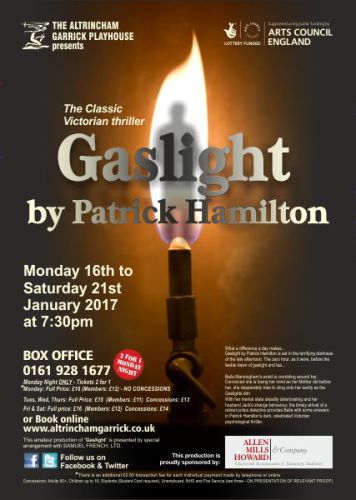 Reviewer: Max Eden
Reviewed: 17th January 2017