Thingwall Players present Stephen Briggs adaptation of Terry Pratchett's Going Postal.
This is the first outing for the newly relaunched Thingwall Players, formally the Music & Drama Club. The company has a great pedigree, being founded in 1949 and the cast tonight were very impressive.
Going Postal is Terry Pratchett's 33rd Discworld novel. The story takes place in Ankh-Morpork, a powerful city-state. The protagonist of the story is Moist von Lipwig (played brilliantly by David Jeffrey), a skilled con artist who was to be hanged for his crimes, but saved at the very last moment by the cunning and manipulative Patrician Havelock Vetinari (played by the sublime Mark Duffy).
In his office, Vetinari then presents Moist with two options: he may accept a job offer to become Postmaster of the city's rundown Postal Service or he may choose to walk out of the door and never hear from Vetinari again. As exiting through the door in question would lead to a fatal drop, Moist decides to accept the job!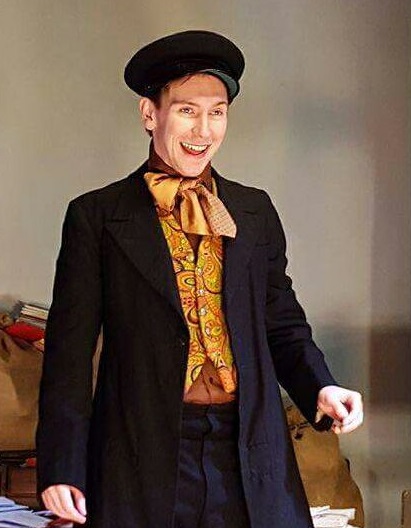 In Ankh-Morpork Moist's action cause reactions that even Vetinari wasn't expecting.
The whole cast were fantastic tonight from the experienced actors to the newcomers, everyone came together to create a world full of the surreal characters created from the mind of the much-missed Sir Terry. In many ways he was present in the cast through the characterisation of Mark Duffy, I'm not sure if this was intentional but it was a really enjoyable interpretation.
I particularly liked the use of music in between scenes and acts, taken from a variety of eras there were some great word play. In addition, the costume (Carol Golightly) and the simple set design (David Griffiths, Hayley Jeffrey and Tim Saint) were very effective - it was especially good to see that the staff and children of Childwall School helped; a real community effort.
The rebranded Thingwall Players have a good thing going on here and I look forward to getting to know them more in the future performances.
Going Postal continues at the Thingwall Community Centre until Saturday 28th January. http://bit.ly/2jwI5lp
Reviewer: Alan Harbottle
Reviewed: 26th January 2017