My last visit to NK Theatre Arts was way back in April last year to see their sensational production of Jesus Christ Superstar. Sadly, until tonight my diary has clashed with their subsequent t productions, however tonight I returned to see this talented group present "A Night on The West End". If you love musical theatre, then this was the show for you.
The evening opened with a superb company number, "This is What We Want" from their next musical production, Made in Dagenham which plays from the 30th March to 1st April and is directed by Hannah Gorst. It was clear from the first note sung that tonight was going to be special, and also that Made in Dagenham would be equally as special.
Following the first number it was time for 13 solo performances of songs from a wide range of musicals, some very well known and to my delight some not so well. Very often when you go to see shows such as this they are packed full of very famous songs, which is OK, however to see a group do something slightly different is always a joy. The section was directed by Louise Shufflebotham.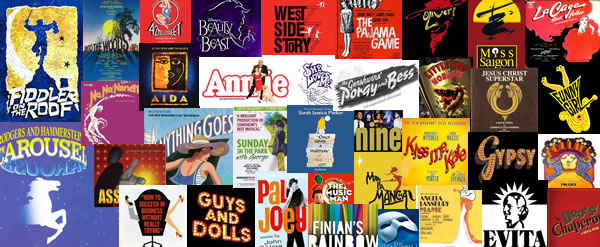 Of the 13 numbers performed I would be here all day if I mentioned each one in turn, so instead a few which caught my attention included Jenni Wallis performing "My Child Will Forgive Me" from Parade, Jill Ratcliffe singing "Heaven Help My Heart" from Chess and "Life I Never Led" from Sister Act sung by Jade Wilbraham. Heather Schofield complete with 2 phones in hand sang "We're OK" from RENT with a huge amount of confidence. One musical got two of its songs performed from it, and for me personally they were the best two of the first half. Louise Shufflebotham and Ben Taylor were perfectly matched as they performed "Here Right Now" and Nickie Simms sang "With You" better than I have ever heard is sang outside of the professional show, simply sensational.
An extract from Blood Brothers closed the first half, a musical taster ahead of the group's performance of the play version next month. I enjoyed how the scenes were acted out here instead of just singing the songs into a microphone, a nice touch.
The second half of this evening's entertainment consisted of extracts from two musicals which are both in my top 10 musicals of all time. First up was Chicago and what a stunning job they made of it under the direction of Charlotte Lavelle. Everything about this section was both very well thought out and exceptionally performed. Helena Frances Smith led the ensemble in the role of Velma Kelly and commanded the stage from the moment she took to it.
The second show to be featured was Miss Saigon, here Heather Schofield and Ben Taylor shone as Kim and Chris respectively. Their chemistry was so believable and both had superb voices. "Bui Doi" was confidently delivered following a video sequence depicting the suffering endured by those caught up in the Vietnam War.
Closing the show and marking the 21st anniversary of the passing of Jonathan Larson the entire company performed "Seasons of Love" from Rent. I couldn't think of a more fitting way to end an evening of musical theatre.
Reviewer: Paul Downham
Reviewed: 27th January 2017