A highly thoughtful and laugh-out loud pairing
Liverpool Network Theatre's latest production sees a Peter Shaffer double-bill with Andy Kerr directing White Liars and William O'Neill directing Black Comedy – two pieces that whilst very different, serve to complement each other as Shaffer originally intended.
White Liars tells of Sophie, Baroness Lemberg (Eve Smith), a disillusioned fortune teller in an out-of-season resort. She is visited by Tom (Isham R Redford), the lead singer in a rock band, and his business manager, Frank (Adam Stubbs). It soon becomes clear that Frank has an ulterior motive in the visit, but as Sophie stares her crystal ball we find that life really is stranger than fiction.
In Black Comedy, we discover a hilarious farce that cleverly plays on light and dark. Brindsley Miller (Daniel Short) is an unsuccessful artist whose big chance has finally come, with a planned visit from eccentric millionaire art collector, Georg Bamberger (Frank Kennedy). There are just a few problems to overcome: being engaged to Carol (Stephanie Barr) without having properly ended things with previous girlfriend Clea (Tahreen Kutub); the first meeting with Carol's terrifying military father, Colonel Melkett (Joey Jennings); and having 'borrowed' his possessive neighbour Harold's (Nigel Goodwin) furniture to spruce up his flat. Throw in prim and proper neighbour Miss Furnival (Lauren Steele) for good measure and when the lights go out we are in for some real confusion, even more so when electrician Schuppanzigh (Adam Stubbs) arrives to save the day.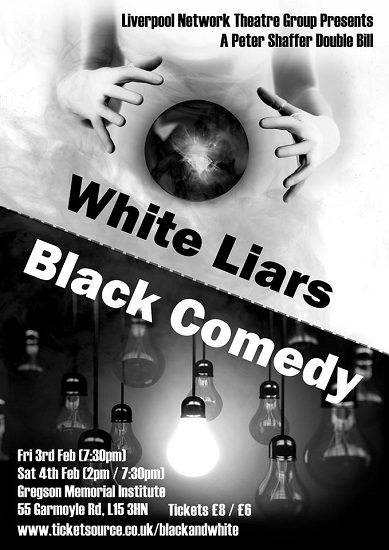 Whilst both plays are set in the 1960's and reflect the mood of that time, the messages they convey come across perfectly, partly because of great writing but equally from great direction and great acting, all of which were very much evident in tonight's two fantastic productions.
White Liars has a reputation for being difficult to deliver but under Kerr's direction there was no evidence of this at all as it delivered its message perfectly and left us with a lot to contemplate about our own lives as we went in to the interval. Black Comedy contains much laugh out-loud humour, and we did, but at heart it is an ensemble piece of slapstick farce which was well delivered through perfectly choreographed routines under O'Neill's tight direction. Great directors need great support and this was ably provided by Production Manager Sandra Tschackert, Stage Manager Julie Hills, and perfectly coordinated lighting & sound by Rowan Dyer.
All the cast were superb in both productions so whilst it is unfair to single anyone out, it was pleasing to see Redford excel in a different character role, and Short's choreographed routines were a delight to watch and ably complemented by those of Barr and Jennings. An assured Kutub stood out amongst very strong performances from all those around her.
White Liars/Black Comedy performs at The Gregson Memorial Institute (Garmoyle Road, Liverpool L15 3HN) on Saturday 4th February at 2pm and 7.30pm (doors open 7pm/1.30pm). Tickets are priced at £8 (£6 concessions) and available from www.ticketsource.co.uk/blackandwhite
Liverpool Network Theatre Group was set up in 1984, born out of the idea of theatre as a political force, with the power to change society for the better. Currently, the group stages three productions per year. Further details on the group including upcoming productions, rehearsals and workshops can be found on their website www.liverpoolnetworktheatre.org.uk
The Gregson Memorial Institute dates from the late 19th Century and now serves as a community centre in the heart of Wavertree/Smithdown Road area with a cafeteria, theatre, internet room and well-being space. More details on https://www.facebook.com/gregsonliverpool/
Reviewer: Mark Davoren
Reviewed: 3rd February 2017