One of JB Priestley's 'time plays', I Have Been Here Before, which first premiered in 1937, was inspired by Russian mathematician and mystic PD Ouspensky's theories that whatever happens has already taken place many times over and will do so again – just think Groundhog Day for life.
The play is set in an inn on the Yorkshire Moors, where we meet down to earth landlord, Sam (David Swift), and his widowed daughter, Sally (Emma Hymas). Their first guest for the Whitsuntide weekend, edgy and nervous schoolteacher, Oliver Farrant (James Dorman), has just returned from a walk as part of his recuperation. The appearance of a strange and abrasive German scientist, Dr Görtler (Frank Kennedy), throws apparently pre-arranged matters into some disorder before the arrival of a wealthy couple: work-obsessed businessman, Walter Ormund (Olee Bass), and his much younger, disinterested wife, Janet (Charlotte Cumming).
Dr Görtler has a theory on how people are interconnected and whilst everyone is at first hostile towards him, his insightful nature sees him become increasingly persuasive as we discover the connections, both obvious and otherwise, between them. But can he prevent events transpiring that have previously been regretted or are they doomed to repeating yet another cycle of their existence?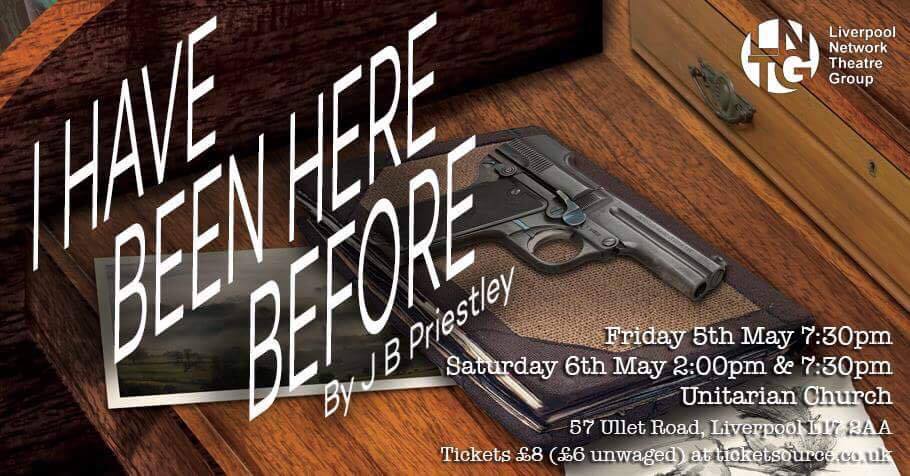 The time concept of the play serves its purpose as our characters are compelled to challenge and explore their concerns about life and death, love and loss, and ultimately, why we are here - themes that will resonate with a modern audience in its own pursuit of happiness. Importantly this is a play that makes you think: when you get that sense of déjà vu - you know, that feeling - is it because you have in fact been here before? I found this production highly enjoyable - the time literally flew by - which is much to the credit of the whole cast and crew under the direction of Sonia Chapman and producer Andy Kerr.
All the cast provided strong performances, capturing the distinctions of class and behaviour in their characters alongside individual fears as well as the softer elements of gentle humour that pervade the piece. The character of Walter Ormund is the linchpin of the play as he comes to fulfil his own personal journey and transformation by engaging with the idea of change and I thought Bass captured every facet of his personality superbly throughout. Stage manager Siobhan Crinson's set perfectly reflects the mood, complemented by the choice of venue, and with Julie Hills' period-perfect costumes, the array of knick-knacks on display demonstrates their exquisite attention to detail, whilst the ringing chimes of the clocks in the background remind us all too frequently of the ongoing passage of time and events.
I Have Been Here Before performs at the Unitarian Church (57 Ullet Road, Liverpool L17 2AA) on Friday 5th May at 7.30pm and on Saturday 6th May at 2.00pm and 7.30pm. Tickets are priced at £8 (£6 concessions) and available from www.ticketsource.co.uk/liverpoolnetworktheatre
Liverpool Network Theatre Group was set up in 1984, born out of the idea of theatre as a political force, with the power to change society for the better. Currently, the group stages three productions per year. Further details on the group including upcoming productions, rehearsals and workshops can be found on their website www.liverpoolnetworktheatre.org.uk
Ullet Road Unitarian Church dates from 1899 although funnily enough it has a fascinating history that pre-dates it by at least two hundred years. It provides the ideal venue for this production and is well worth a visit. Further details http://www.ukunitarians.org.uk/ulletroad/index.htm
Reviewer: Mark Davoren
Reviewed: 3rd May 2017