Most people are familiar with the story of 'Annie', the well known tale of an orphan girl who runs away from the orphanage run by the awful Miss Hannigan and is subsequently adopted by a billionaire. In all honesty, it's never appealed to me but I left the Altrincham Garrick Theatre tonight on an absolute show high.
This production has a professional edge from start to finish. The ensemble pieces are absolutely wonderful and perfectly executed so that they create a very pure musical theatre sound. I would say they are up there with some of the best I have ever seen. "It's The Hard Knock Life" is the first that we see and it really sets the tone – the girls are fierce and angry and it's really exciting to watch.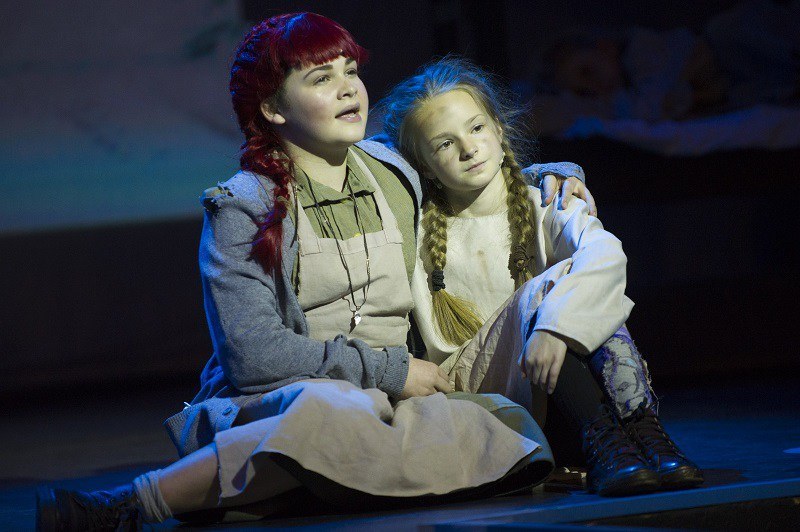 Miss Hannigan, played so expertly by Laura Aremia, is the Social Services nightmare who runs the orphanage and she's the pantomime baddie that I sneakily really liked (is that so wrong?!) Miss Hannigan is no stranger to the gin bottle, so is therefore inebriated most of the time and Laura played this absolutely perfectly: it's very easy to overdo drunken acting but she absolutely got it right and it was hilarious. I loved the way she just had absolute contempt for everyone and she even carried this through to the curtain call, telling the audience to "shut up". Brilliant! In the current West End production of 'Annie', this part is played by Miranda Hart and I can't imagine she could do a better job than Laura!
The relationship between Oliver Warbucks (Richard Sails) and Annie (Caitlin Reeves) is absolutely charming and they have superb chemistry. I particularly liked "I Don't Need Anything But You" which he sings to Annie and which is very touching. They are so good together and perfectly matched. Caitlin has a beautiful singing voice and it was a pleasure to listen to her. Richard's portrayal of the kindly billionaire was really lovely to watch and their scenes together were very sweet.
I do have to give a special mention to Alice Cross who played "Molly" and who executed an astounding hands-free cartwheel which was precariously near the drop to the orchestra pit! Alice is an extremely talented performer who is quite captivating to watch and I look forward to seeing her in future productions. I would also like to congratulate Sasha Carrillo de Albornoz for her totally credible performance as Grace, everything about her performance was excellent and she has an amazing singing voice.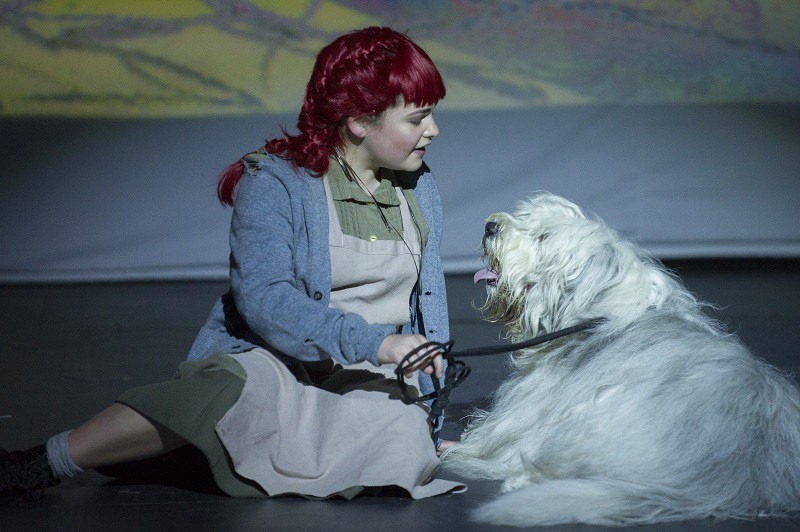 However, the show-stealer is Sandy – Annie's dog – who, although he wasn't in many scenes, certainly stole all of them...by barking at the audience and taking a flying leap off the stage at the end into the front row! The cast handled his excitement admirably and he was a favourite with the audience who loved his participation. I'm sure all this was opening night excitement and by Saturday, he'll be taking it all in his stride and probably signing autographs.
I would like to congratulate everyone involved in this entertaining and heart-warming production. The ensemble are particularly strong – the stand out performer for me being Brendan Cunningham who, as my theatre companion remarked "really gives value for money" with his completely rounded performance comprising great facial expressions and total immersion in the choreography. I loved the scene with the Presidential aides where he jumps on the table and sings, it was pure entertainment!
The costumes, lighting and sets were wonderful. I did like the use of the jigsaw piece motif – keep your eye open as one by one, the missing jigsaw pieces appear as we draw near to the end of the story, a very nice touch indeed.
This really is a musical theatre treat and one that should not be missed.
Reviewer: Nicky Lambert
Reviewed: 22nd May 2017
North West End Rating: ★★★★★