Written by "farceur par excellence", Ray Cooney, 'It Runs In The Family' is a superb British farce, full of miscommunication, misunderstandings and mishaps.
I'm not usually a fan of farce as I generally find it very frustrating but tonight's performance at The Altrincham Garrick had me chuckling and laughing out loud virtually all evening. A perfect antidote to a grey Monday!
The plot is intricate but actually not too difficult to follow – although it is obviously quite ludicrous which is what makes it so funny. Without revealing any spoilers, the basic premise is that Dr David Mortimore is preparing to give a very important lecture which could possibly put him in line for a knighthood. Along comes a past lover from nineteen years ago plus her eighteen year old son... Throw in a vicar with piles and gout, a confused Policeman and a non-existent dog called Les and you have all the makings of a perfect evening!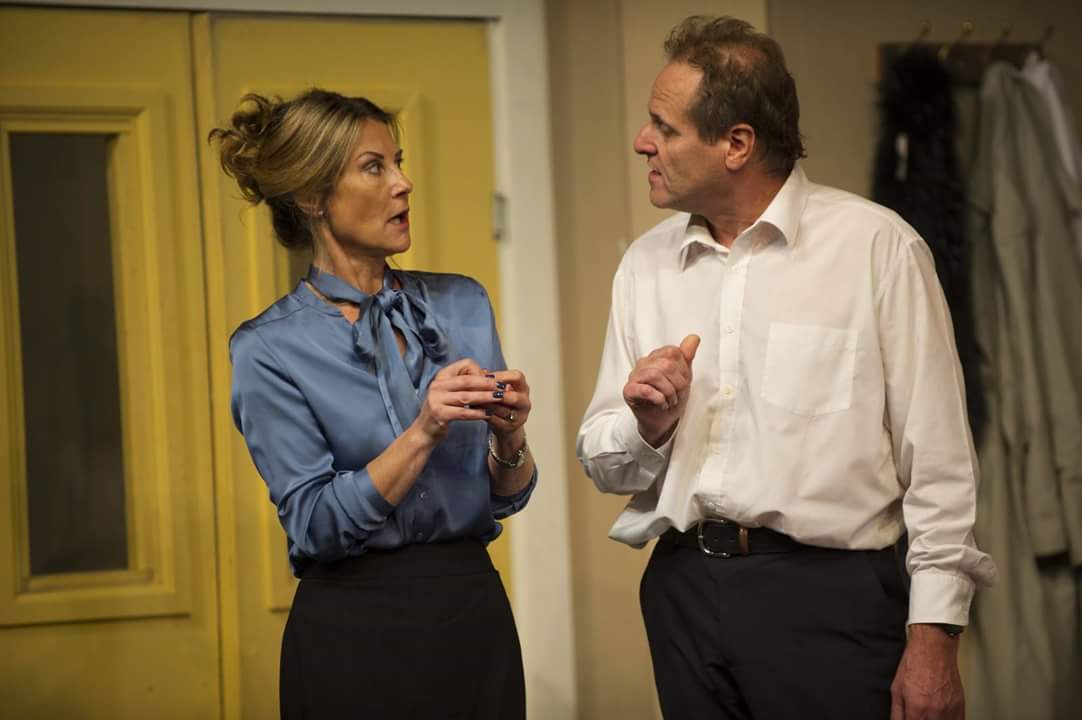 The stars of tonight's show for me were Dr David Mortimore (Jonathan Black) and Dr Hubert Bonney (Mike Shaw). Their performance is the bedrock for this production. They have perfect comic timing, great expression – and they both look great in blonde wigs. Dr Bonney is the perfect stooge to Dr Mortimore's 'straight man' and the two of them together are comedy gold. Hold on to your sides when Dr Bonney has a case of mistaken identity with Matron and look out for his coy yet seductive rendition of 'Falling In Love Again'. This was one of the high points of the evening and showcased Mike Shaw's versatility. He is clearly very at ease in a comedy role and he carries it off perfectly.
The comedy is well paced with excellent timing. Jonathan Black plays his role as slightly caddish Dr Mortimore with suave ease, whilst Mike Shaw's fraught and frantic Dr Bonney is hilarious and totally entertaining.
Much of the farce emanates from Dr Mortimore who is concocting one (ridiculous) lie after another and everything spirals into a chaotic yet superbly entertaining and well drawn together comedy. There is a comedy gem in nearly every line and just when you think things can't get any more ridiculous...
As with most farces, there is an element of physical comedy which is well directed and acted without being too over the top – the window scene had the audience almost crying with laughter and it was extremely well executed by everyone and with excellent attention to detail. Director, Alan Clements, has done a wonderful job, it would be easy for some of the scenes to descend into overacted chaos but they don't and it was clear to see that much work has gone into ensuring that this show retains all of its excellent humour without becoming too slapstick.
The set is excellent – you are in no doubt straight away that the play is set in a hospital and there was good use of the stage and the various doors and windows. Credit to Juliet Jones, the set designer, as this is one of the more robust and well constructed sets that I've seen.
There were a few fluffs and just one or two moments when I wasn't sure whether a couple of lines had been forgotten – I am sure this was nothing more than first night nerves and it didn't detract from the enjoyment at all. The proof of the success of this production was demonstrated by the audience reaction tonight, there was barely a moment when people weren't laughing. Congratulations to all involved, it was a thoroughly entertaining and hilarious evening.
Reviewer: Nicky Lambert
Reviewed: 25th September 2017
North West End Rating: ★★★★