As the doors opened on a brisk cold evening in Colne's Pendle Hippodrome Theatre for the annual Basic Junior Theatre School's production I wondered if it could be possible for them to improve on their amazing presentation of Joseph and Little shop of horrors performed in 2016.
I have watched this stunning drama school produce exceptional productions time after time and where the leadership team clearly state and prove that their task is to give the students the experience of performing in different genres of shows during their senior tenure. From full rock opera scores to comedies and with this year's production the absolute thrill of the life of PT Barnum's Circus. Basics has always been brave enough to demonstrate that it is no average junior set up.
Barnum is a musical like no other and it is clear to see that the work these guys and girls have put in for many months is not only commendable but has clearly paid off as we witnessed juggling, tight rope walking, tumbling, trapeze, stilt walking, magic tricks, aerial acrobatics and amazing array of elegant dancing with singers who could grace any professional stage with their pitch perfect tones and range.
The principal Andy Cooke and director Richard Sanderson (a former pupil of basics) openly beam with pride year after year and this is what makes Basics fantastic theatre school what it is, It's evident that they passionately care for each individual performing and want the best for them - the family unit is almost palpable with the leadership team and with the audience as it is filled with past and present pupils, extremely proud families and lots of local folk side-by-side.
From the souvenir programmes to the staging, costumes and live orchestra this theatre school stands parallel with any professional company, with a budget of almost £29,000 the principal has cut no corners as yet again I was blown away by the whole evenings professionalism.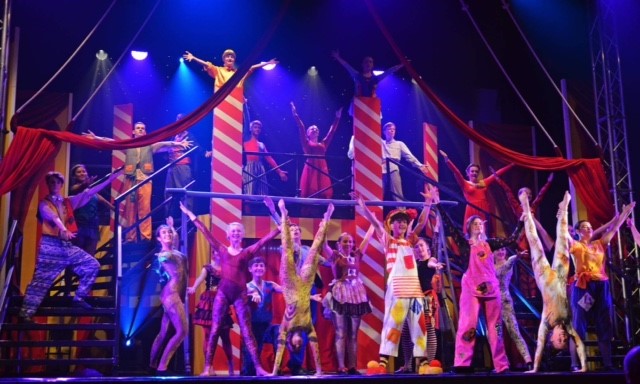 The part of Barnum was played by the extremely talented Reuben Khan aged at just 17 years old he delivered an exceptional performance with a incredibly lengthy script and very complicated wordy lyrics throughout. Reuben has matured into a competent main lead in the years we have been privileged to watch him flourish. Reuben's stage presence and delivery was faultless whilst his strong headed on stage wife Chairy Barnum played by Anna Hunt a 15-year-old fantastic all-rounder equally delivered on every level - Anna is a strong actress with huge potential.
Oliver Driver who played the Ring Master mesmerised me on how he has developed through basics from a new starter in 2011 to taking the lead role as Joseph where he was just beginning to shine has stepped up to another level - I can certainly see this talented young man as a lead role in any big professional productions in years to come.
The talent as always was above any amateur production I have ever witnessed from Ellie Cooks fantastic operatic voice as Jenny Lind, Millie Greens 'Blues Voice' to Toby Cooke's strength not only as an actor but as a strong acrobat on the silks left me speechless as always.
Huge credit to Helen Cheung for another amazing production of stunning choreography, to the wardrobe team for outstanding costumes, not forgetting the lighting, stage set team and vocal coaches for our visual and auditory delights.
The standout song of the evening for me was 'The Colors Of My Life' and the performer I'm going to watch out for in the future in Basics is Aaron George.
Another amazing year for Basics and I can't wait to see their production of Les Misérables in 2018 as they celebrate their 30th year of opening this gem of a state school.
Every town needs a Basic Junior Theatre School but it's only Burnley that is privileged and honoured to have such an unique opportunity.
A fantastic memorable evening had by all highly recommended to go and see as it continues to run until Saturday 14th October.
Reviewer: Katie Leicester
Reviewed: 11th October 2017