My hands were red from clapping and my cheeks tired from smiling as I walked out of St Helens Theatre Royal tonight after witnessing the breath-taking performance that is Pilkington's Musical Theatre Company's 'Sister Act'. This is a show so professional and well-rehearsed that you will forget its amateur and just want to turn around and go see again - simply outstanding.
'Sister Act' is a musical based on the classic 90s film, starring Whoopi Goldberg and Maggie Smith. The story follows a young ambitious singer Deloris Van Cartier (Emma Dears) who strives to reach fame but gets into hot bother when she witnesses a murder committed by her boyfriend Curtis (Simon Foster). Fearing for her life, local policeman Eddie (Adrian Miles Roberts) helps Deloris to find protective custody in the local convent ran by the strict Mother Superior (Diane Glover). This unlikely character has no choice but to settle into her new life but unexpectedly finds her own calling when she discovers that her fellow nuns need help finding their voices.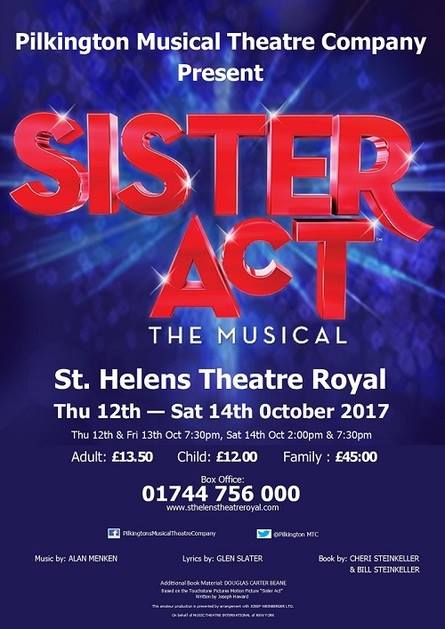 Dears was absolutely astounding. I felt like I was watching the Broadway show as she dazzled with her endearing characterisation, precise facial expressions and exceptional vocals taking complete ownership of the role. She was well supported by Glover who held the story together in her stern role and Foster who looked the part as he played the classic American gangster with ease. Miles Roberts's was brilliant, fabulously nerdy and loveable and he produced some gorgeous vocals too. James Kirkby was noteworthy for doubling up as both Monsignor O'Hara and Deloris in drag! I loved how this production managed to bring out the diverse personalities among the nuns despite the vast number within this chorus. Led by a comedy trio of Lizzie Ryder as Sister Mary Robert, Kate Speakman as Sister Mary Patrick and Jean Aspinall as Sister Mary Lazarus, the nuns were wonderfully hilarious and brought the feel-good fun that oozed from this show. Speaking of comedic trios, there were three men who had the audience in stiches every time they came on and that was Sam Caldwell as Joey, Ben Engelen as Pablo and Kieran Maleedy as T.J. These three actors just worked, they looked funny, they acted funny and they sang funny- entertainment at its best!
The chorus were remarkable, providing a wonderful mix of song, dance and comedy with conviction and style. Choreography was simple, clever and effective and gave the cast an opportunity to enjoy some freedom on stage which fitted perfectly with this musical (Anna Whittle). I lost count of the number of big songs that were excellently executed with intricate harmonies and a powerful sound (Wayne Oakes). Not to mention the mighty twelve-piece orchestra, whose strong sound was crucial to the overall success of this musical. The set was beautiful, a gorgeous spacious church which was supported by impressive lighting stencils with both sound and lighting displaying flawless timing and accuracy. Costumes brought the perfect amount of fun and sparkle, from the knee high purple boots to sparkling habit's- you don't need to search far for some soul and sass on this stage (Mike Randolph- stage director) (Ann Connolly- Wardrobe Mistress).
The final note must go to Simon Foster who must be applauded for his meticulous and ingenious directing of 'Sister Act'. Some really brilliant ideas that worked effectively from the chasing scenes in both acts to Eddie's costume changes, these sophisticated elements made the show unique and original and were the icing on the cake alongside the talent and hard work from the cast and the whole production team.
I could not praise this company enough for their performance tonight and it can only get better as this was opening night! Good luck to Pilkington Musical Theatre Company as 'Sister Act' continues until Saturday the 14th of October and to everyone else- get yourself to St Helens Theatre Royal to see this production, you won't be disappointed!
Reviewer: Blathine Maguire
Reviewed: 12th October 2017