Leeds based NYTC - Northern Youth Theatre Company, are a not for profit organisation set up to provide a varied range of performance opportunities that showcase the talents and abilities of the North's young performers. Having only formed in 2014, NYTC already have an established array of talented young performers.
The company's latest production is the stage production of the much loved teen movie from 2006, "High School Musical", a Disney Channel movie which hit the big screen and was so successful they made not one, but two sequels.
Admittedly, partly due to my age *cough cough* I haven't seen any of the movies, apart from glimpses caught at work in a boarding house full of teenage girls, who surprisingly raved about it! As it's Disney, it's clean cut, squeaky clean and cheesier than the Wensleydale Cheese Factory! I was delighted to be attending opening night at Leeds Carriageworks Theatre, along with being introduced to yet another successful youth performing arts group.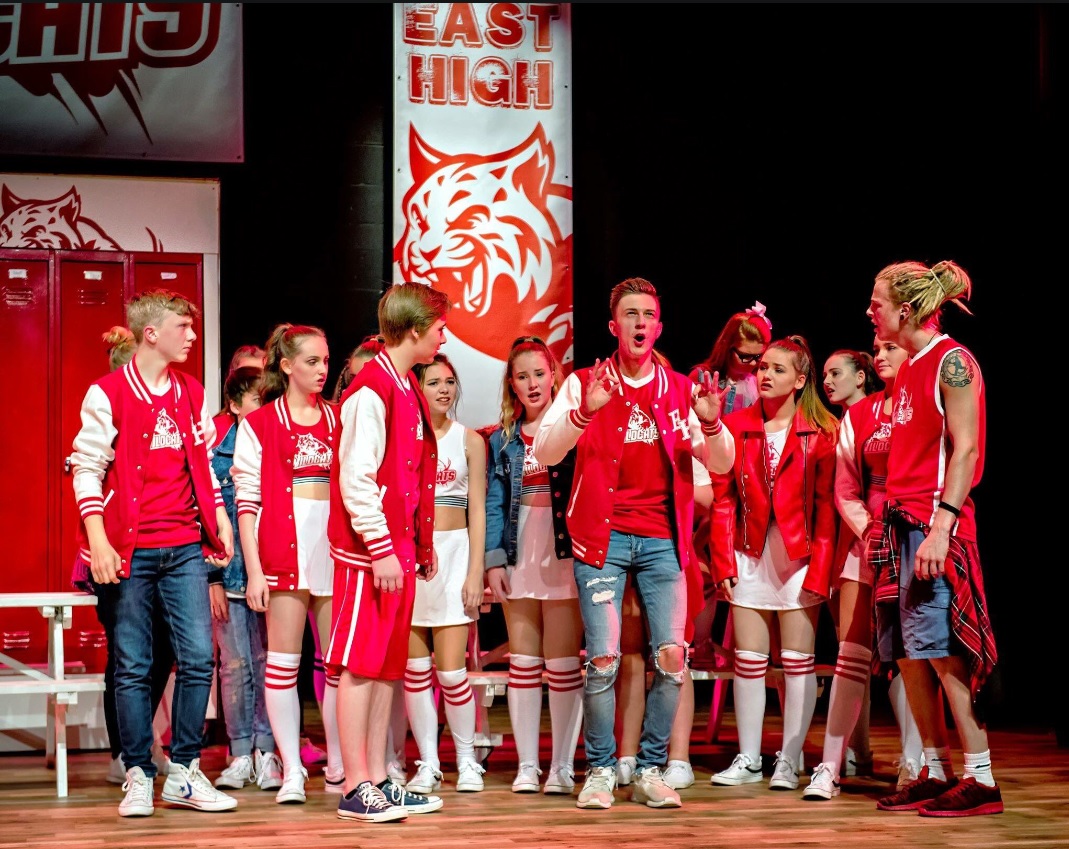 Whilst on holiday, two teens, Troy Bolton (Frankie Bounds) and Gabriella Montez (Mia Devine) are forced together to sing a duet at a karaoke party. The pair hit it off and swap phone numbers, agreeing to stay in touch. On the return to East High School, in Albuquerque, New Mexico, Troy is surprised to bump into Gabriella once more, and she explains that her father got a transfer through work. Gabriella is a maths and science genius and soon befriends Taylor McKessie (Phoebe Cumming), captain of the school's scholastic decathlon team. Troy's Dad coaches the Wildcats, the school's basketball team and thinks Troy should put all his focus into sport, but on hearing of auditions for the schools remake of Romeo and Juliet (entitled "Juliet and Romeo"), both Troy and Gabrielle toy with the idea of auditioning for the lead roles whilst rekindling their holiday romance.
The leading cast members - Frankie Bounds and Mia Devine delivered a high level performance, Bounds in particular was a joy to watch, showing that he could not only act, but sing and dance (often all at the same time, whilst also "dribbling" a basketball - impressive!). Whilst Devine also gave a strong performance, at times, particularly at the start of a few solos or duets, seemed to display signs of nerves to begin with, however once she was a few lines in was quick to find her confidence once more. Comedy came from Jack Swarbrick as Sharpay's twin brother Ryan, who had the audience in fits of laughter at times with his camp and over the top performance.
The stage set for East High was simple yet effective, with large printed banners for the Wildcats, lockers and canteen benches helped set the scene and I particularly loved the guys costumes of East High baseball jackets and Wildcats t-shirts. For me, the best parts of this production was the choreography (Peyton Martin) and the strength of the cast both vocally and in dance when the full cast came together for a song/dance routine as everyone was in sync with each other, highlighting the performance strength as a full cast together. At times, particularly during solos/duets, the band were too loud making it pretty difficult to hear song lyrics. Others around us said the same and although we were able to move for Act Two, this only improved slightly and we still missed vital lyrics at times.
Overall an impressive performance by a young but talented cast. Their next production, Sister Act, has a lot to live up to after this, but seeing the many talented youths perform tonight, I know it will be Fabulous, Baby.
Reviewer: Charlotte Browne
Reviewed: 19th October 2017