This clever PG Wodehouse tribute reproduces the manners of the Edwardian English upper classes, while cunningly sending them up, in a play written by David and Robert Goodale, and largely drawn from the 1938 novel The Code of the Woosters, which whilst set in Totleigh-in-the-Wold and London of the 1920's, delivers significant barbs at right-wing extremism in what turned out to be the year before war broke out for real.
In Director Nick Fawdry's production, Bertie Wooster (Jake Szuplewski) has hired a theatre to put on a dramatised version of an elaborate anecdote involving blackmail attempts revolving round an antique creamer involving an array of characters. But remember, this is a dramatisation so whilst Bertie narrates his way through much of the play, and regularly breaks the fourth wall much to the delight of the audience, it is down to his manservant Jeeves (Graham Breckon) and fellow manservant Seppings (Mark Prescott) to take responsibility for capturing all the supporting roles as they brilliantly interweave on and off-stage between the various characters essential in the re-telling of this story.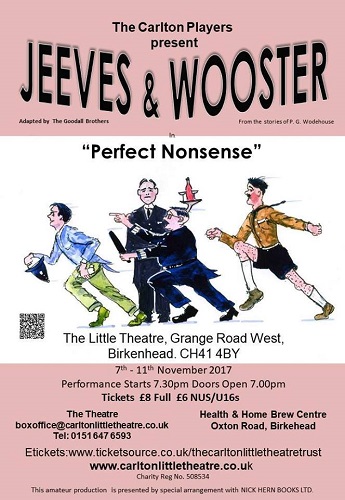 Szuplewski does well to make the role of Bertie his own with the audience warming to him very quickly. Breckon's Jeeves was suitably haughty and his simultaneous playing of Sir Watkyn and flighty daughter Madeline in purpose made suit cut vertically down the middle was excellent and greeted with deserved applause. For me though Prescott stole the show repeatedly as he took comic acting caricature to a new level including some clever switching between his Aunt Dahlia and Roderick Spode, and the forever memorable Butterfield. No, thank you Prescott…
Stage Manager Pam Buckle and team have put together the perfect set that did everything demanded of it from the play and more, and were complemented through Brian Williamson's lighting and Steve Burridge's sound.
This play within a play – despite Bertie's assertions that this acting lark is easy – ultimately comes down to shaking sets, mishaps and desperate improvisation that tests the skill of this company and these three leading men and they more than pass with flying colours – thank you Carlton Players, thank you Birkenhead Little Theatre.
The Little Theatre in Birkenhead is a delightful venue complete with bar and seating almost 300 including full disabled access. There is free parking to the rear of the theatre from 6.30pm.
The Carlton Players are the resident company and produce several plays throughout the year including a pantomime. They are always looking for new members so why not get involved?
Perfect Nonsense runs through to Saturday 11th November 2017, doors open at 7.00pm with performances commencing at 7.30pm. Tickets £8 (£6 concessions) and available at the Box Office on 0151 647 6593 ( email: This email address is being protected from spambots. You need JavaScript enabled to view it. ) or via www.ticketsource.co.uk/thecarltonlittletheatretrust
Further details of upcoming productions for the season can be found at www.carltonlittletheatre.co.uk
Reviewer: Mark Davoren
Reviewed: 9th November 2017