It is the 30th anniversary of Junior Stage 80 this year and they have decided to celebrate in style by choosing Little Shop of Horrors as this years' production at the Waterside Arts Centre in Sale. This is the perfect example of how to celebrate a milestone birthday. From start to finish the show oozes class and quality.
Opening the show are The Ronnettes, a glorious 5 piece group of street urchins who transform many times during the night providing a running commentary on the events as they happen on stage. Harriet Dean, Jennifer Simmons, Annie Stedman, Beck Tuck and Alex Waxman excel both in song and dance throughout, managing without exception to shine each time they appeared on stage.
Struggling to make ends meet Mushnik (Ivor Farley) is on the verge of his flower shop business closing down due to a severe lack of customers. But an unassuming saviour is working for him in the form of Seymour (Andrew Farley) who has come across a new species of plant. Not knowing what it is he names is Audrey II after co-worker Audrey (Katie Cheetham) for whom he carries a torch.
Despite Seymour's feelings towards Audrey, she is already in a relationship with local dentist Orin (Stuart Ingleby). It is very clear from the first moment that this is an abusive relationship in which Audrey is trapped with no way out, or is there?
In a bid to turn the fortunes of the flower shop around Seymour reveals his new plant to Mushnik, and despite his reservations once the plant is displayed in the window fortunes change within minutes in more ways than one as the plant grows and grows feeding on an unlikely food source.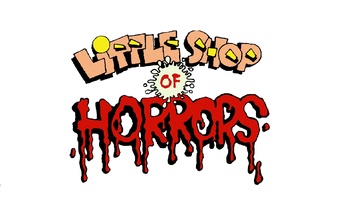 Farley plays Seymour with confidence despite the hapless nature of the character. You find yourself willing him on as he plucks up the courage to ask Audrey out. Cheetham as Audrey is nothing short of superb. With her squeaky voice which seems to transform when she sings you immediately fall in love with her. She handles both the powerful songs and delicate solos with equal skill and dexterity.
Ingleby as dentist Orin is a nasty piece of work and despite his initial attempts at being nice he soon shows his true colours, none more so than when Seymour visits his surgery. They say dangerous addictions can kill, something that finally manifests itself in the penultimate scene of the first half.
A sizable ensemble of 30 could in theory swamp the small stage at the Waterside, however clever direction from Robert Margolis and choreography by Martin Robinson allows them to melt into the background during their brief appearances on stage. Their collective voice during some of the bigger musical numbers is superb and testament to the hard work musical director Marilyn Blank has no doubt been working on during rehearsals.
The set is simple and Audrey II in its various stages of growth are impressive as it gradually takes over the stage during the show. Voiced by Ashley Margolis and movement by Mark Rosenthal they help bring this horticultural phenomenon to life.
Little Shop of Horrors is an undoubted triumph and a stunning way for Junior Stage 80 to celebrate their pearl anniversary. A nice little touch of including Audrey II seeds in the programme has left me in somewhat of a dilemma this evening as to whether I should plant them or not. I may sleep on it and decide tomorrow.
Little Shop plays at The Waterside in Sale until Saturday (no performance on Friday) and you can grab the last remaining tickets at https://watersideartscentre.co.uk/whats-on/1725-little-shop-of-horrors/ you will not be disappointed.
Reviewer: Paul Downham
Reviewed: 1st December 2015