Nick Cupit is a founder member of Warrington's award winning leading musical youth theatre company, Codys Productions and tonight presents the musical Fame with a very talented cast to the Brindley Theatre, Runcorn.
Fame is set in a New York High School of Performing Arts in 1980 and focuses on the hopes and ambitions of the students, relationships and the struggles they face achieving their dreams.
The first thing I have to say is well done to those with speaking parts who have mastered the various accents and keep to them throughout the show.
The opening scene sees the whole company (approx 70) on stage singing 'Pray I Make P.A.' and 'Hard Work ' and although impossible to mention all individually, I would like to say that it was obvious each and every one was committed to achieving their best performance and there was not a weak link or sign of nerves amongst them, despite this being opening night. Credit goes to choreographer Natasha Bill for achieving a disciplined routine on stage which could have become very messy! Chorography is excellent during all the various scenes this evening, from ballet moves to contemporary, individual and group.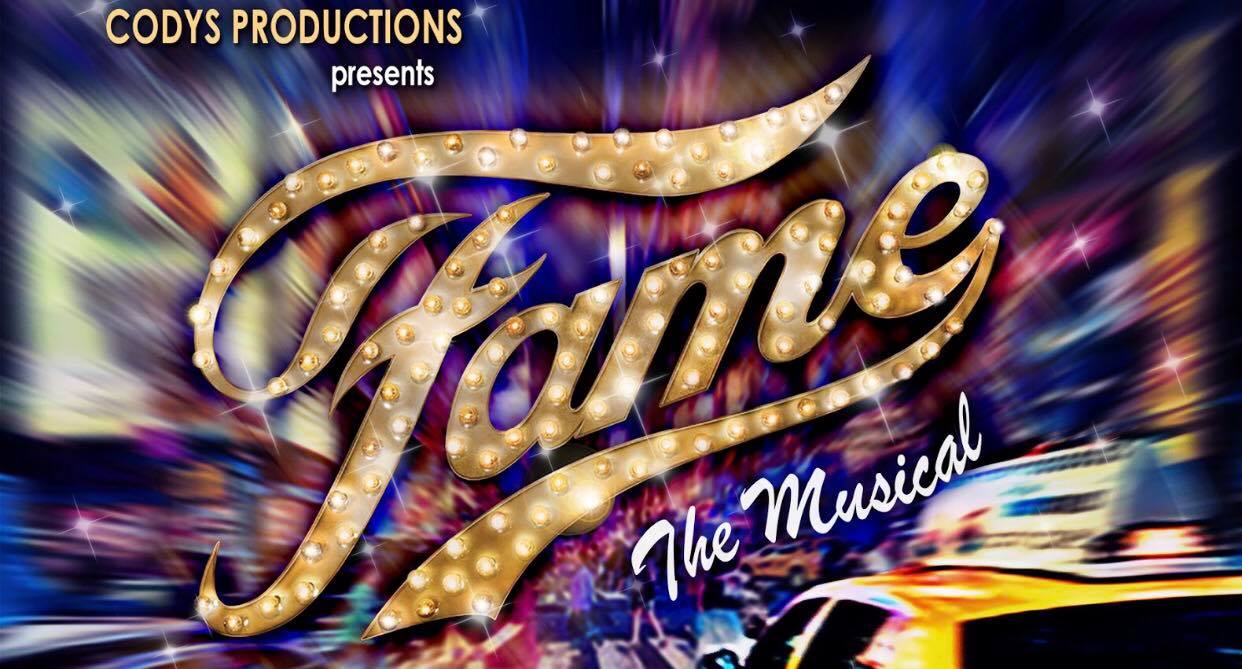 Nick is focusing on becoming a serious actor and is oblivious to the fact that ambitious but shy actress Serena is enamoured with him so she assumes he must be gay when he doesn't acknowledge her advances. Both Edward Parry and Faye McGrath who portray these characters give good performances whilst acting out the one sided affair with a wonderful duet of 'Lets Play a Love Scene'.
Clayton Roberts deserves special mention for his hilarious, wisecracking portrayal as bad boy Joe, the 'Don Juan' of the school with his eye on the beautiful Carmen. Carmen is confident and outgoing and extremely ambitious and Ellie Norton is perfectly cast for this role and also displays admirable vocals.
We meet Iris (Neve Buckley) a talented ballet dancer and an unlikely pairing with Tyrone (Oliver White) who struggles with ballet and shows a talent for hip hop, which dance teacher Miss Bell (Hannah Young) gives him the opportunity to demonstrate and is impressed with his moves. But he struggles academically before it is discovered he has dyslexia and Miss Sherman (Katie Johnson) the English teacher argues with Miss Bell as to whether he should be entitled to a place at the acclaimed performing arts school. This leads to a very powerful rendition of the 'The Teachers Argument' with both performers giving exemplary performances. Buckley and White work well together despite their different character roles and there appears to be a real chemistry in their presentation.
I have to mention an outstanding moment this evening was the incredible vocals of Katie Johnson with 'These Are My Children', sang with conviction and truly amazing.
We see other students form a band and at this stage I must applaud the fabulous unseen Orchestra under the musical direction of Simon Pickup for their faultless accompaniment to the performers this evening.
The set design is set at the school and the changes to it with the addition of ballet bar and mirrors and other fixtures works well although there were several dimming of lights between several very short scenes at the beginning of the show which I feel affected the continuity, however these are minor observations.
The finale sees all the company back on stage and is colourful bright and even after over two hours of song and dance, an enthusiastic team, deserving of the rapturous applause.
So at graduation will the students achieve their dreams? Will Carmen make it big? Tyrone overcome his difficulties? Nick and Serena become a couple? I fully recommend you go and see for yourself!
The current run continues until 10th March 2018 and for tickets contact: https://tickets.thebrindley.org.uk/en-GB/shows/fame!/events
Reviewer: Lorna Weekes
Reviewed: 7th March 2018