Altrincham Garrick Playhouse transformed to become the Devon village of Little Weirwold the home of Tom Oakley back in September 1939. This play has been adapted by David Wood from Michelle Magorian's wonderful novel. This amateur production is wonderfully directed by Andrew Close and designed by Margaret Norris. Lighting is in the hands of Stuart Kilburn with sound provided by James Merrington.
The first character we meet is the Billeting Officer played by Ruth Metcalfe who has been acting at the Garrick for many years. As she marches the evacuees around the village and to the home of Tom Oakley. Tom Oakley is superbly played by the NODA nominated Bryan Higgins, and he is left with little William Beech. Benoit Normand (12 years old who attends St Bede's College) portrays William brilliantly and with great emotion when required. Tom has a collie dog called Sammy who was made by freelance puppeteer Jamie Marks (for further information about Jamie visit http://jamaniace.wixsite.com/jm-puppets ) and is skilfully brought to life by 11 year old Frances Hartill.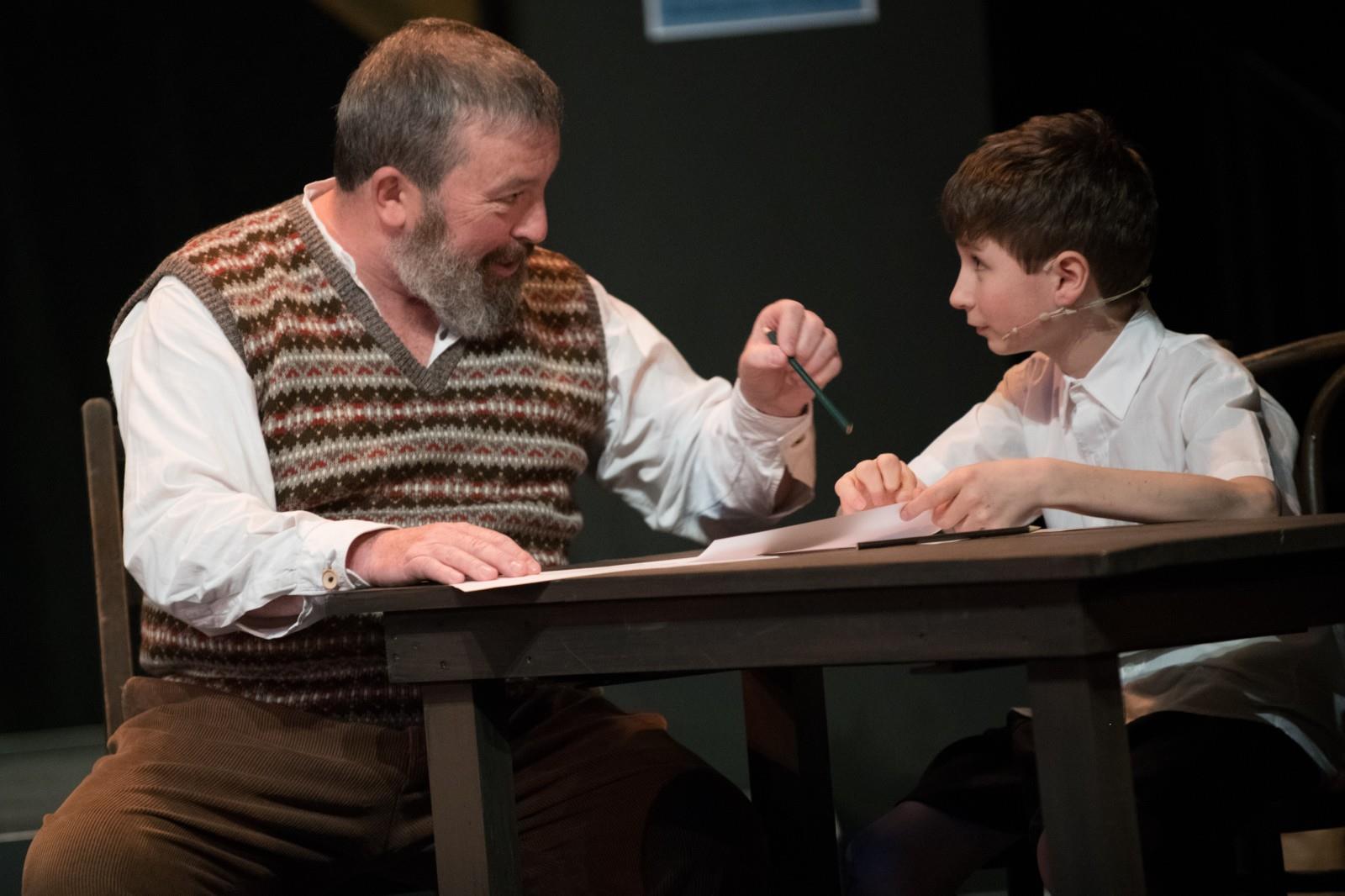 Charlie Ruddles the local air raid warden is played by Gino Scrigna, with Rose Higgins playing the bubbly Mrs Fletcher. William is teased by village children Carrie (11-year-old Olivia Streeter from Sale), Ginnie (11year old Kitty McGoff from Altrincham) and George Fletcher (10-year-old George McGoff) all three are stars in the making, handling appearing on stage with aplomb. The other evacuee that we meet is Zach (brilliantly played by Henry Thorman who is in his first year at St Bede's College) who is a very confident lad who makes the audience chuckle along.
Doctor Little is played by David Baxendale who is in his third production at the Garrick David also takes the role of Mr Miller, who runs the post office along with his daughter Miss Miller (Holly Gibson who has been involved in local drama groups from the age of 4). School teacher Mrs Annie Hartridge is wonderfully played by Mollie Rowley (a junior doctor away from acting, this is her first production at the Garrick). The other characters we meet in the 2nd half are William's mother the terrible Mrs Beech played beautifully by Caroline Knight and the Social Worker played by Hannah Weiner.
The play is well put together and condenses the film down without losing the essence of the story. The set changes are relatively smooth with a little bit of visible movement of the scenery, but this is to be expected from an amateur production who don't have the vast budgets to build robust back drops. The acting especially from the young characters is very good and the emotion comes out between Mister Tom and William.
Tonight, saw a packed audience and I am sure there were a few tears shed or if not a few quivering lips with the emotion shown.
I would recommend this emotionally charged play to all age groups from 8+ especially if you like the book or movie. The costumes and scenery take you back in time adding to the experience. I have no hesitation in awarding 4 stars based on my experience this evening.
Reviewer: Tony Bellamy-Hibbert
Reviewed: 10th April 2018
North West End Rating: ★★★★