The creative team at Mossley Amateur Operatic & Dramatic Society (MAODS) have quietly been producing some of the best pieces of amateur musical theatre in the region over the past couple of years, both their recent productions of 'Parade' and 'In The Heights' having been outstanding.
So, it is with a strong sense of anticipation I head into the hills of Mossley to see their latest offering, Gypsy, the 1959 story of Burlesque artist Gypsy Rose Lee and her fraught relationship with overbearing Mama Rose. I last saw this show in 2016 in the West End, with Imelda Staunton winning one of its four Olivier awards and was anxious as to how this would measure up. I needn't have worried, with lyrics by Sondheim and some of the best tunes in the canon, like Gypsy herself, this show is big and bold and needs to be seen!
The character of Gypsy Rose Lee develops slowly over the course of the piece and is introduced to us as a child actress Louise (Brodie Smith), playing second fiddle in a vaudevillian act to her sister June, portrayed with just the right amount of overly precocious, saccharine sweetness by both Holly Dewsnap and later Claire Egerton. The act is terrible and both girls long for a more normal upbringing with family and stability instead of their transient existence.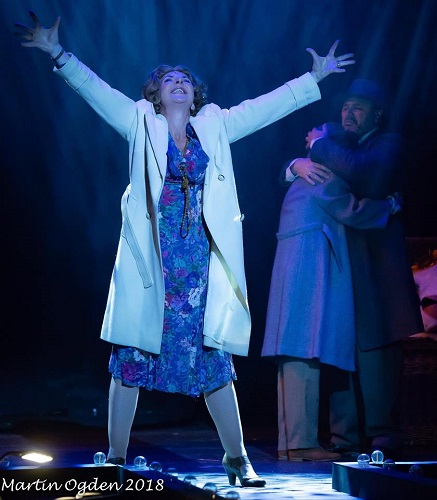 They are forced to carry on by the ambition and desire of their mother, Mama Rose, (Samantha Bates). Anyone who has spent any time in theatrical circles will recognise the stereotype of the showbiz mother, pushing and wheedling producers and directors to gain advantage for their offspring. Bates manages to convey this creature and all her selfishness dressed as selflessness superbly. When she sings 'Everything's Coming up Roses' to close Act 1, the subtle emphasis she puts on the lyric 'for ME, and for you' tells you all you need to know about her true motivation. However, more impressive still was the way later we watch her trace the character from brash to broken, realising that her overweening ambition has left her without real relationships with either children or partner and her life is without direction and substance.
As the arc of Mama Rose descends, we see the growth of Louise (played now by Laura Meredith-Hoyle) who has unhappily taking the lead role in the act, following June's elopement with support actor Tulsa (a fantastic singing and dancing cameo by choreographer Gary Jones-McCaw). They are forced into working in a low Burlesque hall where Louise metamorphosis's into Gypsy Rose Lee, the most famous and highest paid stripper in the country.
Meredith-Hoyle develops the change in Louise from mousy to sexy well for the most part, utilising a clever change to her singing style, from the innocent 'Little Lamb' to the barnstorming 'Let me Entertain You' where she is (almost literally) revealed in all her glory! The character is required to physically switch from shy to sassy over the course of this song and this is a difficult balance to achieve. Meredith-Hoyle was not helped in this endeavour by an audience that was lacking in suitable reaction or emotional engagement with the show throughout. I have no doubt that later performances in front of a more enthusiastic crowd will result in a more relaxed and seductive portrayal.
Strong support in the cast is offered by Jon Crebbin as Herbie, who offers the family the certainty of marriage and a more conventional lifestyle and is cruelly cast aside on the altar of ambition by Mama Rose. The plaintive saxophone playing as he realises how little he means and his broken reaction was a poignant moment, indeed the incorporation of the band directly by having a revealed pit added much to the vaudevillian nature of the staging.
The creative team led by Director Lee Brennan, have clearly leaned heavily on the Olivier winning 2015 West End revival for inspiration, and the cleverest ideas from that production around cast and scene changes are incorporated here. The use of a catwalk towards the audience through the band worked particularly well in this setting and the lighting portrayed mood well, especially during 'Rose's Turn' in the finale. The costume department excelled with gaudy recreations and a particularly 'electric' number that will both delighted and surprise.
The ensemble were, as usual, strong throughout, the incorporation of the Next Generation Youth group shows that the future is in safe hands and will hopefully ensure many more visits to this dedicated and talented company.
Verdict: MAODS have come up trumps and this Gypsy is brassy, sassy and will entertain you all night long!
Gypsy continues at the George Lawton Hall until Saturday 28th April. See http://maods.org/ for more information.
Reviewer: Paul Wilcox
Reviewed: 23rd April 2018
North West End Rating: ★★★★