Whistle down the wind, an Andrew Lloyd-Webber classic is admittedly a show I have never seen before, so I approached this performance by BMTC with an open mind. I always love visiting the Thwaite's Empire theatre in Blackburn (or as we were told before the show that it will shortly be named the Blackburn Empire) due to its wonderful intimacy that draws you into any piece of theatre when you are there.
One thing I am a great lover of is an open set at the beginning of the musical. I feel it creates mystery and excitement for you as an audience member when entering the theatre and you see it probably 9 times out of 10 in the modern day.
Blackburn Musical Theatre Company never disappoint. They put their life and soul into every show and this certainly rubs off in the performances they give every May. Whistle Down the Wind is set in a small, deeply religious town in Louisiana in the 1950s. A poor farming family led by father, Boone, and his three children who have recently buried their mother, still struggling with the grief. As Christmas approaches and the family cannot afford any presents or luxuries, the three children are desperate to find something to hold on to and believe in. They find a stranger injured and hiding in their run-down barn. This man is Jesus (also a runaway convict) and the rumour quickly spreads amongst the children of the town.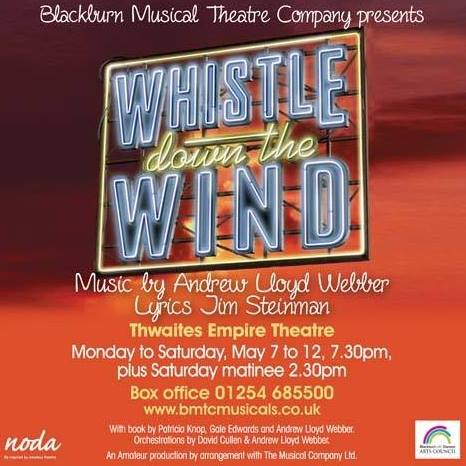 The town is on the lookout for the convict, urged by their Sheriff to stay vigilant. When Candy, a rebellious African-American youth learns of the prisoner's hide-out, she is quick to reveal it to the town and the residents all descend on Boone's farm. However, mysteriously, The Man has disappeared, and Boone realizes that Swallow still needs him to depend upon and restore her faith in their family unit. For me, this show was all about the incredibly talented children who stole the show from the minute it opened particularly with the iconic song 'I Never Get What I Pray For'.
Finding children in the theatre world who can sing, dance and act is incredibly hard. But BMTC absolutely struck gold with these youngsters. A stand out performance from Madison Boyle as Swallow has got to be up there with some of the best performances I have seen from young performers across our area. Madison has a voice that is truly beautiful and one you could listen to all day. She took every lyric and made it her own whilst displaying true emotion and character throughout. A huge well done for delivering such a demanding role so well.
The Man was played by Nicholas Gunn who was once again superb. I have seen Nic play many leading roles with BMTC over the years and he never fails to disappoint, if anything – he gets better! This is a big role for anybody to play but Nic took it in his stride and gave a performance that was powerful, believable and blew the audience away with his tremendous vocals.
There are far too many people to name in this show and I could go on all night about how well each person played each role, but I think most of all what came through was the cast's togetherness, especially the children who played each role with immense maturity which made the show and story a natural success. My particular favourite moments of the show were the classic 'No Matter What' which was beautifully set and orchestrated, however I wasn't overly keen on the part of the song where the company join but that's just my opinion and who am I to critic the great Lloyd-Webber?
'When Children Rule The World' was also a joy to watch and once again this was choreographed well as were all the musical numbers by the ever fantastic Katie Fry. The show is a lovely piece of theatre and it's always great to see our shows attended and supported by so many people and long may that continue.
Blackburn Musical Theatre Company's production of 'Whistle Down the Wind' is a triumph. It's colourful, magical and has a story that makes you laugh and cry and sometimes at the same time! The harmonies in the musical numbers were very well placed and made my eye brows raise at various points due to how fabulous they sounded. I am a big fan of harmonies, so I always become very giddy and excited when I hear them done effectively.
This is a show that used a next to nothing set, clever and simple lighting, outstanding orchestra whilst backed up by a very committed and top class cast and production team. Well done to Gary, Tony, Katie and to all involved in putting on such a wonderful piece of theatre.
Reviewer: Josh Hindle
Reviewed: 11th May 2018