It was with great pleasure that I took the impromptu decision to attend the spectacle that was NK Theatre Arts' Magic of the Musicals at The Forum Theatre, Romiley.
One benefit of knowing people in the show is that you get to see them in the interval and find that they are feeling nervous for their various solos. Why? I am not sure as they really had nothing to worry about. These compilation shows are usually organised as fundraiser by amateur groups but, although NK do rely on funding and sponsorship for the inspirational work they do with young people, this was a night to showcase the raw talents of various members of the team, as well as promoting songs from some of the newer musicals on the West End over the last five years (not intentionally related to a song later on). The table layout as oppose to theatre-style made for an intimate yet concert-style show, without any scaffolding (!).
Interspersed with recorded introductions, scene-setters from the sound/lighting box and occasionally live video footage of the performers, starting the night was Andy O'Brien singing 'This Is The Moment' from Jekyll and Hyde - slightly poppy but wow what a start! Next up was Kat Bond embodying the role of Rizzo from Grease whose performance of 'There Are Worse Things I Could Do' was slightly unturned but this can be forgiven for the courage of her first public solo (surprising really). Heather Schofield took to the stage to portray Kathy from Jason Robert Brown's The Last Five Years with the beautifully melodic 'I'm Still Hurting', before Chris Grixti revealed the impressively surprising (considering his stereotype of a muscly build) talent of his powerful voice for his well-controlled, passionate rendition of 'Why God Why?' from Miss Saigon - based on the opera Madame Butterfly.
Ashleigh Rose took on the bubbly schoolgirl Tracy Turnblad with an enthusiastic presentation of the first song of Hairspray; 'Good Morning Baltimore'. Jade Wilbraham then showed such soulfulness with a heartfelt 'Out Here On My Own', performed in Fame by the character Carmen Diaz.
With a change to the original programme, Ben Mackenzie showed off his versatility in the rock ballad 'One Song Glory' from the musical version of La Boheme; RENT, with undertones of Jack Black or Tenacious D. We were brought to the first of two 15-minute intervals by three tunes from Sister Act, a musical featuring Las Vegas lounge singer-turned nun Deloris Van Cartier, for which the 'fabulously' burgundy velvet dressed Nicki Sims was saved from a microphone mishap to blow our minds with a song of the aforementioned adjective - an extremely poppy 'Fabulous' with Dawn Wrigley, Louise Shufflebotham and Hannah Gorst as backing singers/dancers - prior to Heather's return for a softer 'The Life I Never Led' during which she could sadly hardly be heard or understood. Hannah Gorst exclaimed 'Oh Happy Days' to an on-stage crowd who acted less than impressed, despite putting out some impressive harmonious tones, before sending us out to the bar with a sense of enlightenment.
After the first interval we welcomed Nicki back to take on the role of Felicia from Memphis, who performed 'Love Will Stand When All Else Fails' (or 'Falls', as it was sang each time). Emma Ramsden acted the part of Claire (who has broken up with Jason) with sincerity in the storytelling 'I'll Be Here' from Ordinary Lives, before Darren Stannage took to the ate to entertain as Che from Evita comparing the lead character's life to that of a circus with 'Oh What A Circus'. The occasional fading out of songs throughout the show was quite odd but better than a sudden end I guess.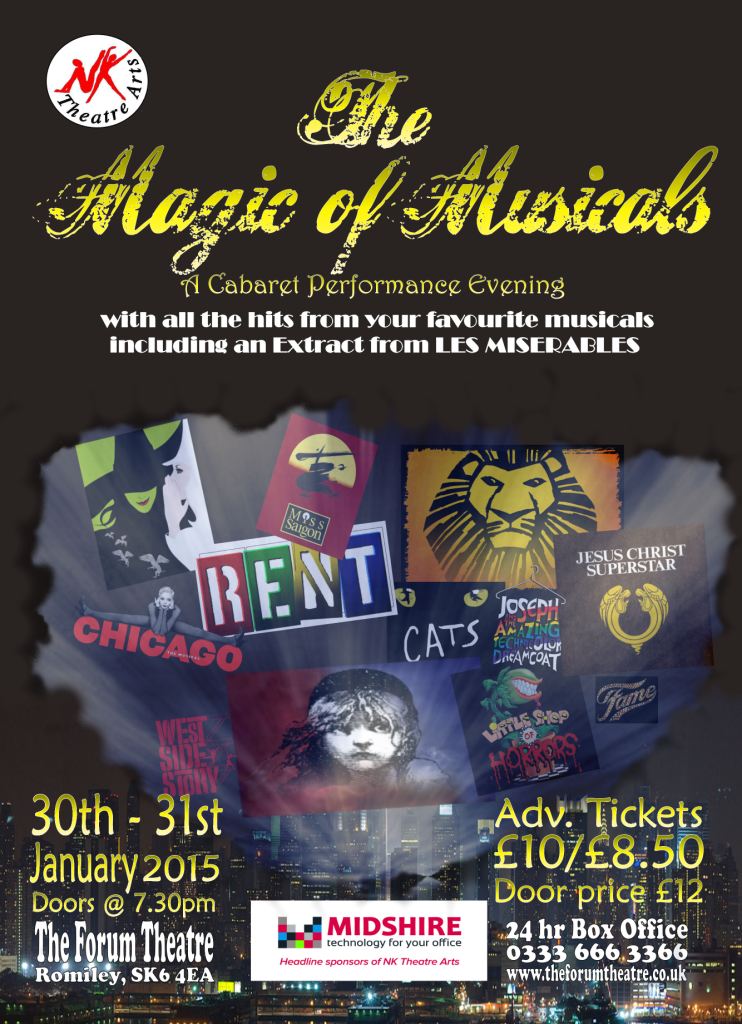 Jennifer Wallis's 'Can You Find It In Your Heart' from Footloose is a beautiful song performed so, sung by the reverend's wife Vi, it was spine-tinglingly good, as expected and Helena Frances proved how she can justify a career in entertainment with a complete change of hear of the character Wednesday from The Addams family as she realises she has feelings of love whilst pulling her brother Pudsley on a rack (no, this did not happen on stage)!
A commonly performed and admired anthem of musical theatre is 'Bring Him Home' from Les Misérables (or Lez Mizer-arbles, as the recording pronounced) which was performed with great control by Shaun Penton, with an air of innocence.
Leading lady of the night Louise Shufflebotham - who directed the whole show - took her turn in the form of 'What I Did For Love' from A Chorus Line in which she had the whole audience in awe of her powerful and flawless voice, with all ever on her and not a pin drop to be heard to ruin it. She remained on stage to act as Elphaba to Dawn Wrigley's good witch Galinda from the outstandingly successful Wicked, performing 'Popular' with much amusement and enjoyment to watchers.
Hannah's solo came (from behind the curtain) in 'Wait A Bit' from Styles and Drewe's Just So - based on Rudyard Kipling's Just So tales – in which the Kola Kola bird is nervous about attempting flight but eventually decides to go for it. This came before the arrival of a talented guy, who can often be seen listed as musical director for the group's shows - this would have prevented the rare but present obstacle of timing to backing tracks - Dominic Stannage, who showed much musicality and even gained an "Aw, he was brill!" from a lady on my table with a aptly gentle 'Try A Little Tenderness' from The Commitments. He admitted that he was nervous but again has no reason to be, relaxing into the song as it progressed, helped by the growing rhythm and crescendo of instruments on the track - amazingly his modesty only lead him to give a thumbs up to the admiring crowds. This concluded the second section and we had another interval whilst the cast prepared for what was to come…
…that was a promotional extract medley, directed by Kerry Day, from their forthcoming production of Jesus Christ Superstar in April. I don't know the show and so am unsure of which sings were included but I tell you that you are guaranteed a treat when you attend! Dominic played Jesus and Chris played Judas.
For a finale the whole cast were invited back onto stage to sing us out with the inspirational 'Seasons of Love' from RENT. A song that was written for the end of the first half of the original show, it was moved to the first song in commemorating of the death of the show's writer by AIDS just hours before the curtain was due to go up.
On a more pleasant note, you may notice a few exclamation marks in this review. This is due tot eh passion I have for theatre, particularly local, and the showcasing of such talented individuals who I have no doubt will go very far in the industry of performing arts should they choose o follow such a path. I strongly urge you, as an audience member, to become a fan and show your support for these wonderful people so they can continue to develop their own confidence, as well as that of their peers, and keep putting on great shows FOR YOU!
Jesus Christ Superstar runs from at The Forum Theatre, Romiley from 27th until 30th April and tickets can be sourced from www.ticketsource.co.uk/event/106097
Reviewer: Chris Oatway
Reviewed: 29th January 2016