I was incredibly nervous for my evening's performance of Roald Dahl's 'The Witches' after haunting memories from my childhood of women peeling their faces and hair off revealing a horrifying sight underneath! I am pleased to report that the Halifax Thespians managed to avoid the gruesome sights I initially I expected, by instead portraying the witches' transformation with simple black veils and colourful wigs being removed to reveal caricature plastic noses and flesh painted swimming caps! Everything about this evening's performance was clearly designed to entertain the children in the audience, the adults also appreciated the light hearted comedic moments along the way.
'The Witches' follows the story of a young boy (played by Chris Main) after his parent's unfortunate death. He is sent to live with his Grandmother (Julie Johnson) who wastes no time in educating him about the secret witch communities around the world. Before long the boy, with his new friend Bruno (Luke Beevers) are encountering witches for themselves within a seaside hotel. It is then up to these two boys to defeat the council of witches staying in the hotel, all whilst being transformed into small white mice by the hands of the witches. The cast of this evening's performance was made up of only eleven, with a vast amount of multi-role involved which further helped highlight the comedic element throughout.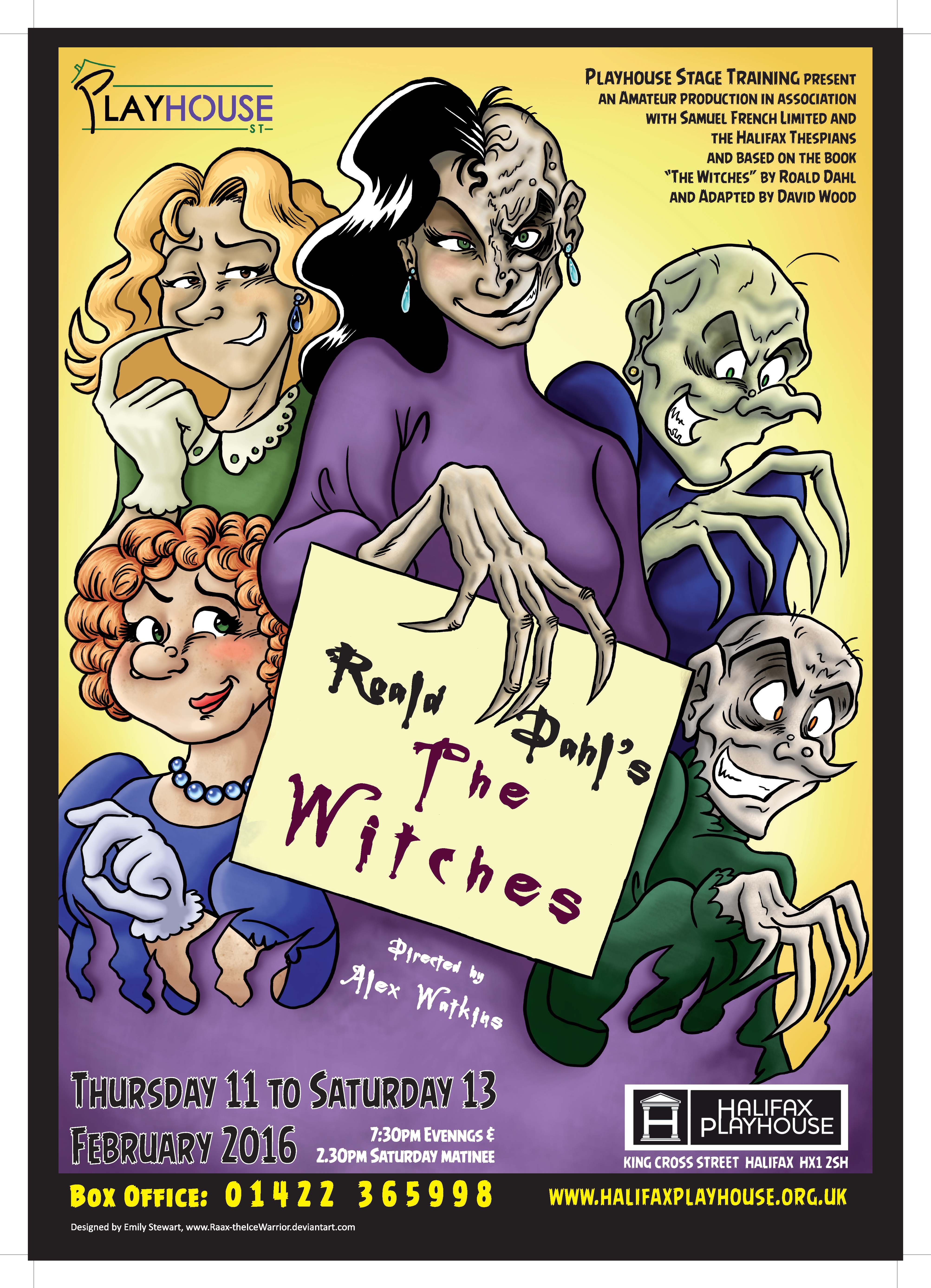 Chris Main did an excellent job of bringing energy to the role of the innocent and very polite boy involved in this adventure. When he wasn't bouncing around the stage as a mouse, he was delivering clear and engaging narrative moments for the audience to follow the context on stage. In a brilliant contrast to this role Luke Beevers provided the majority of the comedic moments of which the audience responded extremely well. His character of Bruno constantly had a piece of food in his hands (or paws when he was a mouse!) and this repetition helped the audience engage and laugh at this greedy, cheeky character. The whole cast managed to perform the multi role with professionalism, adapting their performance skills for each elaborate character involved in this original tale.
Even though the scene transitions were quite rough around the edges, and some of the set changes were often visible in clear lighting to the audience, the magic of this Roald Dahl tale wasn't lost, especially for the younger audience who were playing their own game of 'catch the witches' during the interval in the aisles. The Halifax Thespians are obviously a close knit theatre group with a clear passion for theatre and entertainment, and this was definitely apparent in the production tonight. The cast and crew were working together (literally in some of the scene changes) to bring this imaginative children's story to life, and I can safely say I laughed a lot more than I did in the original film, and for all the right reasons.
Reviewed by: Christine-Jane Parkes
Reviewed on: 11th February 2016