In school halls up and down the country every week productions of musicals and plays take place that don't get seen by a wider audience, and are sometimes restricted to just family and close friends of those in the productions. By not seeking out these productions we are in danger of missing out on seeing possible future stars of the stage taking their first steps on the road they call "showbiz". In a week, which for me has been dominated by youth and school productions, tonight I found myself at Flixton Girls School to watch their production of Fame.
Fame – the Musical is based on the 1980 hit musical film Fame which starred Irene Cara and featured the famous title song. The show had its world premiere in Florida, USA in 1988 before it transferred to an Off-Broadway venue in 2003. The show was conceived and developed by David de Silva, who was one of the original producers of the film. After the film's success, a television series was mounted and it ran for six seasons. The musical was developed away from the film and TV adaptations, and although there are similarities, their scripts and book are fundamentally different. The score for the musical was completely re-written and the title track only included as an addition.
Since the first production in 1995 the show has enjoyed seven separate West End runs; the longest being at the Aldwych Theatre from 2002 to 2006. The show has also found a home at the Cambridge, the Prince of Wales, the Shaftesbury and the Victoria Palace.
As the musical opens we meet a variety of students from New York City who are all praying that their application to the High School of Performing Arts is successful. We start to see the lives of the various characters as well as their hopes and ambitions, as the teachers enter and tell their respective classes that their own discipline is the hardest in the world. We hear about the 'hard work' that everyone has to put in in order to succeed. This opening scene was well staged with not only those on stage singing but a choir either side of the band making it a powerful and great start to the evening.
During Mr Myers' (Lauren Eames) drama class we meet Nick Piazza (Chloe Chesworth) who is a wannabe actor. He is serious about his future prospects and catches the eye of Serena Katz (Elissa Headford) during a scene, but Nick is more interested in impressing his teacher. During dance class Joe (Hannah Weiner) tells the group how he finds it hard to 'keep it down' when he sees and attractive girl and breaks into a full routine. Tyrone (Faye Dixon) is finding it hard to understand the discipline of classical ballet and is mocked by his partner Iris (Breanna Bradshaw). He tries hard to show Miss Bell (Olivia Isherwood) that he has the skills needed to be a dancer and expresses his frustration through a rap. Iris is instantly impressed.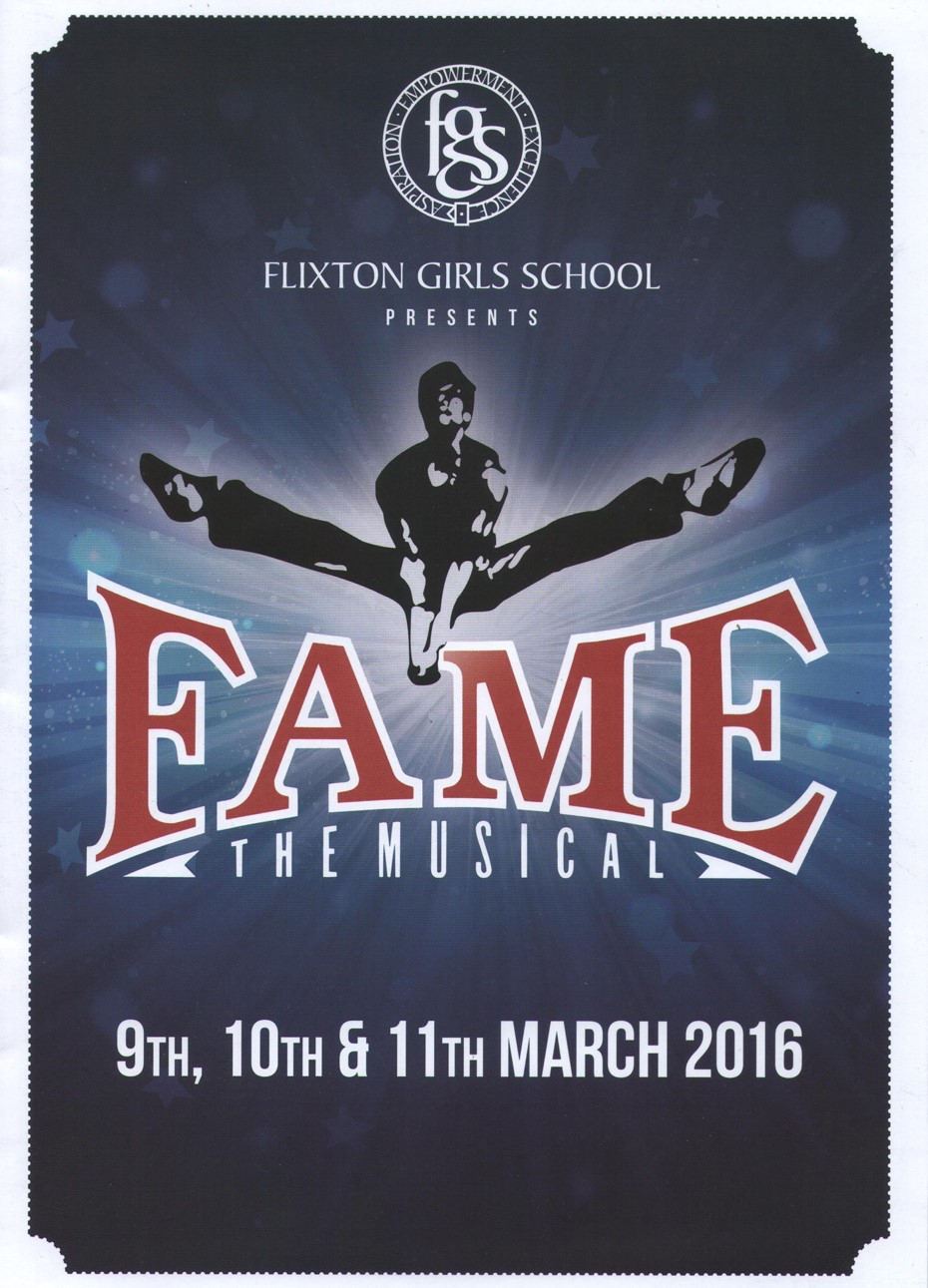 In an effort to get Nick to notice her, Serena suggests they rehearse a love scene but he continues to ignore her advances. In music class Carmen (Eden Woodstock-Burgher) interupts Scholmo's (Rianne Kerry) piano playing and suggests lyrics to go along with his music and they enjoy playing together. As the year meet together in the lunch room they dream about seeing their name in lights and living a famous lifestyle. Miss Sherman (Evie Headford) is angry at Tyrone's attitude and threatens to throw him out of school if he cannot improve his grades. Miss Bell argues that his dancing is good enough to keep him there, and the teachers argue between themselves. Tyrone overhears them and threatens to walk out.
The second act begins with a fall festival and the students all perform together. An overweight dancer Mabel (Soraya Holloway) stresses about her size and body and decides to transfer to acting to stand a better chance. Serena is pleased to get the part of Juliet in their class production of 'Romeo and Juliet' but is upset that her Romeo will be played by Joe (Hannah Weiner) and not Nick. There is speculation that Nick might by gay, but Serena tells people otherwise. She struggles to contain her emotions and has to think of Meryl Streep in order to feel happy. Schlomo finds out that Carmen is thinking of leaving the school to move to LA and accuses her of taking drugs.
During acting rehearsals Joe is not taking his role seriously, and Nick steps in to help, ending in a stage kiss between him and Serena. Tyrone is upset with Iris for ignoring him and reads her Walt Whitman's 'Leaves of Grass' to show that he does have a serious side to him. Miss Bell admits to fiddling Tyrone's grades to help him graduate and tells him he needs to repeat the year. Carmen arrives showing signs of drug abuse and tells Schlomo about the fun she has had in LA.
The class prepare to graduate and Nick finally tells Serena that he likes her, and they promise to stay together after school ends.
Each and every one of this cast gives 100% from the moment the curtains open to the finale and despite the age range are all equal on stage. With this being an all-girls school there was extensive use of wigs used to great effect for those playing the male roles and took nothing away from the piece at all.
In every show there are a few stand out performances and this show was no different. There were 5 that really caught my eye tonight. First of all Evie Headford as Miss Sherman was effortless throughout and made for this role. Her dominance over the students was evident, and showcased a beautiful voice especially during the stunning "These Are My Children". I have been fortunate to see Headford in a couple of productions now and she never fails to impress.
Rianne Kerry as Schomo gave a very assured and confident performance and sang wonderfully as she battled the loss of Carmen. Also shining bright on stage were Elissa Headford and Chloe Chesworth as Serena and Nick. There was a superb chemistry between these two from the moment they set eyes on each other. "Let's Play A Love Scene" was a particular highlight for myself with Headford controlling her vocals with admirable skill.
Perhaps the audience favourite of the night was Soraya Holloway as Mabel. She quite literally stole the show with her gutsy performance and absolutely priceless comedic timing. "Mabel's Prayer" was by far and away the best performance of the night which was rewarded by the capacity audience with the biggest ovation of the evening.
Given the space available and the size of the cast Miss Taberham's direction worked well with the slightly restrictive set which could have benefitted from another exit on each side of the stage. Miss Stubbs led a superb band made up of teachers and pupils from neighbouring schools. Lighting and sound from Mr Gill and Mr Skinnion worked well with my only gripe being the number of blackouts to facilitate scene transitions.
Finally, in the years I have been reviewing (amateur) theatre until tonight I have never felt the need to find out the name of a particular cast member so much as I did tonight. She wasn't in the main cast, or the ensemble but in the choir sat at either side of the band. Sat contently watching the show awaiting the choir's parts, when she stood up you could not help notice her. Her commitment and passion for what she was singing was like nothing I had seen before, and not in an overstated way I should add, and always with a huge smile on her face. The young lady in question was Isabella Scowcroft whom I was fortunate enough to be able to congratulate after the performance. Isabella, you were an absolute star and I for one look forward to seeing you in the next show up on the main stage, you deserve it.
It was evident that the cast enjoyed every second of performing Fame tonight and this enjoyment made for a superb all round show. This was my first visit to Flixton Girls School, it certainly won't be my last!
Reviewer: Paul Downham
Reviewed: 11th March 2016