This was a production I was really looking forward to; a Musical I had not either heard of or seen before, and as it promised to be a rather dark and dramatic one at that too, so much the better.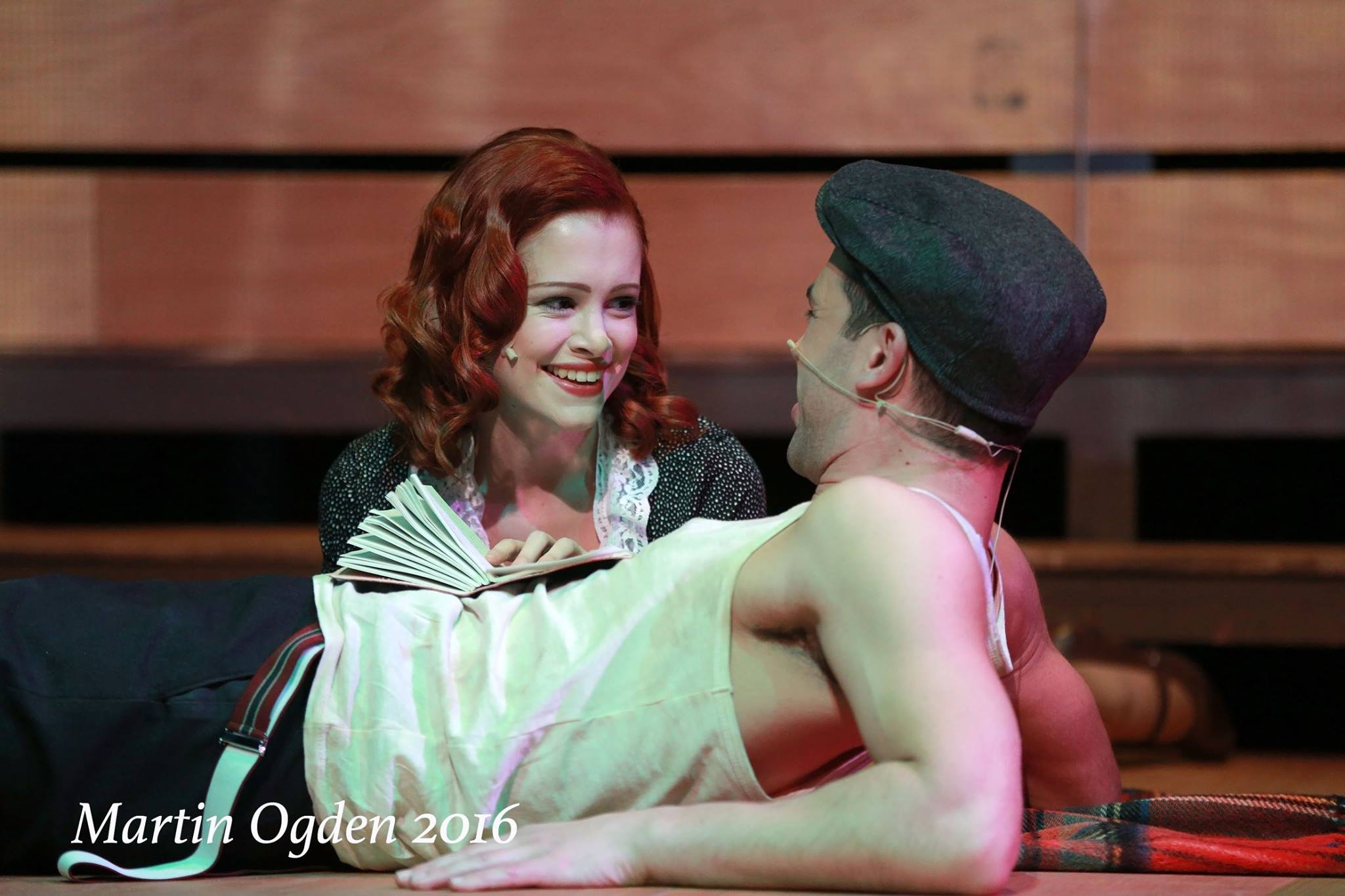 The Musical follows fairly closely, with naturally a certain amount of artistic licence, to the documented escapades and eventually fate of the infamous duo Bonnie Parker and Clyde Barrow, undoubtedly America's most notorious criminal duo who, despite their media hype both then and now, were nothing more than a couple of small time criminals during The Great Depression in the 1930s who got a little greedy. It was their carelessness with their growing popularity that led to their being found, but it was Clyde and his brother's jailbreak and their killing of police officers which really put the targets on their heads. Although it has always gone down in history as simply 'Bonnie and Clyde', they rarely worked alone, and their gang included his brother Buck and his wife, Blanche along with others. Perhaps if they had only stuck to robbery and kept a low profile, but sadly, they had bigger dreams, and Bonnie loved writing poetry and taking pictures. They both realised though, that they couldn't get away with what they were doing for ever and they had resigned themselves to the fact that they would eventually be caught and die 'in a blaze of glory'.
Armed with this knowledge, I thought perhaps the Musical would be in a similar vein to others whose subject matters are serious and dark (Jekyll and Hyde, Whistle Down The Wind, Les Misérables, Miss Saigon etc), but this one actually is much more comedic and fast-paced, almost glorifying the murderers, and none of the tragedies, except Buck's death, were shown naturalistically. Mostly with lighting and sound effects. This gave the whole production a rather non-naturalistic feel and distanced the audience from the action because of it. Not knowing the show, I cannot tell whether that was how the show was written or whether it was the choice of the director for this production, but I found it rather difficult to truly connect with the performers because of it.
The Musical did not do well on Broadway, closing after only 4 weeks, and few productions since then (2011) have been mounted. Perhaps the reason being that this Musical does indeed sit somewhere between the tragic through-written rock operas of Lloyd-Webber, Boublil and Schoenberg, Kurt Weill, etc and the more standard Musical Comedy genre and hasn't really found its niche. That's a shame because the music is wonderful. The score is written by Frank Wldhorn [ Jekyll and Hyde, The Civil War, Wonderland ], and lyrics are by Don Black [ Aspects Of Love, Sunset Boulevard, various James Bond films etc ], and although the music is not of the period in which the book is set, it is undeniably American music - rock and gospel - and very emotive and evocative.
So, enough digression, and back to last night, and All Saint's Musical Productions presentation of this Musical.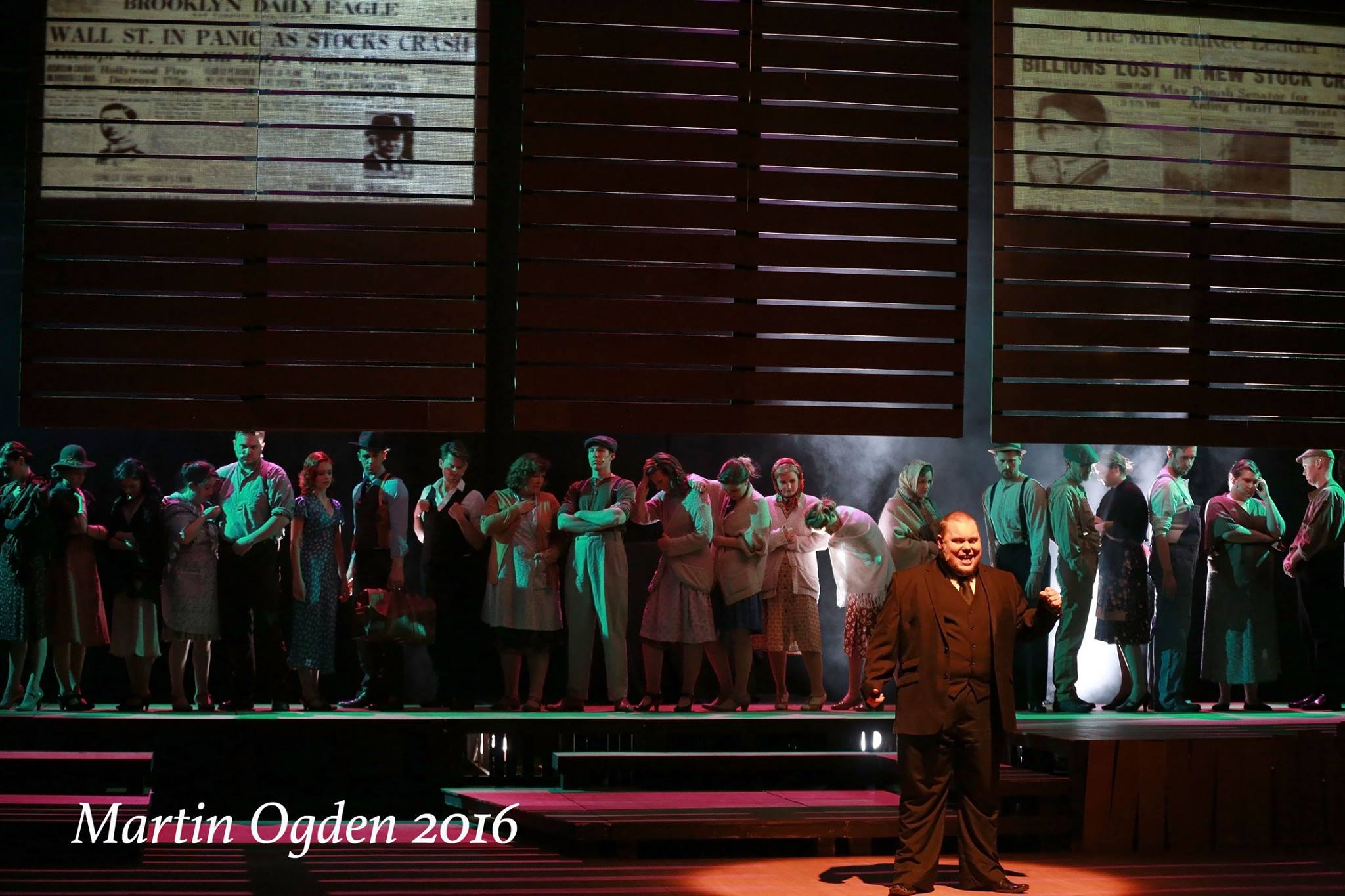 The set, (idea copied from the Broadway design), worked actually extremely well. Three wooden-slatted flats placed half-way back across the stage which were raised and lowered throughout the show for various scenes as need arose, whilst on the slats themselves were projected photos and images - newspaper headlines etc - of the time to add authenticity to the story. Most of the pictures were indeed genuine, with a couple of rather cleverly done photoshopped images of the society's cast too. There was also a car behind the centre flat, and so when lifted, Bonnie and Clyde could sit in this car, facing the audience whilst all around them a film of driving along a road was projected.
In front of this was the main acting area, and was multi-levelled, and also wooden slatted, and with the additions of smaller set items became the various rooms, houses, hideouts etc as we were taken on their journey.
The set, (Dave Bamford and Doug Wooller), looked good, and worked really well. I liked it very much. I just wish that both cars used in the show could have been a little more realistic. Sadly they were far from real and just looked (I hate this word, but am struggling to find a better one) amateurish.
Also, could there not have been a way of darkening behind these flats so we didn't see the set and cast movements there?
Lighting, (Ian Legate), in general was good. I liked the use of different hues for different areas, although I would have preferred more steels in some of the scenes, especially the prison. As already mentioned the stylised killing sequences were very well executed (no pun intended), but I felt disconnected from them - rather like I do when watching Bugsy Malone.
This was opening night, and one or two of the LX cues were off, and a couple of scene changes sluggish, but in general it was really quite smoothly done and changed from scene to scene quickly and easily.
Musically stunning, and the band, led by John Barry were in fine form. Note perfect and created a lovely full sound.
And so, finally to the acting.
Samuel Maurice played Clyde, and proved to be a fine actor and singer, making this role his own. A very high-energy performance in which he totally believed and, having just very recently seen him play The King in The King And I, I found it very difficult to believe he was the same actor, credit to his versatility and total immersion in the role he plays.
Playing opposite him was Rosie Plummer as Bonnie. What a delightful actress she is too. With a superb singing voice and her characterisation of the hybristophiliac partner to Clyde spot on.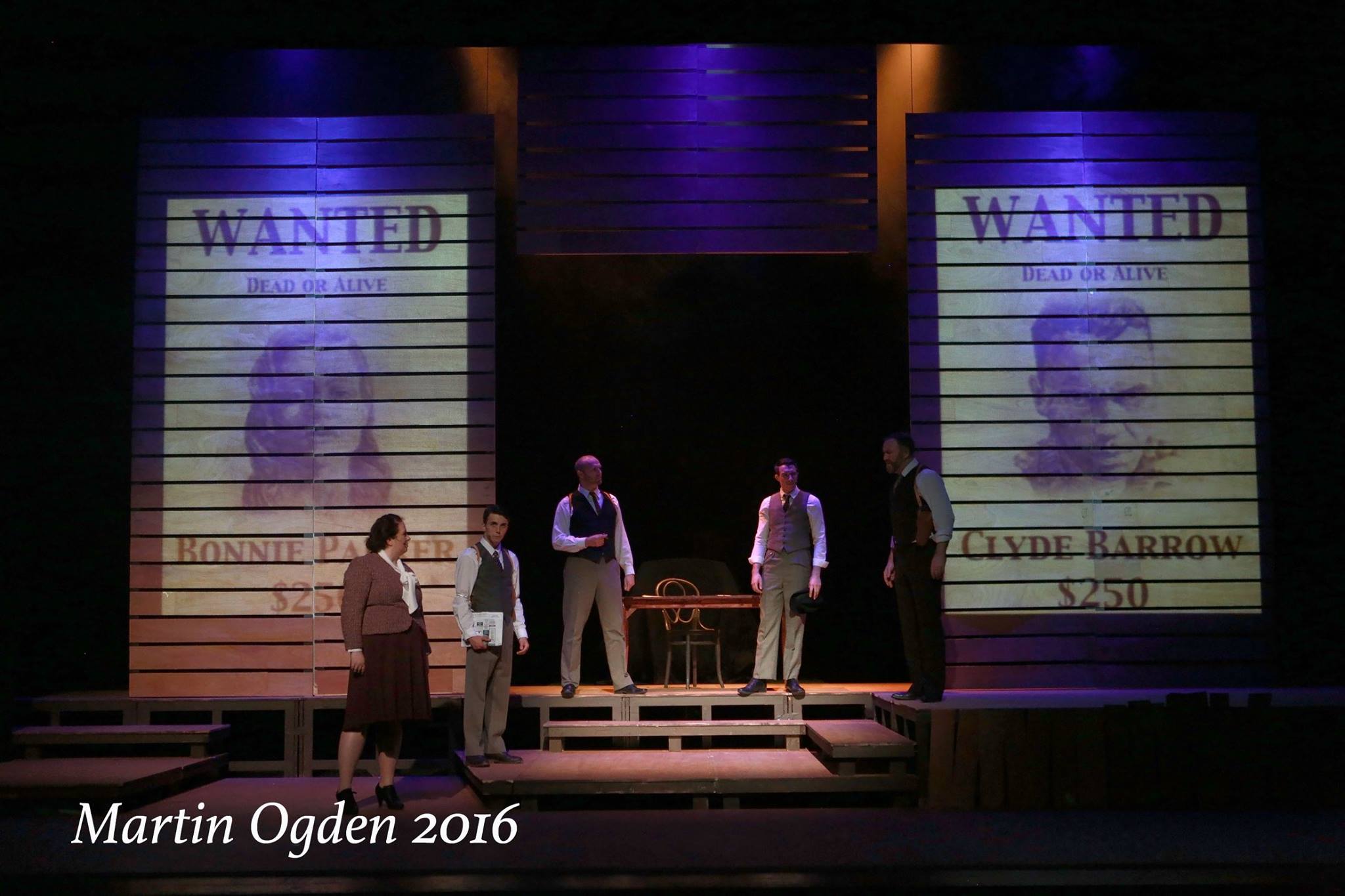 Opening the Musical, and in further short 'flash-backs' were a couple of youngsters who acted and sang Bonnie and Clyde. Carter Shuttleworth-Parkinson played the young gun-toting, Billy The Kid-idolising preteen Clyde with skill and ease, whilst the young girl dreaming of fame and being an 'It' Girl was Isabel Cross; again a lovely performance and a great singing voice, as well as dancer too in one of the dream sequences. I see in the programme that Cross attends The Danceworks in Eccles. Over the last few months of reviewing I have come across this dancing and stage academy several times, they seem to pop up in all kinds of unexpected places. However, I have yet to say a negative thing about them. I have thus far found all of their students extremely talented and professional, and Cross was absolutely no exception.
The most amazing thing for me though was simply this. The young Bonnie and Clyde did indeed look like the younger versions of the adults; AND both Maurice and Plummer also managed to look very similar to the surviving photographs of the real Bonnie and Clyde too! That was quite impressive.
Aiding and abetting the duo in their nefarious business were Tim Wood as Clyde's less bloodthirsty brother Buck Barrow. Torn between his love of the criminal life, and his love of his wife and God, he plays this balance superbly, and turns out a very real and believable performance. His dominant and rather self-righteous but loving and faithful wife, was played here, again with great skill and naturalism, by Dominique McClafferty.
Supporting these four protagonists was a very well chosen and strong cast of smaller and cameo roles. Although, two of these roles, the more substantial of them, do deserve a special mention. Gabriel Walker, playing Ted Hinton. Ted was a real person too, and was indeed very much in love with Bonnie. He also did indeed join the sheriff's posse and actually was one of the men at the fatal ambush. Whether or not he actually fired any shots though will never be known. This was another fine performance from a very young looking man, played with supercilious relish. A great stage presence and singing voice.
The other cast member who mustn't go uncredited was of course Chris Addington, whose interpretation of The Preacher was just lovely. Again a fine performer oozing stage presence and singing gospel and gospel-rock songs with ease and just a touch of irony. That little glint in the eye being the give-away.
This isn't really a big chorus Musical at all, in fact it could probably work equally well without any chorus at all, and they don't really have much to do. The ensemble work though was of a very high standard and although the opening of Act 2 was the weak link in your chain, and that was, I think, more a fault of either director or book than anything, but the 'God's Arms Are Always Open' sequence in Act 1 more than made up for this!
Talking of the directing by Ian Bennett, then this was, in the main, both solid and fast-paced. Mostly working very well indeed, and I really appreciated his work on characterisation, inter-character relationships and dialect. The death scenes were the least effective, and a dead person standing and walking offstage in full view of the audience during a song was just a little much to take for anyone's suspension of the disbelief. The first act was much slicker and more proficient than the second in general, and the ending seemed rushed and careless. [And what was the final image projected onto the slats? I have no idea but it looked totally wrong and out of place.] Once again we were given red lighting and gun sound effects, but, either because we already knew how it would end or because it was simply glossed over and rushed, seeing Bonnie and Clyde sitting dead in the car was neither shocking nor a revelation, and with no blood on the car or any obvious destruction of the car by bullets, looked fake.
However, all in all, this was a most enjoyable production and performed with gusto and bravura. If you are looking for something that is not your usual Musical fayre, slightly macabre, with superb music, then this show is most definitely for you; and with this talented and 'professional' society you certainly will not be disappointed.
The show runs at The Lowry's Quay's Theatre until Saturday. Go and see something a little different this week!
Reviewer: Mark Dee
Reviewed: 26th April 2016