Wakefield is officially pink this week as Wakefield West Riding Theatre Company present Legally Blonde The Musical playing at the beautiful Theatre Royal until Saturday.
Legally Blonde is one of my favourite modern day musicals and as such I have had the chance to see many different productions since it first burst into the West End in 2010. With the latest revival currently enjoying rave reviews at the Curve in Leicester and the shows release to amateur companies recently there is more pink around than ever before in UK theatres.
Wakefield West Riding Theatre Company (WWRTC) in their version of this show have made a good job on the whole of what is a fast paced show with many scene changes, a lot of choreography and 2 dogs!
The story, Delta Nu president Elle Woods (Kirsty Taylor) is unceremoniously dumped by her boyfriend Warner (Ashley Brooker) over dinner as he sets off to Harvard Law School and believes Elle is not 'Serious' enough for him. Not wanting to give up on love Elle decides she is going to follow her man there and studies hard to gain entry to this elite school. Once there she discovers that Warner has found a new girlfriend in Vivienne (Charlotte Woodward) and through a mix of jealousy and determination she throws herself into her studies and unexpectedly becomes the star student of Professor Callahan's (Ian Fryer) class defending fitness guru Brooke Wyndam (Isabel Canning) after she is accused of murder. Supported throughout by her Delta Nu sorority sisters Margot (Molly Griffiths), Pilar (Hannah Mullen) and Serena (Chloe Jackson), older law student Emmett (Chris Moss) and new found best friend Paulette (Amy Vickers) can this blonde rekindle her relationship with Warner, or move on to bigger and better things?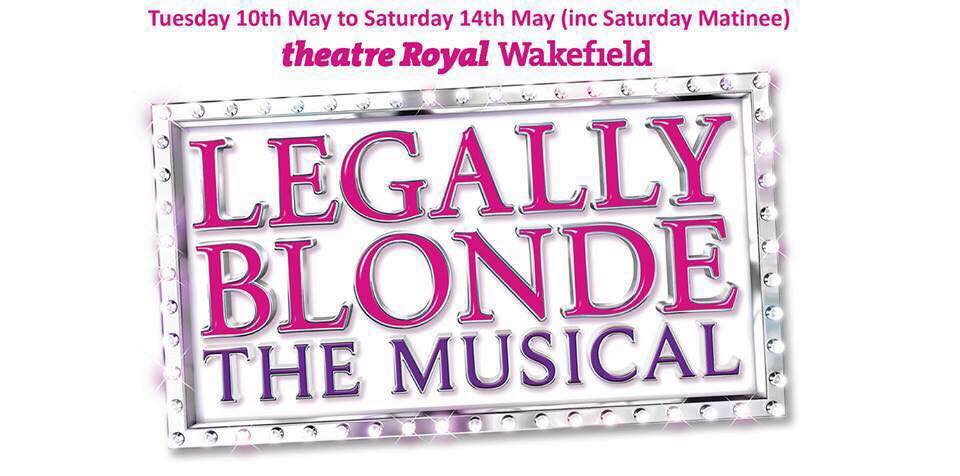 The entire cast worked extremely hard for the duration of this performance. Taylor as Elle Woods was superb throughout gaining in confidence as the show went on and really came into her own in the second act. Entering Harvard as just a pretty face, but leaving pretty smart, you couldn't help being happy for her at the end of the show. Supported by Griffiths, Mullen and Jackson as the Delta Nu Sorority sisters who led many of the song and dance numbers with Jackson being a particular stand-out during 'Bend And Snap'.
The men in Elle's life were all well cast in their own ways. Booker as Warner had the swagger the role requires complete with dark shades. Moss as Emmett is as geeky as the role requires with a lovely sense of vulnerability that gradually evaporates as he realises his feelings for Elle. Fryer plays Professor Callahan with an air of menace and installs a type of fear into his students which makes his downfall all the more satisfying for the audience, as well as Elle.
Woodward as Vivienne is a strange role in this show and handled well here. Stood in the shadows for most of the show it is only towards the end where she comes centre stage, which is a shame as Woodward is a talented singer I'd like to have heard more from. Canning as Brooke simply made me feel exhausted watching her perform. She executed the opening of act two as well as I have ever seen anyone in the role, singing and skipping whilst never seeming to be out of breathe, total kudos to you.
For me however the star of the show was Vickers as Paulette. The role is a gift to a comedic actress and also has some superb musical numbers. She had the audience eating out of the palm of her hand from the first time we see her in the salon and her performance of 'Ireland' was a true show stopping moment.
Sadly, the cast were let down last night in my opinion by the whole direction of the staging. The scene changes were clumsy and not thought out. As an example, long pauses albeit covered by the score were spent in darkness as the crew set the next scene before the actors walked on empty handed. Allowing the cast to bring on items such as benches, tables and chairs would speed the process up massively and help keep the pace of the whole show at the level it should be. I am afraid tonight just as the show reached its show pace it was slowed right down again by a scene change. I can excuse things like this on a small school hall stage, but not on what is a professional stage at the end of the day. In saying this, I must compliment the production on the set. It was impressive throughout, well built and detailed in its design. I just hope that scene transitions are smoothed out as the week long run continues.
Whilst I am mentioning the staging, the lighting didn't do anybody any favours either tonight. Late cues and parts of the stage left in total darkness were very noticeable throughout. In the first half when Elle meets her parents playing golf, two spotlights were trained on Elle with her mother and father were left in the shadows. By simply using one spotlight for Elle and the other for her parents would have easily rectified this immediately.
The band under the direction of James Greatorex grew during the performance after a rather shaky start to put it kindly. Being a fan of the show at times I found myself wondering exactly what they were playing. The 'Harvard Variations' was a complete disaster and I must compliment Rachel Marshall as Enid Hoops for the way she coped with this, a true professional.
Tonight was opening night for this show, for me it was more like a technical rehearsal sadly with the technical side of the production struggling to find its feet. I am sure that the things I mention above come as no surprise to those involved and steps have been taken to rectify them for the remainder of the run. If these things are done and coupled with a talented cast this show has the potential to be one of the better versions of Legally Blonde I have seen from an amateur company. Sadly it's not quite there yet.
Reviewer: Paul Downham
Reviewed: 10th May 2016