The Centenary Theatre Company presented their fabulous version of the iconic musical Grease at the beautiful Brindley Theatre in Runcorn.
Grease it's one of the best known musicals of all times so was a great challenge to the Director Dan Grimes and for the production team to reach the audiences expectations. The performance of Grease was dedicated to the memory of Malcolm Fallows, Centenary Theatre Company's resident Musical Director for the past ten years, who sadly died on Saturday 7th May 2016.
The storyline needs no explanation as it would be hard to find a person who does not know the story and the infamous songs that have been played many times at parties and social gatherings such as: 'Greased Lightning', 'Hopelessly Devoted' and of course 'Summer Nights'.
Rebecca Dickinson played the role of Sandy Dumbrowski the innocent blonde who falls for her summer love Danny Zuko. Kit Phillips played Danny Zuko the lovable rogue from Rydell High, Kit had fabulous vocals as he eased his way through his big ballads and certainly showing off his vocal range singing 'Sandy'. Hannah Young played Marty and betrayed the role beautifully. Helen Gorry a member of Centenary for 14 years played the feisty and sexy role of Betty Rizzo, Helen was perfect for this role and her rendition of 'There Are Worst Things I Can Do' was heart felt.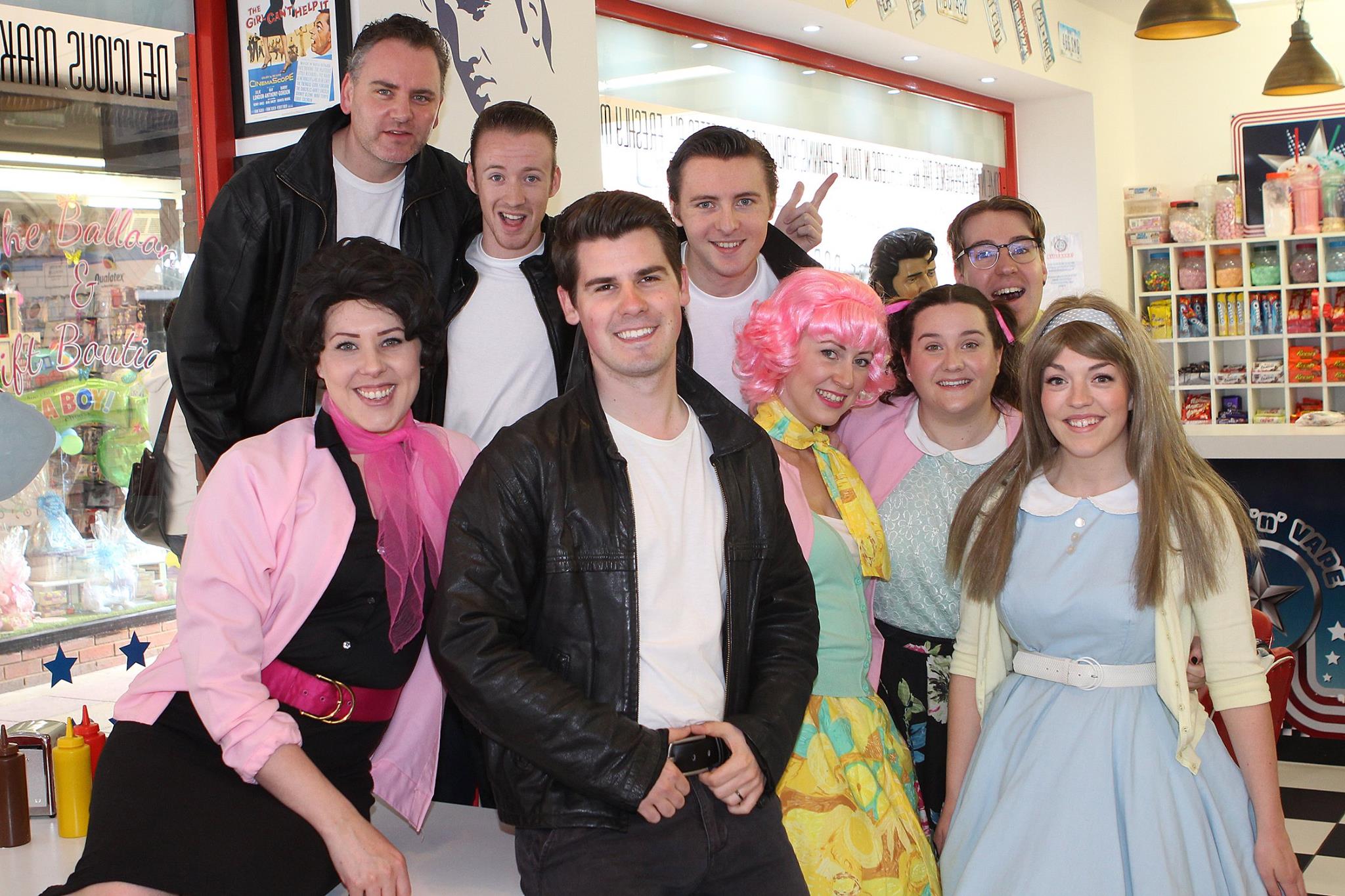 Tom McLoughlin played Kenickie and made the role his own.
The stand out performers of the evening for me personally were Rachael Benfield and Daniel Richter who played Jan and Roger their duo was perfectly match and both their acting abilities shone out a mile. Daniel shone like a star as he danced, acted and his stage presence was brilliant this young man was my personal favourite.
Maria Ames played the beauty school dropout Frenchy, Maria was brilliant in the role and was a pleasure to watch. Patty Simcox and Eugene Felsnick was brilliantly delivered by the talented Danielle Segar and Westley Clarke.
The whole cast were amazing each and every one of them are hugely talented individuals.
Staging was simple but highly effective and the costumes were 2nd to none perfectly matching the era including the Rydell high cheerleader's outfit. The choreography was a credit to Ceris Shadwell and Simon Pickup's Musical Direction was exquisite.
The whole evening had you singing in your head and toe tapping along to the amazing songs of Grease the Musical. The cast had clearly thrown their hearts and souls into the production and the energy was palpable.
My personal favourite scene was 'Beauty School Drop Out' it was a splendid display of visual excellence and stunningly delivered. The evening ended on a high with the Company's rendition of the Finale – 'We Go Together'.
A fantastic evening for all generations to watch and it's a total must see.
Reviewer: Katie Leicester
Reviewed: 17th May 2016