Brenda Edwards is set to return to the role of Motormouth Maybelle in the new UK tour of Hairspray. In a honest interview Brenda discusses why she has returned to the role for a second tour and how X-Factor prepared her for musical theatre.
Could you tell us about Motormouth Maybelle and what attracted you to the role?
I remember watching the original film and then I went to see the Musical in 2007, on Broadway and 2008, in the West End, I really enjoyed the whole show, but was particularly excited by the Motormouth character. Having a Son and Daughter of my own, I could relate to her nurturing strong protective side where she has to be in charge and then there is the entertaining side, where she plays her music and has fun with everyone, whilst having that serious side lending an ear or a shoulder if needed, but she does have her own opinions on things and doesn't mind voicing it. Owning her own record shop I think she is the central hub where all the kids in the neighbourhood can come and hang out.– and the songs she sings are just fabulous! She has a big personality just like me, so I think it's a perfect role.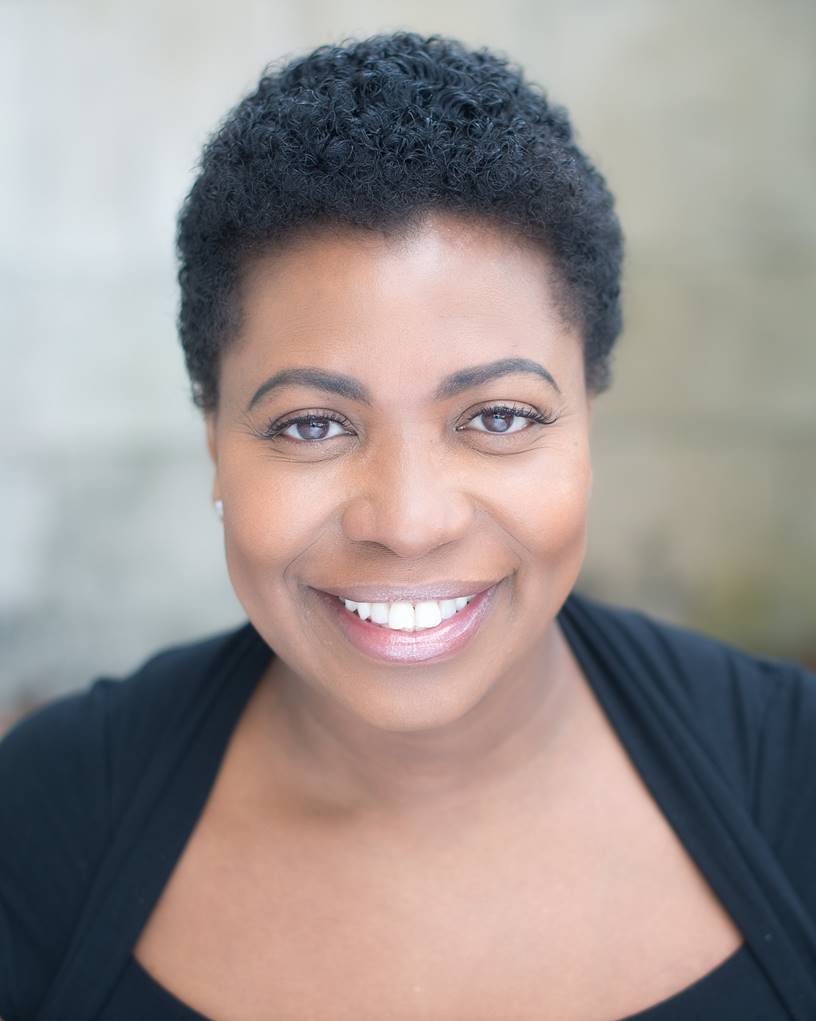 You did the previous tour of Hairspray, what drew you back?
I wanted to come back on this tour production for the second time, because it really helped to get me through, what I was going through, when after the first half of the tour, I was diagnosed with Stage 3 breast cancer. The songs in the show are uplifting in so many different ways and performing in the show helped me not to focus on the chemotherapy. One of the songs that I sing and especially drew strength from, was I Know Where I Have Been, the words already had so much meaning to me, and throughout the rest of the tour helped me to stay positive and keep thinking of brighter days! So, I guess to me it was very therapeutic and just what I needed. It is also very important for me to be able to do the tour again because I have got some personal demons to deal with of being able to do the whole tour this time round, there was one venue I couldn't do at all. But we are going back to it, Venue Cymru in Llandudno. I drove there from our previous venue, Milton Keynes on the Sunday and woke up on the Monday and couldn't walk. I was just stuck there, for a few days while everyone else was doing the show – I was so upset! So yeah, I'm excited about this 2nd tour for so many reasons!
How has it been being back in rehearsals? Does it feel different to the last tour?
Oh my god, yes! It's amazing! I thought Drew McOnie's choreography was a lot the first-time round, (well, it was a lot the first-time round). But, this time round, it's almost like choreography wise we are doing what we had the first time round and then add the same amount on again lol, but all in the same period of time. I also think, as I obviously haven't been doing much exercise over the last year I'm finding it a bit harder this time round to get up to speed, but the more we run it the easier its becoming ….best all singing all dancing workout ever!! I'm absolutely loving it, the cast are so talented, I'm enjoying getting to know everyone. But it's great – it's so much fun and the energy! The energy levels are so high from the start, all the way through. From Good Morning Baltimore to You Can't Stop the Beat there is just so much going on. This fantastic new cast they are all just on it. Within two weeks, we were doing act one and had staggered act two. So, by week three we were on just getting it into our bodies. The pace is moving so much quicker than it did last time, your brain doesn't have time to switch off. I can't wait! I can't wait! We saw the new set design and it looks amazing Takis is so talented! it is going to be amazing! It's bigger and brighter and beautifuller! That's not a word but I'm making it up!
What can audiences expect from Hairspray? If anyone is not familiar with the show, how would you describe it in three words?
Bigger, brighter and beautifuller! I love it!
Audiences can expect energy, a lot of laughs some fantastic songs played by a phenomenal band, while at the same time listening to the message which I think is so current I know, I am sounding like I am a 1960s hippy , but I just wish everyone would just spread the love and get on with one another, put your differences aside, cause there will always be difference of opinions that what makes us individuals…..and I think that's what this show embodies no matter what race, size opinions in the end it's all about coming together and showing a united front. Hopefully people will come out of the show thinking, "OK, that's given me food for thought at the same time as a great night's entertainment.
What's your favourite moment or song in the show and why?
I just love You Can't Stop the Beat because it goes through so many different gear changes – In rehearsals it's known as Beat 1 Beat 2 and Beat 3 and as I said I like the way it just brings us all together that's the point where everybody is together and I think its brilliant!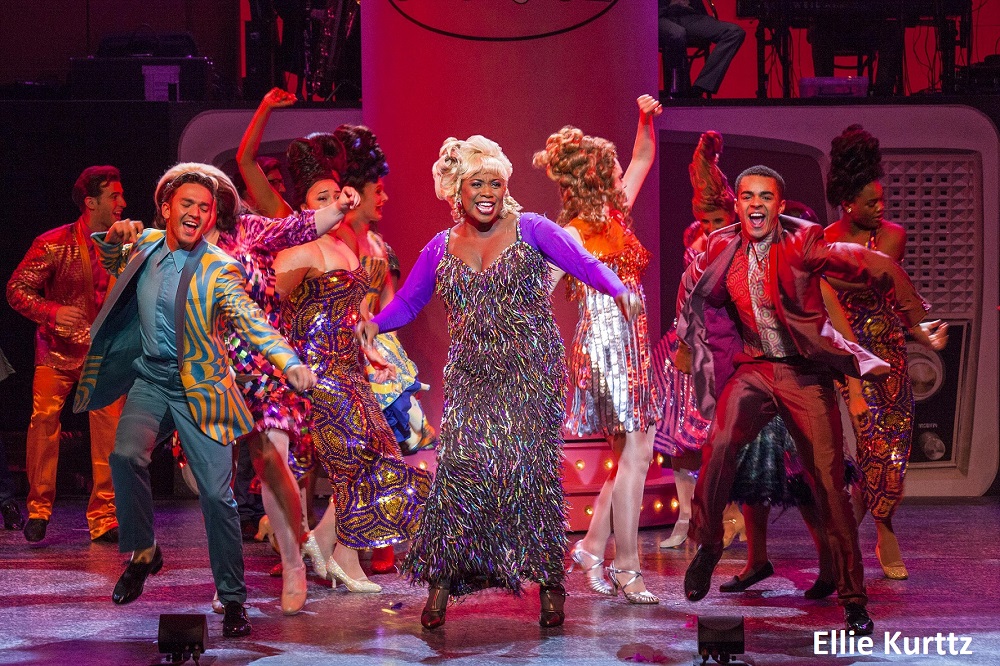 Is there a city on the tour you're most looking forward to visiting and why?
I am really looking forward to going back to Belfast because that was where I auditioned for The X Factor, Originally, I was going to visit the Giants Causeway….. but I never got there in the end as the audition happened and kinda took over, my last day there, So, I'm hoping this time round I will be able to go.
Hairspray is set in the 1960s, but if you could be born in any other decade which one would it be, and why?
I love period dramas, especially the style and fashion tassels and beads etc. I am such a magpie because I love all the shiny things, sequins, beads and diamantes – that's just me! So, that is the era I would love to be in. Fabulous costumes! Fabulous dresses! Fabulous headdresses!
What's your all-time favourite musical?
Gosh…it's all the ones I've been in! I…… but Aside from those I did enjoy Motown, The Bodyguard, Les Misérables, and I cried watching Memphis and I absolutely loved Jersey Boys! There were songs in there that I didn't realise I knew were originated by the Jersey Boys. I was singing the whole way through. …It's very hard!
What inspired you to go into musical theatre? What was the first musical you saw?
I was born and raised in the church. There were a lot of times when we never had microphones, so we had to project, and so I grew up singing in a lot of big spaces, I think in some way,
I'm drawn to them…. But it was Sharon who told me that she was approached by the Producers of Chicago the Musical when I was on X Factor in 2005, to come for an audition, so that was how I landed my first role in musical theatre, It's such a pleasure, I feel so lucky to be able to perform in all these beautiful theatres. The first musical I saw was Thriller Live my friend and fellow x factor team mate Maria, was in the show.
What do you consider your greatest achievement or highlight of your career away from the stage?
I will always say my greatest achievement in life are my children, they are a real blessing.
The highlight of my career would have to be recording my Debut Album Bring It Back, I'm very proud of the songs I wrote and I feel it shows all sides of my personality.
You've starred in some brilliant roles in Chicago and We Will Rock You amongst many other well-known productions; are there any other musical roles you would love to play?
I really want to originate a role I would love to play Ursula if it ever came to the West End!
If you could dance on any TV show, apart from The Corny Collins Show, which one would it be? And what would be your signature dance move?
Strictly Come Dancing with the Jitterbug.
Hairspray was originally based on 1988 film by John Waters, if you could adapt any other film from the 1980s into a musical which one would it be?
Coming to America that's a very funny film
Can you tell us a bit about your experience on The X Factor? How did it prepare you for the industry?
I really enjoyed the show, there were a lot of rehearsals before each Saturday night live show, so you always had to be on your game, it was exciting as well as challenging at the same, so It isn't very different to the stage, the live shows were in front of a studio audience. I think it really did prepare me mentally for this industry because you have to have.
A lot of people say to me "do you not get fed up of doing the same show year after year" but it's not the same show, it because it is a different audience every night. The cast feed off the energy of the audience
You demonstrated what many deemed as unwavering strength in the face of adversity; touring with Hairspray while battling cancer. How important is it to you to keep inspiring and educating others through raising awareness of this cause?
It is very important if I hadn't of spoken to somebody to feel the lump in the first place. I could be in a completely different situation right now, so it shows that talking is key, and that', and if it makes just one person get checked out then I have succeeded.
Hairspray begins its UK tour at Wales Millennium Centre on the 16th August and tours until 2018. http://www.hairsprayuktour.com/