Andrea Dunbar might have died young but she left behind a significant body of work including the play that inspired the iconic eighties film Rita, Sue and Bob Too.
Her brutally honest semi-autobiographical words based on a tough upbringing on the Buttershaw estate near Bradford offered a rare chance for working class experiences to be heard in a theatre world all too often dominated by Oxbridge voices. Now her most famous work is being revived by Bolton Octagon from September 6th before heading off on a national tour, and Taj Atwal is on board playing Rita, one of the teenagers who cause mayhem as they try to break free of their roots.
"It's about two young impressionable 15-year-old schoolgirls who babysit for Bob and Michelle," says Taj. "Bob is a very charming older guy who for want of a better word seduces them, and they fall for his charms very quickly from the off.
"They fancy him but are not so aware - especially Rita - of the age gap and the implications that causes. They go onto to have this affair and suffer the consequences of that."
Dunbar survived a tough childhood on Buttershaw losing her first baby at 15 when it was stillborn before giving birth to three more children by three different fathers. Dunbar also spent time in a women's refuge before dying of a brain haemorrhage aged only 29 in the estate pub where she had much of her time as she was beginning to shape a new work.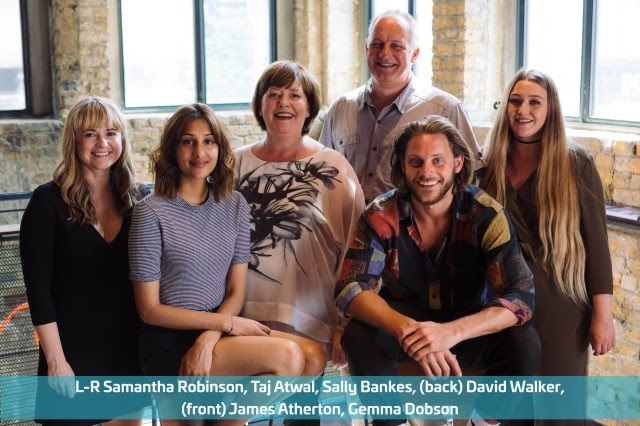 But for the cast of this long overdue revival, Dunbar's undoubted gift for dialogue that always rings true is theatrical gold.
"Her words just roll off your tongue. It's dialogue and characters I've come across growing up, the way people talk and the humanity of them as well. It feels very real when we do it, and it's been an absolute joy to be able to do her work as I've always wanted to do Andrea's words.
"A part of Andrea is in all the characters, her friends and her family's voice is in all the characters. To have the chance to do this is just - wow."
One of the toughest challenges for the cast will be dispelling memories of the movie directed by the master of British realism Alan Clarke. which was a surprise smash hit in 1986, and is one of the key films of that decade. Although she hung around the film set if you read Adelle Stripe's new novel Black Teeth and a Brilliant Smile - based on her life - you discover Dunbar was unhappy with some of the screenplay, especially the happier ending Clarke for whatever reason decided would work best.
"I think the play's got a lot more depth to it and there were bits of the film, especially at the end where they jump back into bed with Bob, and she said to them 'they wouldn't do that'," notes Atwal. "If someone had cheated on you they wouldn't do that. I think there was a caricature version of the dad, who is a drunk in the film, but in the play, he has got layers. You can feel everyone is trying to fill this void, they all want something better but no-one can ever quite get there in this community."
One of the things that the film crew tried to do was integrate themselves in the Buttershaw community, and the Octagon cast has followed the same route trying to get a sense of Dunbar's life she often expressed in some very dark humour in her work.
"I think that is true of these kinds of communities and we actually visited the Buttershaw estate and everyone finds their own light in the dark. They are joyful people and they can come across as if they not as they seem quite hard on the surface. It's a bleak world, but they are still humans trying to thrive in that world. They don't choose to be doom and gloom and they choose to wake up every day and live."
Another link to Dunbar's short but explosive output is the revival is co-directed by Max Stafford-Clark who staged her brutal first play The Arbor in 1980 at the Royal Court in London. As Stripe writes Stafford-Clark tried to act as a mentor with mixed success to the stubborn Dunbar who was juggling her workload with being a single mum.
"It's amazing as we get to hear all these untold stories that Max remembers and is bringing a human quality to it. It makes it feel like she is alive in the room with us and we feel like she is a real person when we hear it from it him, and what she was like.
"If you come at a reader just reading a play you can be possibly judgemental of the characters, but we are coming at it from a place where we have to find the truth of it. I don't judge Rita, and her actions, I just play them for the truth of it.
"This is a really supportive company and there are times I've been in the shower and my mind is going overtime thinking about Rita and what's she's been through. She's based on Andrea's best friend Eileen and I think about what it was like for her. I have found it hard to leave it at the door because it means so much."
But this is a play that was written in the 1980s, and set in that turbulent decade, so can Rita, Sue and Bob Too be relevant to today's audiences?
"Sometimes play it works because it is so great and you can enjoy for what it is a slice of history. There are elements of this play that are timeless so, for example, this was a play about Thatcher's Britain under a Tory government and high unemployment.
"Now we're under a Tory government with high unemployment, and the food banks are being pushed to their limits, so it's pretty timeless, to be honest."
Touring 2017-18:
Harrogate Theatre 26-30 September
Bristol Old Vic 3-7 October
Liverpool Playhouse 10-14 October
Warwick Arts Centre 17-21 October
Oxford Playhouse 24-28 October
Royal Theatre, Northampton 31 October – 4 November
Cast, Doncaster 7-11 November
York Theatre Royal 14-18 November
Derby Theatre 21-25 November
Royal Court, London 9-27 January 2018 (press from 11 Jan)
Lawrence Batley Theatre, Huddersfield 31 January – 3 February
Theatr Clwyd, Mold 6-10 February