As Barrie Rutter prepares to step down as the Northern Broadsides Artistic Director he directs and stars in For Love or Money turning to long-time collaborator Blake Morrison for help.
The award winning poet, journalist and playwright has adapted Alain-Rene Lesage's Turcaret into For Love or Money, which opens at Broadsides' Viaduct Theatre home on Friday 15th September.
It's a farcical tale of a widow being wooed by two men flashing about dodgy money they've made in the city and is relevant in our post-crash world of useless bankers and endless austerity
"The original 18th century French play was a satire and an attack on greedy financiers," notes Blake. "There is one character who stands for a group of tax collectors of the time who were collecting taxes for the King, but ripping off ordinary people.
"Almost everyone in the play is on the make one way or another. They are all into scams or self-enrichment, and there are two or three love elements - people who are infatuated with each other, or pretending to be infatuated, so the title covers it quite well."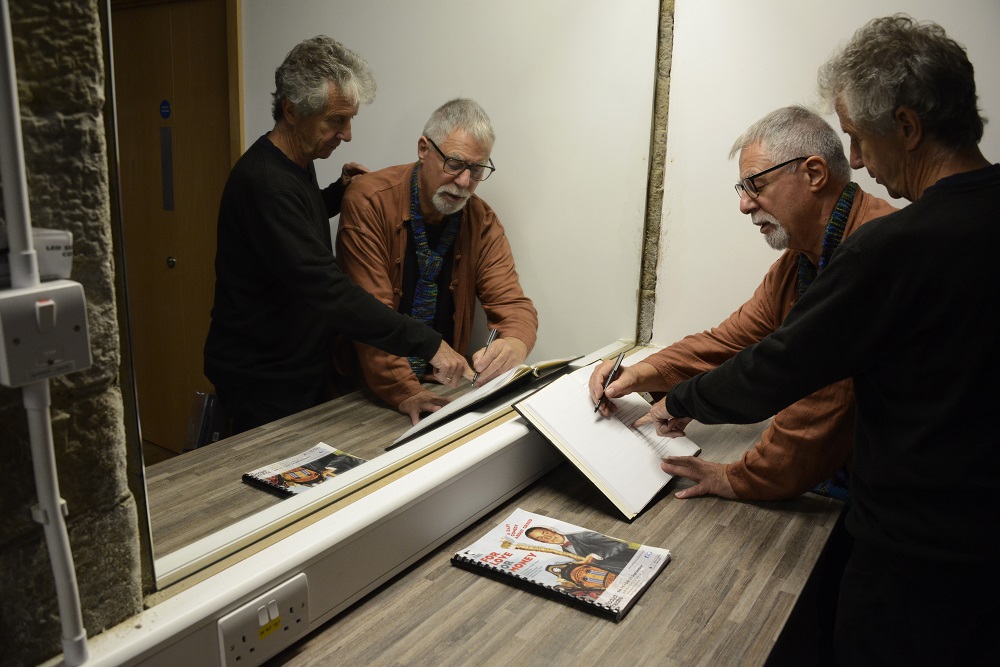 The source material is a play full of big characters with few redeeming features for the audience to hold on to, so did that present a challenge for Morrison during the adaptation process?
"It is something that I became aware of as I was going along and it has become a great measure of films and plays where you find people saying 'I didn't engage with the main character as he or she wasn't likeable'. Then I think of all the great plays that have got horrible villains that we warm to so it's fine to have a villain or two.
"As it's a comedy it does soften everything and sweetens the pill. They are more rogues rather than out and out psychopaths, but it is an interesting play where all the characters are villainous - except one who I will make an exception for."
As well as adapting the text Morrison and Rutter have decided to place the action in a small Yorkshire village a couple of centuries after Lesage's original.
"It was trying to find an era that stood for corruption and greed. You could bring it much more up to date to the 1980s or 90s, but the problem is that is the culture of mobile phones and the Internet. That's the sort of stuff I don't associate with Broadsides, and Barrie wouldn't ever want I think.
"I thought post 1945 was too austere so we are just before the crash, and with the First World War in the background as one character has been widowed after her husband has been killed in the war."
For Love or Money is also Rutter's last hurrah leading Northern Broadsides as he steps down after he felt the Arts Council hadn't allocated enough funds to the trailblazing company he founded in 1992.
"I knew there was a possibility if he didn't get more Arts Council funding he would go as he'd said that, but it would be great if he goes out with a bang.
"I first worked with Barrie in 1995/96 when he played Judge Adam in The Cracked Pot and in some ways his role here as the local bank manager is rather similar. He's a guy who is lording it over that small town but the audience comes to realise he is a very dubious character, but a larger than life one.
"So there is a nice feeling of this being a full circle if this is to be our last collaboration. Who knows as I'm quite sure Barrie will go on acting and directing, but he won't be running his company."
Having such a long term working relationship means proud Yorkshireman Morrison is well placed to understand Rutter's contribution to enriching the North's theatre landscape.
"His mission was to take theatre to places you don't expect theatre to find new audiences. To show that the classics can reach audiences, and that plays from ancient Greece can still speak to us today, that Shakespeare can still speak to us, and to dissolve any distinction between high art and low art.
"One of the things he did was encourage me to use Yorkshire dialect, and to think it could actually be used by serious characters in tragic situations, and not just in comedy. Barrie has made a massive contribution in saying to London look how thriving and enterprising regional theatre can be."
Tour Schedule
Thu 15 - Sat 23 Sept - The Viaduct Theatre, Halifax
Tue 26 - Sat 30 Sept – West Yorkshire Playhouse, Leeds
Wed11 – Sat14 Oct – Lawrence Batley Theatre, Huddersfield
Tue 17 – Sat 21 Oct - Theatre Royal, Bury St Edmunds
Tue 31 Oct – Sat 4 Nov –Rose Theatre Kingston
Tue 7-Sat 11 Nov – New Vic Theatre, Newcastle -Under-Lyme
Tue 14-18 Nov – Stephen Joseph Theatre, Scarborough
Tue 21-25 Nov – Liverpool Playhouse
Tue 28 – Sat 2 Dec – York Theatre Royal