The songs of two bespectacled identical twins singing in broad Scottish accents might seem an unlikely peg to hang a musical off but Sunshine On Leith was such a hit onstage it was turned into a movie.
Now the musical based on songs written by The Proclaimers is being revived at West Yorkshire Playhouse under the direction of James Brinning, who was at helm for the original version at Dundee Rep way back in 2007.
Sunshine On Leith was written by Stephen Greenhorn, but musical supervisor David Shrubsole is the man who is turning the twins' pop gold into big musical numbers.
"It's about two friends who come back from the army and are dropped back into their old lives," says David.
"So you've got Davy, his parents and what happens in their lives leading towards a wedding anniversary party. Davey meeting Yvonne, and it's not dissimilar to a Midsummer Night's Dream on some levels, so you've got the older couple, Titania and Oberon in Davy's parents, and the adventure that goes on.
"Then you've two sets of lovers and what will happen to them. Davey and Yvonne's relationship, and then Ally coming back to Liz, who is his old girlfriend. It's a classic, in that sense, Shakespearian comedic plot of misadventure, and will they will get back together.
"I think Steven has done a really excellent job in creating a play, which has all the joy of a Shakespearian comedy, but all these amazing Proclaimers songs."
Shakespearian is certainly not a term that could be applied to other jukebox musicals, like Mamma Mia or We Will Rock You, that use the songs of one pop act bolted onto a story that is often so flimsy a puff of wind would blow it away.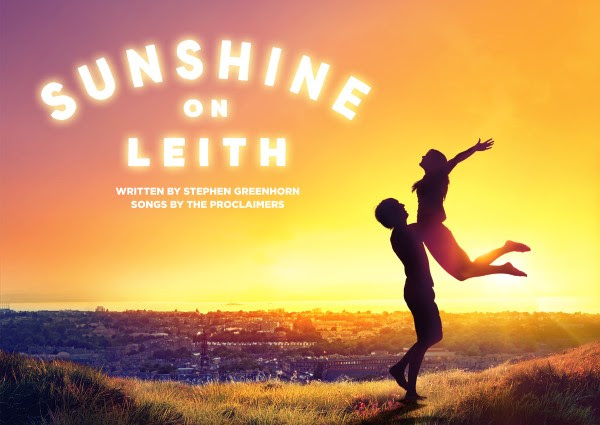 "In the same way that Anything Goes is largely Billy getting on a ship, and trouble happens on a journey across the Atlantic, which sets a line with the comedy, and in Mamma Mia she is trying to find out who her real dad is.
"I think what Stephen has done is a bit more plot involved than that, and he's done a really smart job as you meet these people in the piece, and you care about them very quickly. The journey he takes them on is real life, and it is plot driven, which takes you on an emotional roller coaster with three sets of couples."
The iconic music of Abba was an obvious choice to create a jukebox musical, as was the rock bombast of Queen in We Will Rock You, but songs penned by Craig and Charlie Reid don't seem quite such a straightforward choice for a stage show.
"You say that until you start doing it then you go they are brilliant songs and they tell great stories," argues Shrubsole. "Craig and Charlie are really interesting people, and there is nothing generic about the songs they write, so Letter From America is about different generations of clearances in Scotland, and then the industrial clearance of Thatcher's '80s. What Do You Do when democracy fails you is brilliant, and you go 'wow, that's a song written for now' when you feel disenfranchised by politics or a referendum.
"They also have the most life affirming songs so Life With You, and Then I Met You, the joy in those songs is extraordinary. Sunshine On Leith is crammed with really good songs and they all have personality as Craig and Charlie are actually really smart, intelligent writers."
Shrubsole has worked on big shows, like My Country for the National Theatre and the Playhouse's The Rise and Fall of Little Voice, but the biggest challenge for him in this production will be retaining the intimacy of songs written to be performed on two acoustic guitars, while turning them into numbers big enough to fill the Playhouse's huge Quarry space.
"What we're doing, which is different to previous productions, is it starts with you thinking am I at a gig as the live band are onstage. A lot of the cast play instruments so at the top of the show you have five people onstage playing guitar and people with tambourines. In a very Brechtian sense those people have summoned up a story, you have two guys there in combat uniforms, and we are suddenly telling their story.
"What is exciting about this version is it is very theatrical in its storytelling, and has a lot of the raw theatre of a Brechtian gig at times with a really good story, and some fantastic actors in the cast."
The twins have given their blessing to the play, and the use of their songs, but trusted the theatre creatives to get on with it. The team added some songs to this version and Shrubsole has played with some arrangements. The strong voices in the cast has also meant he has made some key changes that take the songs much closer to the original Proclaimers recordings.
"They can write a hook, so imagine leaving our rehearsal room, and the number of tunes that are going round in our head. They write really good pop songs, with hooks throughout them, but they are smart and bright enough that they are writing interesting stuff. They are a real class act."
Sunshine On Leith is at West Yorkshire Playhouse from 20th April – 19th May. Further information and tickets can be found at https://www.wyp.org.uk/events/sunshine-on-leith/