It was no surprise that the intrepid women of the Rylstone and District Women's Institute who stripped off for a charity calendar inspired a hit movie and that heart-warming tale was always a natural fit for a musical.
Tim Firth who co-wrote the movie screenplay teamed up with Take That's Gary Barlow to create The Girls which had its world premiere at Leeds Grand Theatre in 2015, with some of the original WI members in the audience.
That show made it to the West End for six months and has now been reworked to become Calendar Girls - The Musical. West End regular Anna-Jane Casey takes the role of Annie which is based on the experience of Angela Baker who lost her husband John to leukaemia, inspiring those intrepid Yorkshire women from a small village to strip concealing their modesty with flowers, teapots and even a piano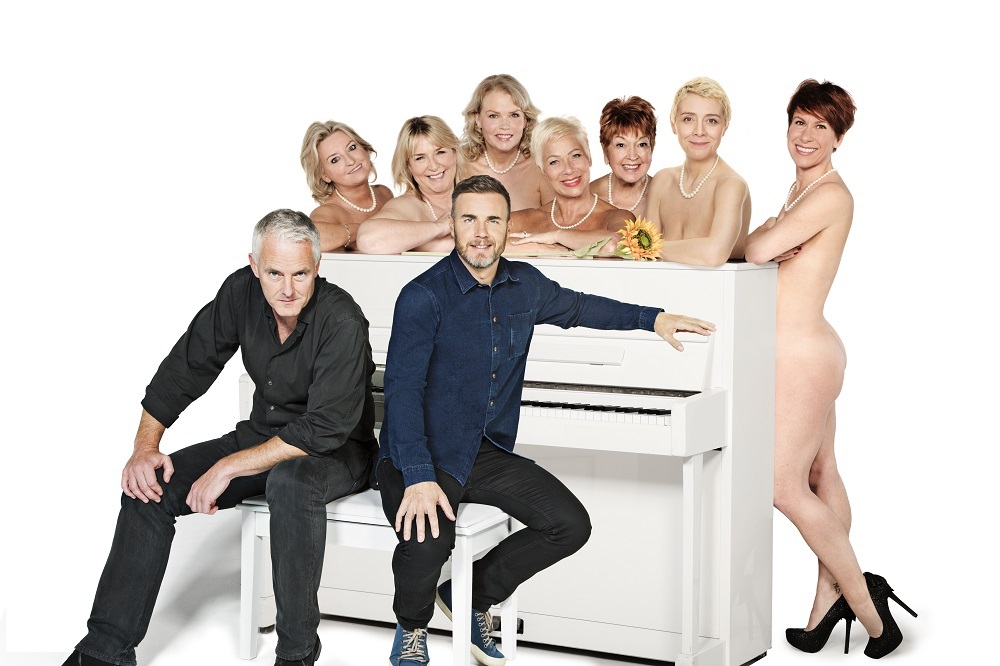 "While Angela had been visiting John at hospital she'd been sitting on this really crappy old sofa, and a set of chairs that are uncomfortable, so she says I really want to do something for this hospital to buy a nice comfy sofa for the waiting room," says Anna-Jane.
"So they start thinking of raffles or bake sales, the classic WI thing, and her best friend says I have seen these calendars, and the naked ones always sell really well. Why don't we do one?
"Annie says, me, take my clothes off? I'm a woman of a certain age, I don't look like some Page 3 girl, but says 'sod it, we're going to do it'. From something they thought might sell 10 or 20 copies it ended up going as we would say now viral."
Like most people Anna-Jane remembers the media frenzy that questioned whether it was proper for older women and - shock horror - WI members to strip off, but thankfully the British public loved the women's cheeky charms as the calendars flew off the shelves.
"I remember the pictures in the Guardian, look at these WI women naked, and I think it changed the landscape of those naked calendars because after that everyone was at it – firefighters, rugby players, nurses. It opened the door to celebrating the human form in whatever shape it is, and it doesn't have to be hunky men, or tiny little women with big knockers.
"It changed the status quo of those nudie calendars, and all the merchandise from Calendar Girls goes to the charity Bloodwise, so I think they raised over six million quid from something they hoped would raise money for a sofa from DFS for £200, which is an incredible thing."
The thing people tend to forget is the actual poses were subtle as the ladies were shielded by various props as they showed off their hobbies, but there was a quiet dignity as the women shed their inhibitions for a good cause.
"Calendar Girls is the based on the real-life stories of those ladies and who they were." notes Anna-Jane. "The quiet one, the loud one, the sisters, and not only it is beautifully touching and sad as a woman has lost her husband, but there are hilarious comedy moments when they are setting up the shots.
"They feel embarrassed as they don't want to be stood there with their front bottoms out as the one of the characters says. They were very cleverly done with subtle lighting, and the themed work made it a very, very beautiful calendar.
"When people come and see the show they will cry, it will be hilarious, and they will go I look like that, that looks like my granny, that is like my mum and that's like my dad as there are fellers in the show."
One of the weaknesses of musical theatre can be an obsession with youthful performers in lead roles, with older women often relegated to supporting roles. The exact opposite is true in Calendar Girls where all the leads are mature performers, who are prepared to show off all their imperfections much like another Northern movie turned stage hit.
"In a strange thing way The Full Monty did this for fellers who were going 'I'm a bit wobbly and I'm not taking my clothes off.' No, it's fine to take your clothes and Calendar Girls does the same thing celebrates what we all know to be true. Not everyone looks like Zac Efron or Kim Kardashian as we are all shape and sizes.
"I'm 46 and I'm one of the youngest in the show as Ruth Madoc is 75 and is incredible. Let me tell me you, Ruth's breasts are quite fantastic, I've seen them. It should be celebrated, and we shouldn't have hide at the back being the old woman, the granny or the mum.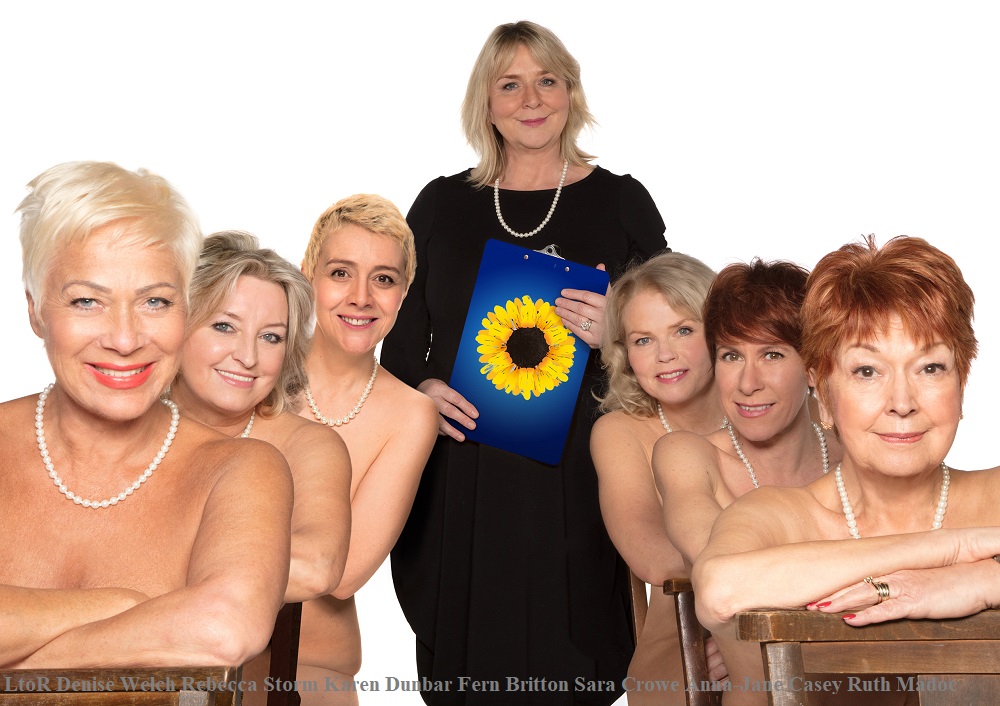 "These are real people with battles whether you are taking your kids to school or an older person struggling to cope with the loss of a partner. It's not just people who are 25 who should be celebrated it should be everyone."
Anna-Jane has done most of the big musicals, from West Side Story to playing Velma in Chicago opposite stage legend Ruthie Henshall, but as she gets deeper into rehearsals she is finding the book and score for this show is as good as any she has starred in.
"I get to sing two of the most gorgeous songs I've ever heard," enthuses Anna-Jane "I did a musical a couple of years ago called Flowers for Mrs Harris at Sheffield Crucible, and I thought that was most touching piece of writing I'd ever heard. Then Tim Firth and Gary Barlow come along and say you can sing this song Scarborough.
You just go 'oh, sod off', and at the moment I'm finding it very hard to get through it without crying. Gary's melodies are stunning, and Tim is a northern lad who writes in such a beautiful way as I think northerners are hilarious. Gary and Tim have made something very special."
This is an emotionally demanding show, with some very big numbers, so the producers have wisely hired some onstage firepower as Anna-Jane is joined by Hi-De-Hi's Ruth Madoc, Corrie's Denise Welch, Sara Crowe and daytime TV presenter turned author Fern Britton who is making a return to the stage after thirty years.
"Fern, you might be going is she an actress, but let me tell you she is an actress, and is phenomenal. She has stories of her life that are revealing, and on tour I'm going to be knocking on Fern's door and saying tell me one of your stories when you interviewed Tony Blair, or when you met Bill Clinton. She has met everyone.
"Ruth Madoc has such a wealth of experience and Denise as well. Sara Crowe was the Philadelphia Girl when I was a kid, and now as a mum of two young girls she does the Voice of Queen Thistle in Ben and Holly's Little Kingdom, and I said to her I keep forgetting you are Queen Thistle."
But there is no escaping that the calendar models will all be semi-nude in front of a full house packed into Leeds Grand Theatre, which must be intimidating for even the most seasoned performers in the cast?
"We were saying that because we all over a certain age you kind of don't care anymore and it doesn't matter. I'm not going to be lap-dancing in Stringfellows so I don't need to look like you could bounce a 10p off my backside. Everyone is looking like real people, and the show is done very subtly, so we are not all stood there with our baps out.
"It won't be a shock of naked flesh, so you might a see a bit of bottom or side boob, and that's enough. The calendar wasn't full frontal, or Page 3, and was just celebrating these people doing beautiful things, but just with their clothes off.
"Once you've had children you will take your clothes off in front of anyone because once you've pushed a baby out of your vagina you are like, I don't care."
Calendar Girls is at Leeds Grand Theatre from Thursday 16th August to Saturday 1st September and then touring. To book go to www.leedsgrandtheatre.com or 0844 8482700.