During the Second World War over 75 000 women joined the Women's Royal Naval Service playing a vital, if often unsung, part in defeating Hitler.
Now Yorkshire based Mikron theatre have commissioned Vashti Maclachlan to write a new piece, All Hands on Deck, telling the story of two women who volunteer to join the fight against fascism. The women were known in the services as the Wrens, and were pioneers in the fight for equality as they proved themselves time and again just as capable as the men.
"All Hands on Deck is about the Women's Royal Navy Service in Word War 2, and about the joy it was to be a woman at that time," says Mikron Artistic Director Marianne McNamara, who is also directing this new piece "It's about two new recruits, Ginger and Lily, the adventures they have and the challenges they face during the war.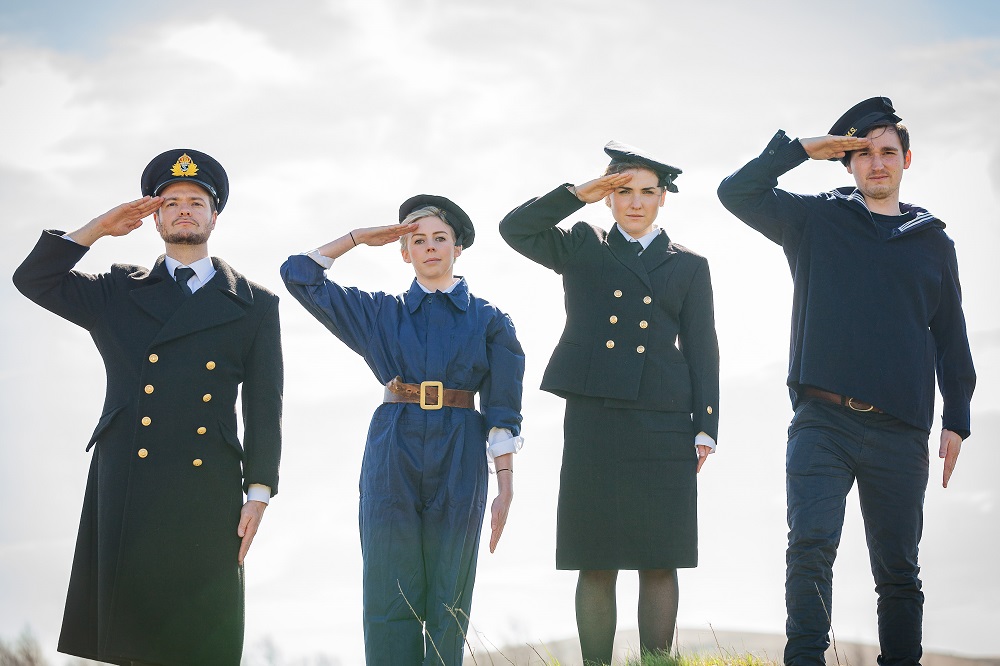 "There's a lot of plays about the war, but there aren't that many about women's roles, especially in helping to win the war, and we often come across audience members who say my mum was a Wren, or my aunt was a Wren. One of my neighbours said to me how her mum was a Wren, and she had all her stuff in the loft, so I think it will touch lots of different people. They've said that would make a really good play, and I thought, yeah, you're right."
As well as the war effort All Hands on Deck explores how taking such an active part in the fight changed the lives of all the women who put on the uniform.
"If Ginger hadn't been a Wren she would probably have lived the life of a housewife, so she has this great adventure. She gets to work on engines, work outside all day and hear and do things she would never have got to experience in normal everyday life."
As part of their research the team went to Liverpool which was the nerve centre during the Battle of Atlantic as the Royal Navy fought to protect merchant shipping carrying vital supplies to the UK from roving packs of Hitler's U-Boats. The Wrens played an often unsung role in the operations room before that bitter maritime war costing thousands of lives was finally won by the navy.
"It's interesting we don't hear about it isn't it? We went to the Western Approaches which is where they reckon the war was won. It's where all the plotting happened, everyone was listening in and women were doing that all the time.
"We talked about it a lot in the rehearsal space, but there is nothing like walking down into the bowels of that building, into the dark and the damp. They were very short staffed and these women spend hours and hours listening in, concentrating so much they were exhausted. They would have come out with bombs having landed so it was a terrifying time too."
Mikron is now one of the UK's longest standing theatre companies and as they approach their 50th anniversary have built up a faithful following who appreciate their relentless support of new writing that in the past has included work from former Coronation Street star Deborah McAndrew, and Nick Ahad who has penned a new play based on Butlins' holiday camps.
"We always tour two new pieces of writing and we tell the stories of people behind big moments, or movements in history," notes McNamara. "There is lots of music and the thing we do is we tour professional theatre to none traditional venues. Mikron have performed in allotments, village greens, the pub, by the side of locks and underneath a bridge. We've performed in all those places and it often surprises people that it is professional."
The other unique thing about the company is that during the summer months they are pile on their vintage narrowboat Tyseley, and the 82 year old boat becomes their home and mode of transport as the four strong cast perform at riverside venues around the country.
"When we cast we are very clear about what they taking on board as it is hard because they are the cast and crew. In many ways it is a bucket list job because there is nothing else like it, I can't tell you what it is like to sit in the front of the boat with a tea as the sun is shining. It's not dissimilar to the troubadours of the past. There is not a curtain or backstage, so we are out having a crack with the audience, and many of them have known us for 48 years so they like that accessibility where they can talk to the actors.
"Many of our friends will help out along the way by moving the boat, bringing us some shopping or help us with our laundry. Our producer Pete and I say this thing is bigger than any of us because the people who follow us have a real sense of ownership."
All Hands on Deck has its world premiere at Lawrence Batley Theatre on Saturday 13th April and the tours nationally by river and road until October 19th. To book go to www.mikron.or.uk