Award winning roots band Gordie MacKeeman & his Rhythm Boys are flying over from their Canadian home for a short UK tour, including a date at Hebden Trades club on Friday 7th June.
Not surprisingly they are multiple winners at the Prince Edward Island awards in the state where they are based, but the band have also picked up gongs from the East Coast Music Awards for their high energy shows led by Gordie's nifty fiddle playing and eye catching dancing.
Our Yorkshire Editor Paul Clarke placed a transatlantic call to Gordie to find out more.
For people unfamiliar with what you so what can people expect from your show?
People can expect a high energy show full of dancing and great roots music. Everything from bluegrass to rockabilly.
I know you all multi-instrumentalists but you are a demon fiddle player so where did you learn to play?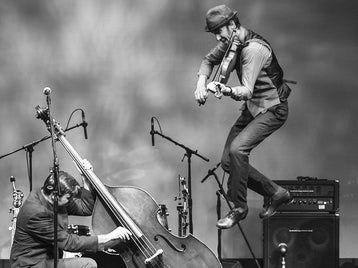 I started fiddle at the age of nine. It was always something I wanted to play. I grew up in NewGlasgow Nova Scotia. There was always a fiddle playing at most local events.
You are nicknamed 'Crazy Legs' due to your massive onstage moves...how did that come about?
It's something people started calling me as a young boy, and has followed me ever since.
Are you a trained dancer?
I started off dancing at 6 years old. I got into it by fluke, my older brother went to join, and someone got me on the floor and it stuck. I took clogging as well as traditional step dancing.
You are based in Canada so have you played in the UK much?
We have played in the UK quite a bit now. We love it, it feels very similar to where we live in Canada.
What's been your favourite gig over here?
We played Glastonbury a few years back, which is high on the list for me. I also love the traditional English folk festivals. The atmosphere is so great.
Are you looking forward to playing the Trades Club in Hebden Bridge?
We are really looking forward to it. It's always good coming back to beautiful Yorkshire, and we are looking forward to showing off some of our new tunes from our latest album Dreamland.
Gordie MacKeeman & The Rhythm Boys play Hebden Bridge Trades Club on Friday 7th June. To book www.thetradesclub.com