Some bands are a natural fit for a jukebox musical of their hits and none more so than Queen's endless back catalogue of huge rock anthems.
And it is even less of a surprise that the Queen musical We Will Rock You, packed full of classics like Killer Queen, I Want to Break Free and Bohemian Rhapsody, overcome some heavy critical panning to pull in the crowds when it debuted at London's Dominion Theatre way back in 2002. Now an updated version of the futuristic story of Galileo and Scaramouche - see what they did there - is back on the road
Elena Skye is playing the show's heroine at Leeds Grand Theatre from Monday 11th November belting out all the big numbers created by Queen's four members. Queen have suddenly become cool after the success of biopic Bohemian Rhapsody which won Rami Malek an Oscar for his portrayal of the late Freddie Mercury, whose massive voice and over the top flamboyance redefined what a rock frontman could be.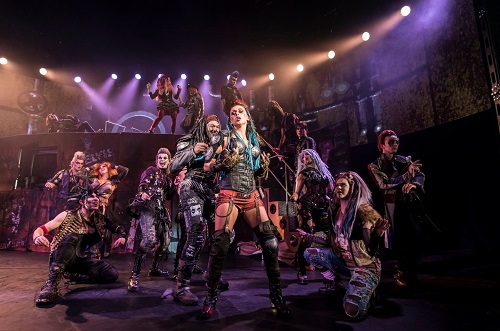 "It's a show based in the future in a time where music is banned and controlled," says Elena who has had stints in Les Misérables and Kinky Boots. "No-one has any freedom, or individuality, and the story is about two teenagers who don't want to fit into society.
"They get taken under the wing of the Bohemians, who are the underground rebel freedom fighters, and they are trying to bring rock back. My character Scaramouche is a teenager who doesn't fit in at all, but is trying to find what she is about, and a real connection to someone.
"In the world she been brought up in she's not really had a connection with another human before. She is very sarcastic, and reluctant to show her emotions, but they will suddenly bubble out."
Despite the critics hating We Will Rock You it became the fifteenth longest running West End show of all time when it finally closed its doors in 2014. The show has continued to be a worldwide hit, but this new touring version has been revamped as mobile phones and the Internet didn't really exist when it was first performed.
"I wasn't sure what to expect as this is a slightly updated version, different costumes, a different set and we are in a different time. The story is so relatable to society at the moment, and they've updated the script to match more of what we are experiencing with iPhones. social media and pop culture references."
The university educated band members have always been very keen to protect their brand, so were heavily involved in the creation of the show, and with this tour. Guitarist Brian May and drummer Roger Taylor dropped into rehearsals, and May even went along to the opening night in Ipswich to show his support.
"I remember talking to Brian about the band not being seen as cool. and he said it himself that they were kind of not cool, and that was kind of their thing," recalls Elena. "I love that about them as it shows everyone you don't have to be cool to do your own thing, enjoy it and be appreciated.
"Brian said they have just got and more popular over time, especially with the film coming out last year. It shows just much people need that style of music, and the way they express themselves especially at the moment. There has been lots of feedback from them as they're still very much involved, and they gave us nuggets about the band you can work with."
Many jukebox musicals tend to neglect a decent book as the action hurtles from one song to the next, but Queen cleverly hired stand-up comedian and novelist Ben Elton to write the words. Elton been also in rehearsals to work with the cast on the updated book, which in part is based on the sometime tense moments between Mercury and his band mates.
"It is reflected in our characters with the way Galileo expresses himself openly and constantly flaring up, Scaramouche is like Brian May who Galileo bounces off as she is very dead pan. Ben Elton said to me that mirrors the relationship in the band as Freddie would come onstage wearing something extravagant, and Brian is rolling his eyes in the background, but loving it."
We Will Rock You is Leeds Grand Theatre from Monday 11th November until Saturday 23rd November. To book www.leedsgrandtheatre.com or 0844 848 2700