One of the most welcome recent developments in British football is the explosion in the popularity of the women's game and a new play looks at how the new generation are standing on the shoulders of giants.
Atalanta Forever tells the story of how women's football became hugely popular a century ago, and award-winning playwright Amanda Whittington's research helped her write this new work for Mikron Theatre Company tracing the rapid rise and fall of those pioneering women players.
"It's about the first wave of women's football in Britain, which was across the First World War and shortly afterwards" notes Amanda. "It's a about a period of history where for particular reasons women's football came from nowhere, became massive, was then subject to a ban and disappeared again. It took a century for it to return and get to the point it's at now.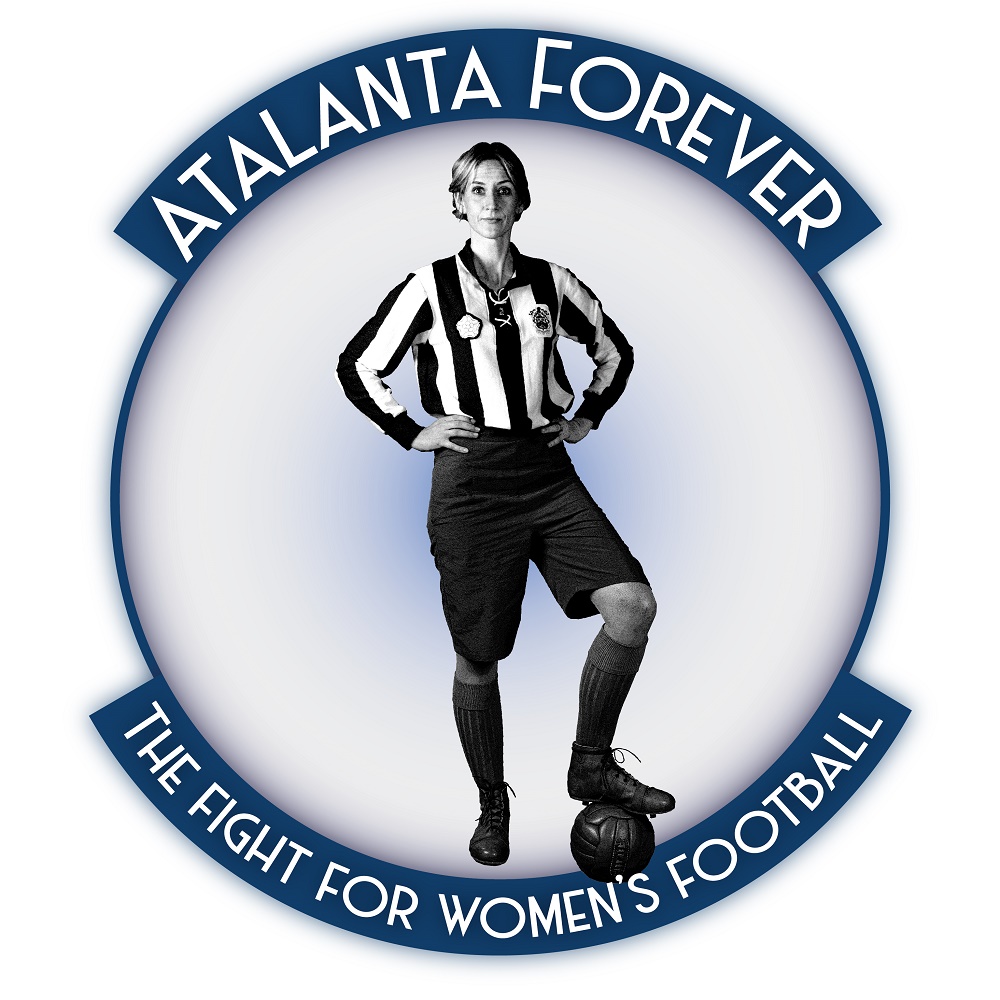 "The women's game took off because the men went to war, the women went into munitions factories predominately, and as part of that they began to play football in the factory yard, and that was noticed. A few different factories started putting teams together to play charity matches to raise money for wounded soldiers, and it was a chance for women to do something different I guess."
There is a huge amount of research being done into women's teams from that period, but Whittingham was drawn to one of the lesser known teams to tell her story. Atalanta AFC were a Huddersfield team who as underdogs took on the big guns of this emerging football movement.
"There is very little documented about who played for that team, so I was able as a playwright to come into that space and invent and create. I know from the research there was working class girls and middle girls in this team, so teachers, secretaries and also factory girls."
So how are Whittingham, who is co-writing the show's songs, and the Mikron team going to tell this story?
"So we have one of each with Ethel who was at Standard Fireworks in Huddersfield who during the war went to munitions and then back to fireworks after the war," reports Whittingham. "She is a factory girl obsessed with Huddersfield Town, played in the street with her brother all her life and sees in the paper that Atalanta AFC is setting up to play sport so she's gone down to introduce the idea of playing football.
"The other main character is Annie who's a schoolteacher who has joined the club to get over the loss of her husband who was a conscientious objector and died in a prison camp. She's never played football before, but gets drawn into it, so it's about Ethel and Annie discovering competitive football."
Atalanta Forever is classic territory for a theatre company who have spent the last 49 years touring round the country on their specially adapted narrow boat putting on shows everywhere from an allotment to a chippy.
"Mikron is very keen on social history and social justice but told through character and ordinary people's experiences. It's very accessible and telling untold stories about British life, but it's also a lot of fun and great entertainment."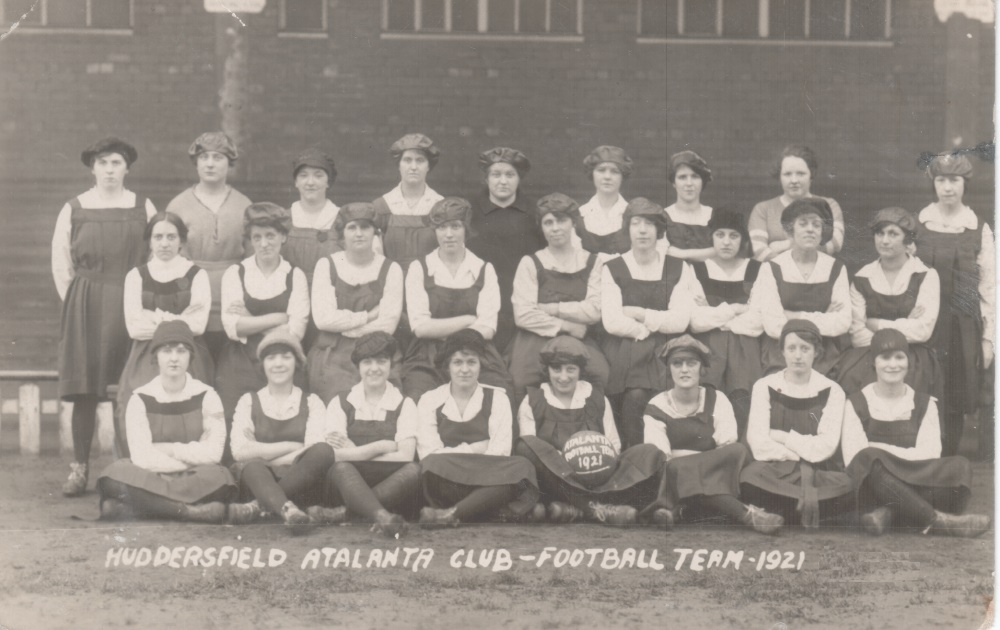 What stopped the continued growth of women's football after the guns fell silent was an edict from the male dominated Football Association in 1921 banning women from their grounds. It seems extraordinary half the population could be effectively be banned from playing the game they love.
"It was a political decision, which was my conclusion from the research I've done. Women were allowed to play on FA grounds when the men's league has been suspended because of the war so it filled a void. I can only conclude they played well to a good standard as the crowd for Atalanta's first game at Hillsborough was 16000, so from a standing start that is extraordinary,
"Women's football was seen after the war as something degenerate and inappropriate for the time, and I think that partly came from the crisis of masculinity that happens because so many men died, and so many men came back horribly injured. They wanted the women to go back into the home and be good wives and mothers. Being successful women footballers didn't fit that model."
The Women's FA was finally formed in 1969, and attitudes have changed so dramatically to the point where Atalanta Forever will have its world premiere at the National Football Museum in Manchester on Saturday April 18th. But it will be a bittersweet moment for Whittingham who has her own personal experience of what the Atalanta players when through.
"I was bought up in the seventies in Nottingham, and Nottingham Forest were everything to us as kids as they'd won the First Division Championship, and the European Cup under Brian Clough," recalls Whittingham of when she first fell in love with the glorious game. "I used to play in the garden with my brother, and every spare minute was spent kicking the ball about, which I did very naturally, but it was always pointed out it was unusual for a girl to do it, and I was a tomboy.
"My interest in football was a kind of novelty, and I was very aware like all girls at that time were aware that it wasn't something that girls did."
It seemed obvious to the budding footballer that the next step was to join a team and as luck would have it a chance presented itself. But for Whittingham it proved to be a fleeting chance to see what might have been for her footballing career.
"It reached a peak where we had a little tournament in the village where we lived. and one team was a boy short, so I was asked to play in goal. I was so thrilled to be part of it, and I felt I was in a team now.
"Quite soon after that I was made aware as I was 10,11 and going to secondary school, it was ok to then it then, but not ok to do it now, so I was very actively discouraged from thinking I could play anymore. I knew there was nowhere for me to go from that point."
Despite that grave injustice that seems inconceivable only a couple of decades later Whittingham has managed to take a positive from that devastating setback.
"What it does as well as just being thrilling to see that women are playing now is that there isn't the stigma attached to it when I was growing up. In many ways it politicised me in a way as I understood I was being stopped from doing something because of my gender, and that's really defined who I became going forward."
And like so many women from her generation who were denied the chance to fulfil their footballing destinies Whittingham is not bitter as she celebrates the fact that players like England captain Steph Houghton, Lucy Bronze, Fran Kirkby and millions of other women can live out their dreams on the pitch.
"What seeing the women's teams playing now does is you go 'oh, my god I wasn't wrong to want this' although I was made to feel wrong at the time. It's so fantastic to see that I and all the other girls who wanted to play football we were completely right to want that."
For Atalanta Forever tour dates visit https://mikron.org.uk/shows/atalanta-forever