Fans of Latin American inspired pop are in for a treat when On Your Feet comes to Leeds Grand Theatre celebrating the lives and music of Emilio and Gloria Estefan.
The Miami based duo were naturals for a jukebox musical with huge hits including 'Rhythm is Gonna Get You', 'Conga', 'Don't Want To Lose You Now' and '1-2-3' that has won them a staggering 26 Grammys, and sales of over 100 records worldwide.
"On Your Feet is the story of how they met when Gloria was younger and she moved from Cuba to Miami, says Madalena Alberto who is taking on the role of the singer's fiery mother known as Big Gloria. "Then it tells how she became the biggest international Latino star and made the crossover between the Latin and American pop market. They were the first people to do that."
Philippa Stefani plays Gloria opposite George Ioannides as Emilio, with Alberto bringing plenty of experience after playing Fantine on the 25th anniversary tour of Les Misérables and the ultimate Latin diva Evita.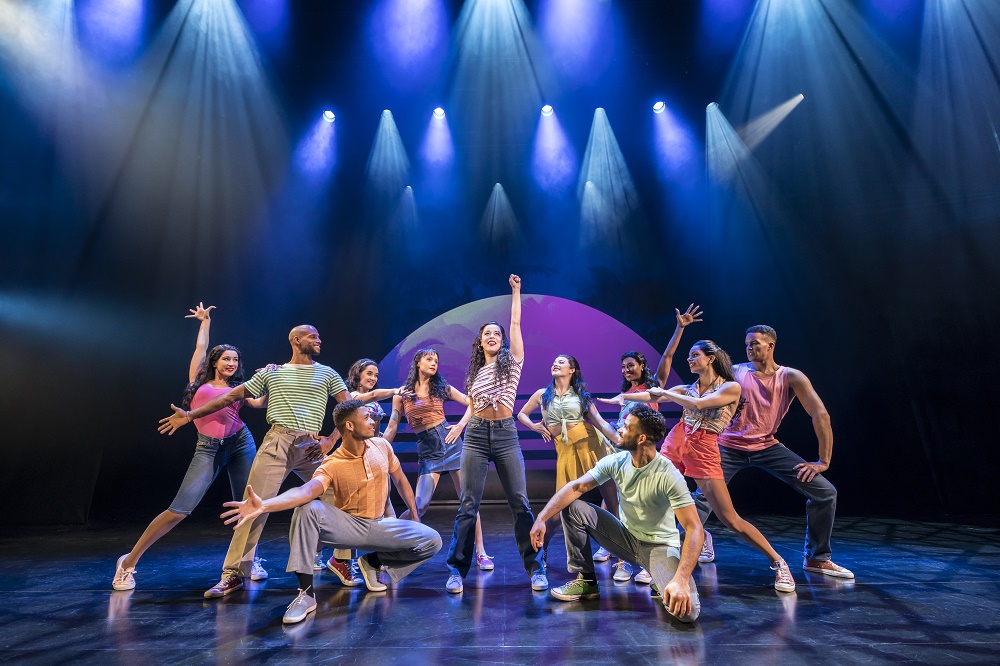 "I can say loosely Gloria's mother is the antagonist of the story. They have a very tremulous relationship, and her mother is not approving of her relationship with Emilio. She doesn't approve of Gloria going out and singing.
"Throughout the show you can understand why she does what she does, and when I got this job I couldn't believe it. I am way younger than the part I'm portraying, and I'm not much like a Cuban matriarch. It was a really great challenge to work with the director, Gloria and her mom to work out it. As an actress it is a role that really stretches me, but it's so much to fun to play."
Anyone who has watched reruns of Top of the Pops from the 1980s will know that Gloria was a regular as she performed yet another one of her hits from uptempo numbers to ballads. But Alberto and the rest of the cast didn't have to rely on old TV reruns to get the background for this classic rags to riches tale.
"I was way too young at the time, but Gloria came and spent six weeks with us," notes Alberto. "She was very generous with her time and storytelling about her life and the family. You just forget what a legend she is, and what an honour it is to work with living legends like they are. Gloria doesn't perform that much, but they are very, very active in helping the community, especially in Miami. They are very beloved by the Latin community especially in the States and South America."
The couple who met when Gloria was singing for Miami Sound Machine may have done everything in the music world, including winning an Oscar nomination for 'Music of My Heart'. but like so many refugees feeling Castro's regime their success was something they had to fight for. "There's depth and layers in her life story which all starts in Cuba and why they had to become refugees fleeing the country. Her father was arrested in Cuba and imprisoned for a couple of years before managing to run away to get to the States to meet up with the rest of his family.
"He enlisted in the US army and he fought in the Vietnam War where he was affected by Agent Orange so when he came back he was very sick, and had MS. Gloria's childhood is embedded by all of those hardships and adult responsibilities as she had to look after her dad and her sister. On Emilio's side there was also a lot of hardship. The show is also wonderfully joyful so it's not a dreary drama, but it is beautiful to tell the story and include that Latin energy in the dance numbers."
The touring company is made up of 11 different nationalities adding authenticity to the big routines, but for Alberto there is real joy in audiences falling back in love with the Miami beats.
"A lot of people didn't think they knew Gloria's songs, but then come out and go: 'oh, my god, I knew all of these songs'. I have an amazing song from her Spanish album Mi Terra, so I get to sing a little bit in Spanish. In the second act I've got a duet, 'If I Never Got to Tell You, which is the only song written specifically for the show and it was written by Gloria and her daughter Emily."
On Your Feet is Leeds Grand Theatre from Monday 23rd to Saturday 28th April. To book www.leedsgrandtheatre.com or 0844 8482700