On a Friday evening at Z-Arts in Manchester a group of youngsters gather to rehearse probably one of the best known musicals of modern time. Les Misérables is the latest show to be produced by Manchester Musical Youth (MMY) following their hugely successful version of Little Shop of Horrors earlier this year at the same venue. As soon as I walked into Z-Arts tonight the unmistakable sounds of this wonderful show could be heard echoing around the building.
With just over 2 weeks to go until opening night rehearsals are in an advanced stage and tonight the cast were perfecting some of the larger ensemble pieces in the show. It can be difficult for groups the size of MMY (59 in this production) to select shows that can cope with such numbers on stage, but Les Misérables fits the bill perfectly. The movie version released in 2012 boasted a cast of 375 credited roles and an ensemble of 1000's.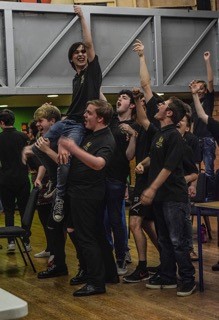 The first thing that struck me watching rehearsals tonight was the dedication these youngsters have to performing. Each and every one of them are uniformly dressed in MMY t-shirts and this uniformity continues in their performances which to be quite honest at times are astounding for ones so young. Another thing that impressed me greatly was the fact that a number of the cast were away due to various reasons tonight but other cast members stepped in to cover their roles for the purpose of blocking the scenes. Each one of these substitutes were word perfect and in my view could quite easily play the roles they were deputising with ease, a further example of the professionalism and talent of this group.
I had the chance to chat to a number of the cast during the evening and what surprised me was the number of them that haven't seen the stage show before and that their favourite moments in the show differ greatly and include 'Lovely Ladies', 'One Day More' and 'Empty Chairs At Empty Tables'. It was also evident that during the rehearsal period the cast have looked into the meaning and background of the songs to help with their performances. The amount of work that goes into producing such shows is rarely seen by the general public and even as one who has seen this process close up it still amazes me.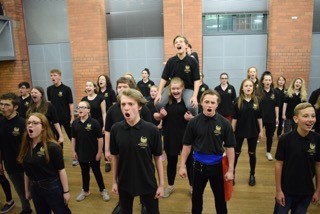 Leading the cast as Jean Valjean is Joshua Kime who I got a brief glimpse at tonight performing, and from what little I saw he has the potential to be one of the best 'amateur' actors I have seen take on the role. Jean Valjean's nemesis Javert is played by Cameron Hall and I look forward to their battles together. Sam Bate takes on the role of Marius, Riccardo Atherton is Gavroche and David Beeby looks like he is going to steal the show with his comedic performance of Thenardier.
Rachel Kevern will play long suffering Fantine and Lara Hancox takes on the role of Cossette (Skye Collier will play her younger self). Eve Rowan plays lovelorn Eponine while Emily McNee plays her younger self. Nelly Tomlinson completes the female principles as Madame Thenardier.
Demand for tickets to see this production have been unprecedented in the history of MMY and as such have added a Saturday matinee performance to meet demand. The show runs from the 20th – 23rd July at Z-Arts in Manchester. Tickets are available from www.z-arts.org and we recommend you don't delay in getting yours. This show will sell out across all performances so don't miss your chance to see one of the most talented and exciting young theatre groups in the area.
Previewer: Paul Downham
Previewed: 1st July 2016