I was pleased to catch up with director, Pip Bradshaw, and chair, Ruth Gibb, to find out about their forthcoming production, the origins of which lie with writers trying to find a new vehicle for Shane Richie after he'd played Danny Zuko in Grease, and so Boogie Nights was born: a jukebox musical which, featuring some of the best disco songs of the 1970's, tells the story of Roddy and Debs and involves a pregnancy, cheating on partners, and a wedding. So, a little adult content which necessitates parental guidance but most definitely nothing to do with the movie of the same name.
Both were keen to point out that Roddy is in fact a likeable rogue, often breaking the fourth wall to engage with the audience, as he pursues his dream to become a professional singer but at what cost? There's happy, sad, naughty, and poignant moments but most of all it's an amazing feel-good show and with live music, it's guaranteed to be fast, fun, and frenetic. Just talking with them got me enthused so I can guarantee the audience is going to be wowed and more with this one. I can't wait.
This is Pip's first directorial role and she had to deal with a couple of real curveballs involving personnel which saw her first taking on production duties before having to manage the late change of one of the principal characters. She clearly took these in her stride though as she talks with some pride about her work with the cast where she has sought to encourage independence and freedom in their performance whilst providing feedback and guidance.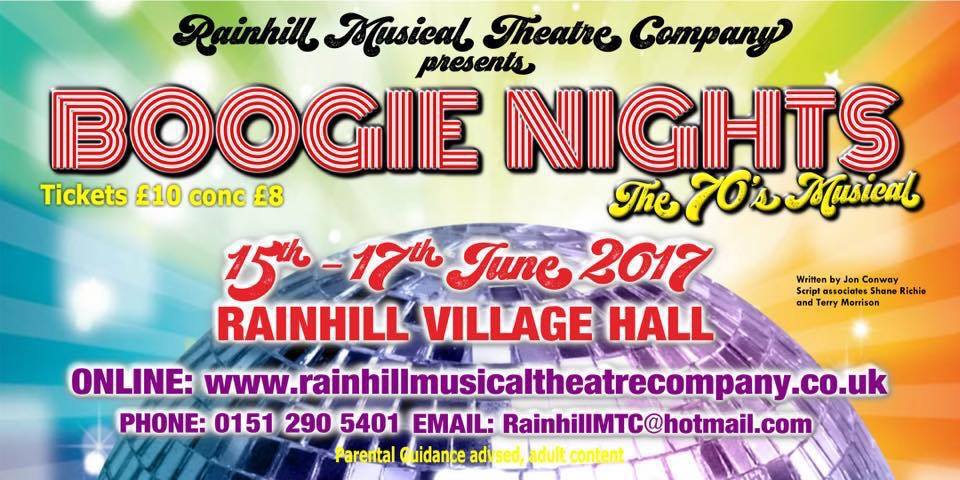 Her appreciation of their development to deliver heartfelt performances with real depth and meaning to the characters they portray is equally matched when they confide in me how her organized and structured approach has helped them get the best from rehearsals. Throw in a young first-time choreographer, Pip's daughter Lucy, to keep everyone on the straight and narrow, and you have the perfect recipe for success as mother and daughter have been able to work closely together to surmount any challenges.
RMTC is in its 66th year and from its base at Rainhill Village Hall reaches out into the local community. They performed at the recent re-launch of the village supermarket and will also have a stall at the Rainhill Village Gala on 29th May as well as performing in the afternoon. Age is no limit with the oldest performing member 79 years young and a youth group, from where many current members have progressed, who will be presenting their own spectacular show of sketch, song, and dance in 'Now That's What I Call A Century' on 1st July at Rainhill Village Hall at 2pm and 7pm.
Ruth notes that their recent shift towards newer, modern shows has injected a new lease of life into the company whilst ensuring there is a role for everybody who wants to be involved, and this is reflected in their recent success at a regional NODA awards where they won Best Musical Director and Best Leading Actor in a Pantomime.
There is one thing these two ladies need though: men. So, gentlemen, if you have an inkling to sing and dance then this friendly and welcoming group could be just what you are looking for.
Boogie Nights performs at Rainhill Village Hall on 15th and 16th June at 7.30pm and on 17th June at 2.30pm and 7.30pm. Tickets are available via www.rainhillmusicaltheatrecompany.co.uk or by telephone 0151 290 5401.
Previewer: Mark Davoren
Date: 24th May 2017