Billed as The Greatest Show on Earth, do you have tickets to witness Barnum tell his own story and watch his life unfold in this spectacular youth production of a show made famous by Jim Dale and Michael Crawford? You'll witness on stage the oldest women alive, Joice Heth, the smallest man in the world, Tom Thumb, and to top it all off, a glamorous Swedish opera singer, Jenny Lind. Phineas T Barnum is only one man who can bring all this to the Hippodrome stage.
With Clowns Juggling, Unicycling, acrobatics, stilt walkers, trapeze and even a tight rope walk - Don't miss the greatest show on earth!!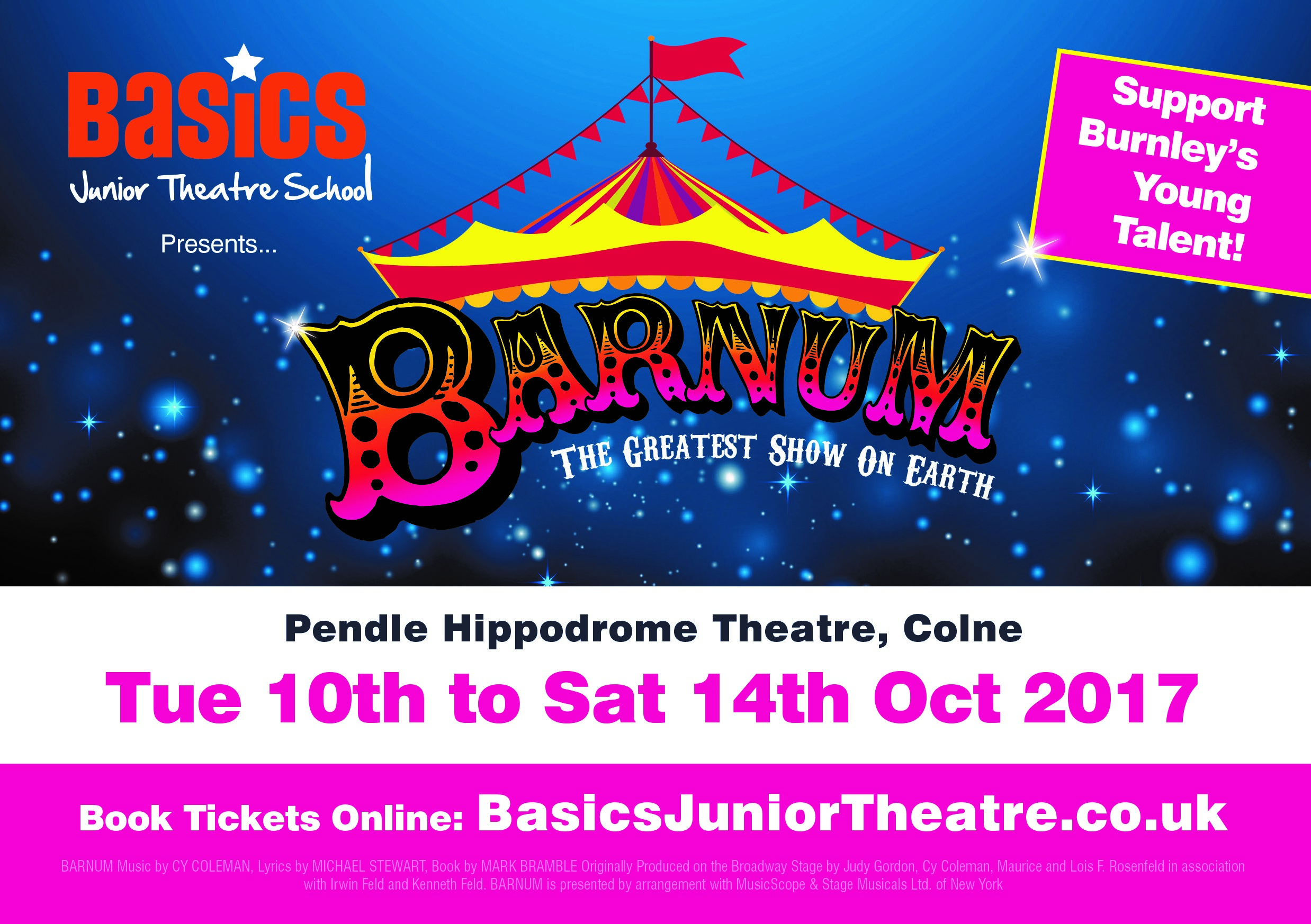 This exhilarating musical follows the irrepressible imagination and dreams of Phineas T Barnum, America's Greatest Showman. The story of his life and his marriage to Chairy reveals a couple who looked at the world from opposite sides of the spectrum, and also reveals that she was the practical one who made his dreams come true. We follow the legendary showman's life as he lit up the world with colour, warmth and the excitement of his imagination and finally teamed up with J A Bailey to create Barnum and Bailey's Circus - the Greatest Show on Earth.
Andy Cooke (Principal) says that Barnum is an amazing opportunity for BASICS students as this show has not been performed in East Lancashire for over 20 years. He said the BASICS senior leadership team are excited to bring this show to the Pendle Hippodrome for a new generation to see.
Quality productions like Barnum cost significant amounts of money. This year the show expenditure will be close to £30,000 - an enormous amount of money that BASICS will be investing in this production. In return, they need to have full houses every night to stand a chance of recuperating this kind of investment.
So PLEASE bring all your friends and family to the circus!
Barnum - The Hippodrome Theatre, Colne
Tuesday 10th – Saturday 14th October 2017 Performances every evening 7.30pm (plus Saturday 2pm Matinee)
Ticket Prices
Tuesday, Wednesday, Thursday evening performances and Saturday Matinee performances: Adults £13, Concessions £10 (Senior Citizens, under 19's)
Friday / Saturday evening performances: Adults £14.00, Concessions £10 (Senior Citizens, under 19's)
BOOK YOUR TICKETS EARLY: www.basicsjuniortheatre.co.uk