The festive season is peak audience for most theatres as they stage big Christmas show to get bums on seats.
The Lawrence Batley Theatre did this too as Artistic Director Victoria Firth looked round for the best Christmas offer they could buy in. But last year they decided to change their festive offer by creating the first ever professional pantomime in the Huddersfield theatre's 23 year history staging a version of the evergreen Cinderella to attract audiences into the building.
"What I found that was having done that for a few years it was really difficult to build an audience, because even though I scoured the country to find the best of what was on offer, some years it would be slightly different in terms of the ages of the children it would be suitable for," notes Victoria. "Sometimes the look and feel of the shows would be quite different, so it was hard to develop that kind of audience loyalty of people coming year on year.
"You just can't get away from the fact that pantomime is a fantastic tradition as everyone recognises it, even people who wouldn't consider themselves regular theatre goers. We certainly knew quite a few schools in our area were looking around to other areas because they wanted a panto to give their children that particular experience."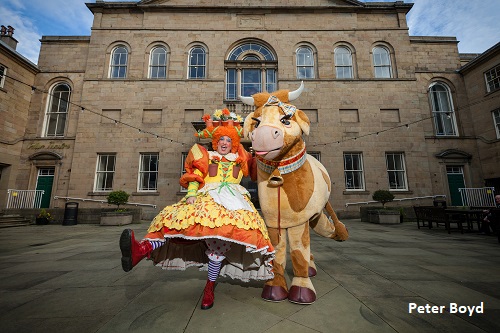 For many children those school trips to see this year's pantomime Jack & The Beanstalk will be their first very trip to live theatre, and a chance to yell 'they're behind you' at a cast of actors trying to manage the chaos on stage.
Despite the potential rewards of a successful panto it was still a big risk for a theatre who have no real tradition of making in-house productions.
"It was a managed risk as we'd saved up a little bit for a couple of years beforehand, and we did a lot planning as we didn't know strongly the audiences would come out in the first year. But at the same time we didn't want to scrimp on anything as if we are going to set our stall out then we have to do it to the level of ambition we have for our audiences."
Most retailers say Christmas is also a key time for them which helps them survive as they battle internet shopping, and for many theatres they need to have a big festive show that fill auditoriums with people loaded up with sweets, a programme and souvenirs as they settle down for the show.
It was one of the considerations when Firth's team decided they needed to go for it and make their own panto that would have strong production values and a lively cast that could compete with other more established seasonal productions.
"It was partly economic as making your own show is quite a big thing to do, and at that time that seemed the best option," says Firth.
"We're in a position where public subsidy for the arts is declining, and we've been affected by that as have most theatres, so we're encouraged to be as innovative and commercial in our approach as possible.
"But we don't want to compromise on our values, or artistic quality, we thought if we develop a pantomime because they are so popular potentially that can generate a bigger office revenue for us, and still be in keeping with all the things we want to achieve. It is still a new project for us, but based on the very successful first year we are hoping it will become quite a solid part of our economy as a theatre."
The risk certainly paid off as people did turn out in big numbers to the extent that this year they have extended Jack & The Beanstalk's run. Cinderella worked last Christmas because it was an old fashioned pantomime with loads of daft antics, pop songs and endless audience participation that involved everyone from grandparents to toddlers shouting out the traditional responses.
Wisely they have brought back panto veteran Joyce Branagh, who directed Cinderella, and Andrew Pollard has brought all his years of playing the dame in numerous productions to pen the words for this year's strong ensemble.
"What we want is that pantomime fits with the rest of our programme so we are hoping that when people have seen it they will come back to see other things.
"We wanted to have all the traditional stagecraft in it that would give people the taste of what they might like about theatre so they could come and see other things that would have good storytelling, strong characters, live music and strong visuals.
"We've had fantastic feedback all the way round, from the schools and audiences of all ages. It was really good for the staff because the pantomime was made here so it's such a buzz to see it being rehearsed, the costumes being fitted and the songs being practiced. To see all that backstage working coming to life, and for all the people who work on the show front of house to have audiences coming out excited, happy and laughing is just good for everybody's morale."
Jack & The Beanstalk is at Lawrence Batley Theatre from Friday 8th December to Saturday 6th January. To book 01848 430528 or www.thelbt.org