Tucked behind the shadows of Rainhill village, you will find the unassuming building that is Rainhill Village Hall. Existing to host local events, classes and meetings, it is home to Rainhill Musical Theatre Company (RMTC). What the building lacks in contemporary décor, it makes up for in heart and warmth which was noteworthy when North West End met up with RMTC ahead of their next production – Aladdin.
In June 2017, RMTC showcased 'Boogie Nights the Musical' which gained superb reviews and multiple NODA nominations setting the bar very high for their next production; Aladdin. Director, Bryan Dargie, has taken an alternative stance on this well-known story by incorporating local humour, whacky costumes and lots of original ideas. He's filled this pantomime with much loved music from Take That, Queen, Kiki Dee & Taylor Swift to entice all ages. Bryan's direction has involved giving the cast very particular character traits and then supporting the performers to explore these personalities with freedom and creativity.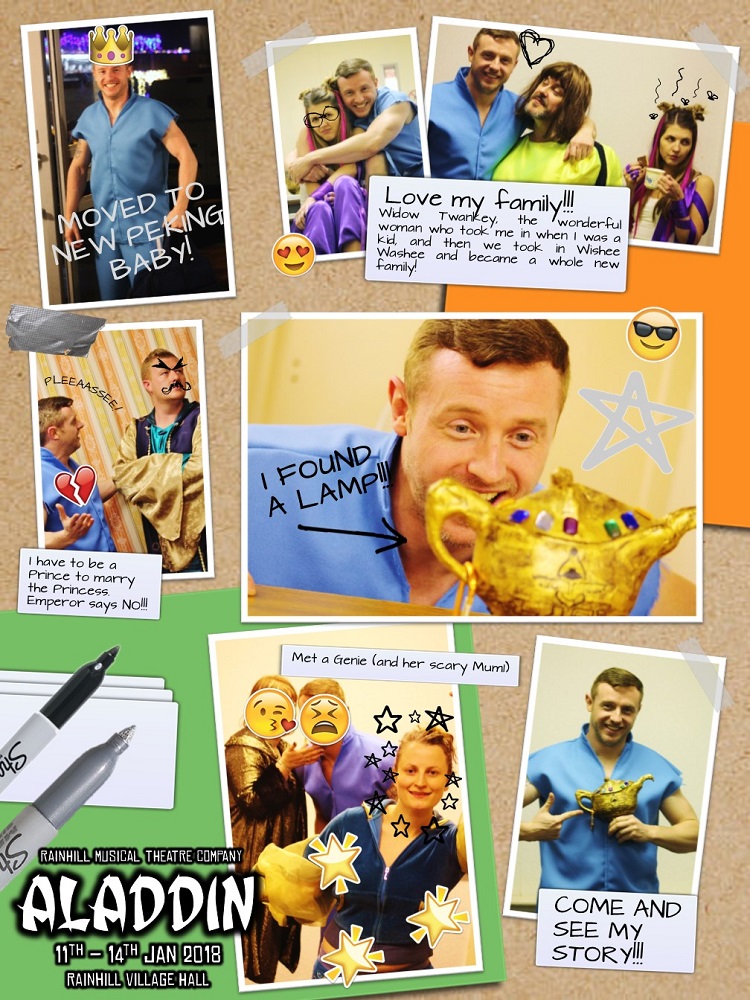 The chorus are small but play a huge part as 'The People of New Peking' who feature heavily in most scenes and dances. Magic is core to this production with supernatural characters such as 'Abanazra' and 'Shabti' probing the morals of good and evil while 'Jeannie', alongside her magical family; her mum 'Trisha' (slave of the lamp) and her aunty 'Tracey' (slave of the ring) provide relatable family amusement throughout.
North West End got the chance to catch up with Aladdin who told us a little bit more about the story, "it was just an ordinary day in New Peking really, my little sister Wishee Washee had been doing my head in so I ran off to spy on the beautiful Princess Blossom instead. I realised it was about time I spoke to the Princess but I needed some flowers to bring first. Next thing I know, I have two lively police constables on my tail for stealing! It's hardly theft when I took the flowers for someone so beautiful, is it? Anyway, after that I met a stranger, a tall lady, dressed in dark clothes and she said she could help me become a prince if I helped her to find an old sentimental lamp in a cave. I said what the 'eck? The footie wasn't starting til after tea time anyway. It was a scary journey to find the lamp, I wish we'd just called an Uber or something but eventually we got to the cave and I found the old lamp! All of a sudden, a scouse mother and daughter appeared from nowhere and began to squabble in front of me! I started to think there was something a little bit weird going on but I trusted the girl–Jeannie was her name."
Aladdin's interview had to be terminated as his mother Widow Twankey called him back home due to an explosive machine emergency in their laundry. If you wish to find out the rest of the story, come along to Rainhill Village Hall on 11th - 14th of January for lots of family fun and entertainment. RMTC have five performances, Thursday 11th, Friday 12th and Saturday 13th of January at 7.30pm and two Matinee performances on Saturday the 13th and Sunday the 14th of January at 2pm. Tickets are available via www.rainhillmusicaltheatrecompany.co.uk Enquiries welcome via by telephone 07948 908693 or email This email address is being protected from spambots. You need JavaScript enabled to view it.