Connoisseurs of the absurd can join Kneehigh Theatre for an evening of singalongs and sharp contemporary political satire when they bring Ubu! A Singalong Satire to Leeds Plauhouse
It's based on Alfred Jarry's ground-breaking play Ubu Roi, which caused riots when first staged in Paris in 1896. This version was conceived by Kneehigh's Carl Grose, Charles Hazlewood and Mike Shepherd, melding Jarry's gleefully rude and deliberately childish script with raucous singalongs to contemporary tunes including 'Toxic' by Britney Spears, Edwin Starr's 'War', 'Uptown Funk' by Mark Ronson and The Carpenters shmaltzy 'Close to You'.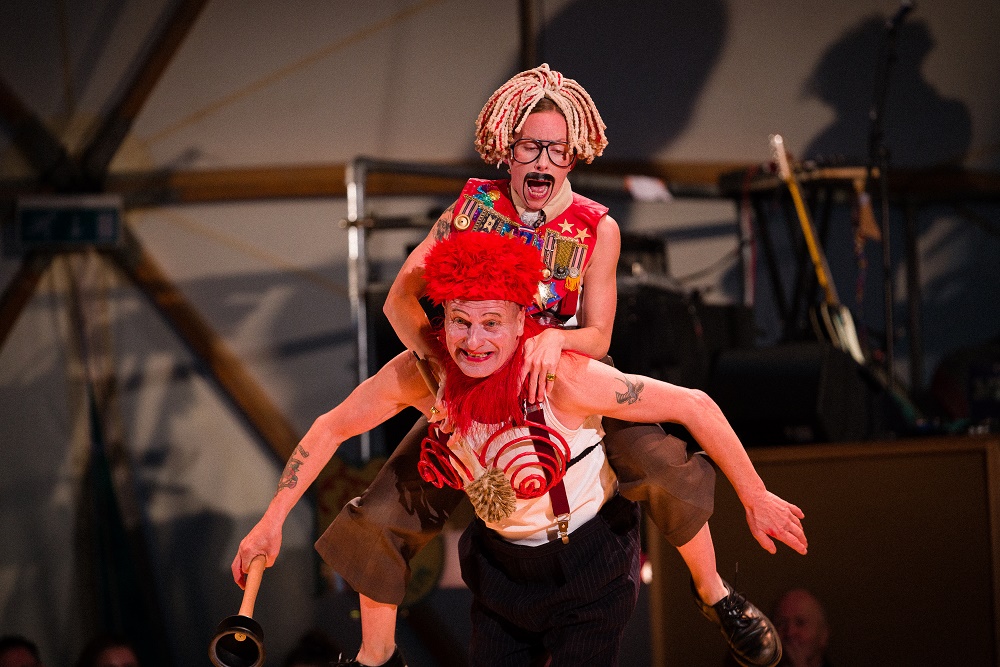 The show is led by Katy Owen's tiny, tyrannical Pa Ubu and Mike Shepherd's pouting, preening Ma Ubu alongside the ever-versatile Kneehigh ensemble, backed by house band The Sweaty Bureaucrats.
"When Alfred Jarry's play received its premiere at the Théâtre de l'OEuvre in Paris on December 10th 1896 there was, so the story goes, a full-on riot," says writer and co-director Carl Grose. "Audiences and critics alike were confronted with sights and sounds of such outrageousness, that pandemonium broke out and the production was shut down after only two performances.
"Like all great artists Alfred Jarry was a disrupter, and Ubu was his weapon of mass disruption. A personification of chaos, a lord of misrule, a howling, hysterical metaphor for greed, lies and corruption. The main character was designed to be both laughed at and despised, and that's still the case. He is here to gather us together as his prisoners, his acolytes, his victims – or his potential usurpers. He is a reminder that those in power will do their damnedest to make their reality our normality.
"It's up to us to collectively remember that there's nothing normal about Ubu and his ilk. His behaviour beggars belief. He is cruel, nonsensical, cowardly, aggressive and beyond vile in his actions. Career-mad, he looks totally ridiculous, puts money over humanity in a heartbeat and has a vocabulary that leaves a lot to be desired."
Kneehigh's Ubu! A Singalong Satire play The Quarry is at Leeds Playhouse from the 4th – 8th February. Box office: 0113 213 7700 or www.leedsplayhouse.org.uk