The Altrincham Garrick Academy of Performing Arts - GAPA - is an organisation headed by Peter Birch and runs several different age-level theatre workshop groups every Saturday morning in various spaces in the theatre building. There is a membership in total of over 120 children ranging in age from 5 to 18. Each year the different groups have the opportunity to perform one full production on one of the Garrick stages, and one revue-style show. However, the emphasis of these courses is not a training ground for entering the profession, but GAPA instead have an ethos of all-inclusiveness and equality. Everyone is welcome on an equal footing and the workshops help to build confidence, team-working skills, and indeed it is also a great place for youngsters to socialise and make new friends.
The performances, nevertheless, are directed and treated, as far as possible, like professional productions, and the aim is to bring out the best of each student in a conducive and non-threatening environment.
This year's main productions are MacBeth for the older group and the Musical Seussical for the younger groups.
I am a little confused about who is performing what and when...... but I THINK this is correct... MacBeth is being performed by the first cast on 15th and 16th March. A second cast then perform on the 18th and 19th March.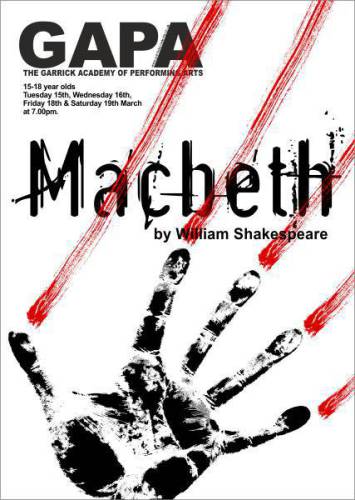 Both productions are in the Lauriston Studio Theatre and the students belong to the 15 - 18 year group. This gives more than one person the chance at a leading role. Seussical is even more complicated. There are three age groups involved in this Musical but there are two completely separate productions of it. Both production use the same set, but are directed and choreographed separately. The 12 - 16 year olds will perform their version on 18th and 19th March, whilst the combined groups of 5 - 8 year olds and 8 - 11 year olds perform their version in the afternoon of Saturday 19th March. All productions of Seussical will be performed on the main stage.
Despite all the different performance times, I am still, sadly, not able to go and watch any due to prior bookings, so instead, I journeyed to Altrincham yesterday morning to catch up with the youngsters and the creative teams responsible.
So, first to MacBeth. I was lucky enough to chat with both actors who play MacBeth, both 16 year olds who although have the same text to speak, have a slightly different take on their character, and I am sure will bring different qualities to this (in)famous role. They are Iwan Rees and William Rafferty. It is the first time either have played a major Shakespearean role and neither seem in the slightest daunted or phased by this - credit to them! But neither are strangers to the stage nor to GAPA, having been in previous productions there.
Sadly Lady MacBeth was at home washing the blood from her hands, but I did get to briefly chat with some of the witches. Weirdly, there are 5 of them. Three witches perform on both variations, but one actress plays a witch in both! Whilst those who are not witches will play minor roles in the alternate performances. The witches are (although don't ask me which witch is which!) Emily Sibley, a 15 year old actress who is awaiting news on her audition for the NYT; Lindsey Clinton, a 17 year old who has been with GAPA for 6 years; Philippa Glarvey, a 15 year old actress wanting possibly to take acting further as a career; and two 14 year olds Chloe Faulkner and Lucy Burke.
MacBeth is being directed by Peter Birch and Grace Garside, and asking them if they have had any problems with the language and the meter of Shakespeare, they seem rather blasé about this, saying that bringing MacBeth into the present day and setting the play in a nightclub is something that the students can relate to. Therefore the meanings of the text are clearer in something which is familiar. And since the start of the play sees the witches singing the Peggy Lee hit, Fever in front of a silver curtain, you know that this is certainly going to be something different. To view a short preview of the play, then GAPA have produced this promo-video… https://www.youtube.com/watch?v=du8MCEKJ5B8
Only time will tell, but from what I saw yesterday, something well wicked this way comes! (With apologies to Shakespeare, but you need to say that in a Mancunian accent!)
And now to the younger groups, and to a Musical that I didn't until yesterday, know anything about. I think everyone will have heard of Dr. Seuss, the American cartoonist and children's poet, possibly most famous for his Cat In The Hat. However, there is now, and has been since its premier in 2000, a Musical using material from mainly the Horton books with music by Lynn Ahrens and Stephen Flaherty.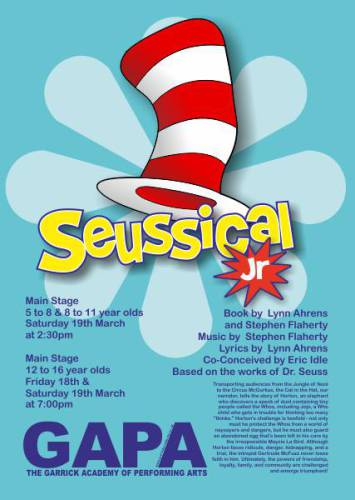 The story is rather convoluted, but centres around Horton the elephant trying to protect the people of Whoville who live on a tiny speck of dust. He agrees to incubate Mayzie's egg, and all ends happily - so I'm told. It's a magical fairy story full of fun and love and some marvellously catchy toe-tapping melodies, with the overall message ringing clear - Be yourself, not what others expect you to be! I cannot think of a more appropriate or lovely message.
In the performances for the older group, the role of Horton is taken by a GAPA first-timer, having only been with the group a few months, however no stranger to the stage having played the title role in Oliver! last year, and wants to make this his profession. He is 14 year old Michael Gaughan. Other leads are taken by Sadie Pear who plays the sassy bird with an attitude, Mayzie; Mellie Royale is The Cat In The Hat, and Nathan Ng is The Boy / Jojo. This version is directed by course tutors Dean Sumner and Jenny Dixon.
The youngest group's version of the Musical sees the 9 year old Hal Seabrook confidently stride into the role of Horton; Evie Cummins as an Aretha Franklyn-styled soulful Sour Kangaroo; Lily Pearson as The Cat In The Hat; Esme Nevitt as Jojo; and Eve Joseph as Gertrude. Directed once again by course tutors Helen Lawrence and Rosie Hynes.
In both productions of Seussical, there is a good mix of those who have been with the group for some years and relative newcomers; a lovely balance between those who already have much experience as dancers, at stage schools, or just performing in school plays; there were even a couple who sing with The Halle Choir; pitched against those who have no previous experience and are trying something new for the first time.
Energy levels are high - the performances are very close - and the excitement and enthusiasm of these young performers was palpable. I am truly sorry not to be able to see the fruits of all your labours, but from what I saw yesterday, then there are three (or maybe four?) excellent shows in the making! I wish you all well; enjoy your stage time and, as they say in Austria, 'toi, toi toi!'
For more information on these two productions and GAPA, please visit www.altrinchamgarrick.co.uk
Preview by Mark Dee
Previewed: 12th March 2016