"Give me this amazing technicolor dream" of a show.
From the moment the choir entered the stage we knew we were in for a treat.
Lucy Kay opened the show as the Narrator and wow, did she own the part. I've never seen so much passion and energy thrown into this part and it made me see the show in a whole new light. Kay's voice is out of this world, going from beautiful soft Soprano voice to full out belting during certain songs. She is a huge talent and I for one am glad she entered the theatre world. Her acting throughout was top notch and her comedic timing fantastic.
This version of Joseph is unlike any I have seen before. It is more up to date with new arrangements of songs and a great amount of comedy running through the whole show.
The lead character was played by former X Factor winner Joe McElderry. He entered the stage in a baggy white outfit and Ugg boots which is a slight change to the original Joseph costumes. From the moment he turned and flashed his smile he had won the audience over. For such an iconic role, McElderry certainly made him his own, with fantastic acting, great movement and brilliant comedy topped off with one huge, amazing voice. McElderry carried every word of every song perfectly but when he got to the end of 'Close Every Door' I had the biggest goosebumps and tears in my eyes. The whole audience were stunned.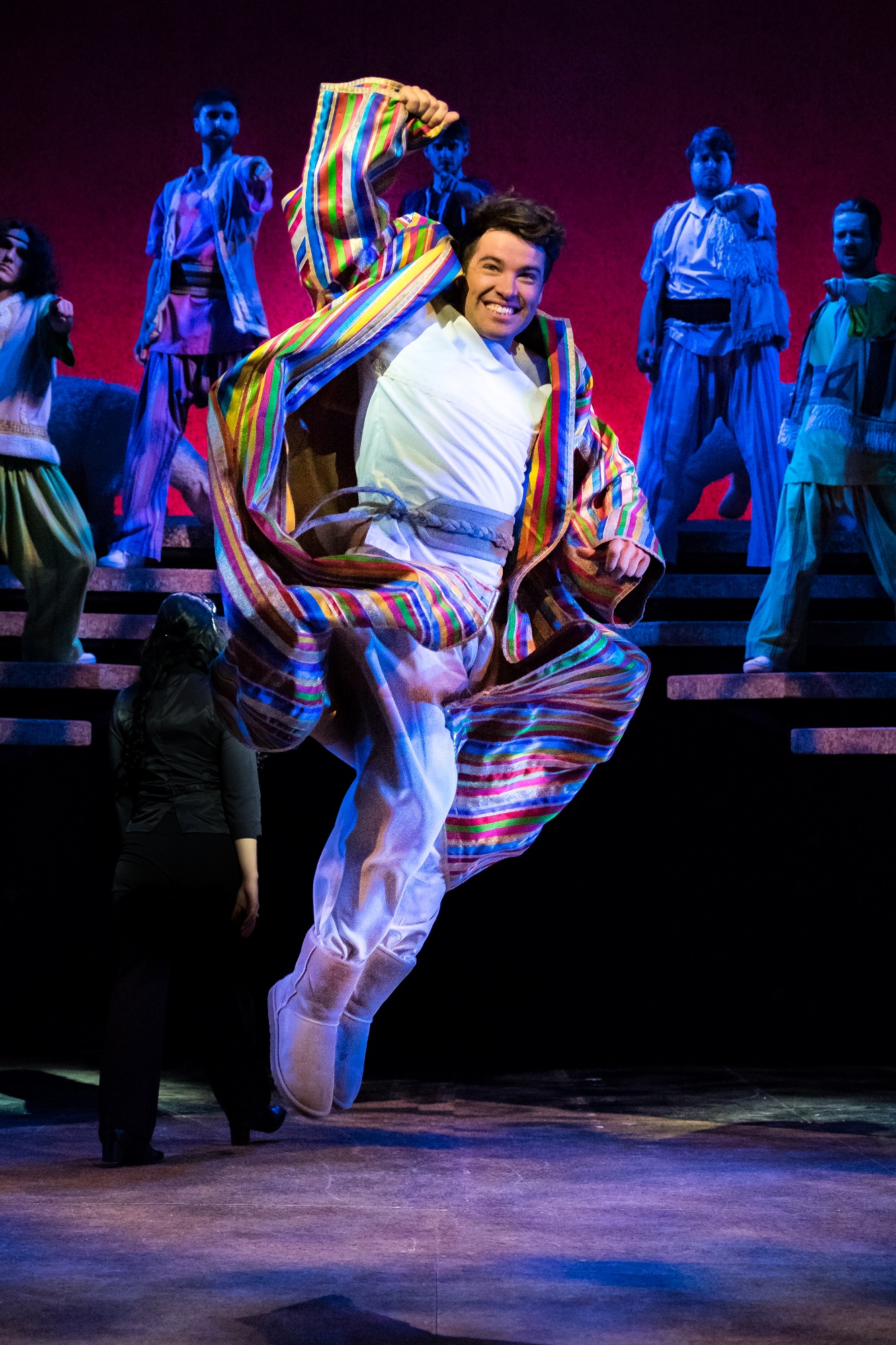 Joseph's 11 brothers were played by a formidable group of actors. Each playing their own character brilliantly but as a whole group had a massive impact with wonderful harmonies, group numbers and routines with moves so in time it had a fantastic effect on the whole audience.
A few of the brothers played other parts in the show. A couple if stand outs were Emilianos Stamatakis, who is making his UK debut in Joseph, as Judah and Pharaoh. Stamatakis' Pharaoh was phenomenal. This part is generally portrayed as an Elvis kind of character and there was no exception here. He was perfect with the curled lip and dancing hips, he had audience members going wild. The next standout was Lewis Asquith as Napthali and the Butler. The Butler was only a small part in the show but it was a hilarious part and definitely stood out as one of the highlights of the show for me.
As mentioned earlier, the show has an updated, newer vibe to it and this was especially apparent when the brothers sang 'One More Angel in Heaven.' Even though the brothers are from Israel they set and sang it like Hillbillies with country dancing and all. It really brought the song into a new life and added a new depth to the part of the show.
The set was fairly simple, mainly a V-shaped staircase with the choir sat on and a few extra pieces wheeled on and off but it was highly effective and the bits of set that were moved was extremely slick. A huge well done to John Kearney and the backstage team as you can see a lot of hard work has gone in to setting this show up and keeping it flowing.
I don't know if I can find enough words to praise Associate director and choreographer Henry Metcalfe. The direction on this show was wonderful and very slick. Everyone had a place to be and they were there. This was one of the best choreographed shows I've seen in a very long time. Every movement, every step were perfectly placed and so stylised. There were many styles of dance in this show including country, classical, ballet and a bit of Fosse style which all added to a wonderful story and show. Not only had Metcalfe created all of the above but he also plays Jacob and Potiphar in the show. Not forgetting Assistant to choreography Camilla Rowland and Dance Captain Jamie Jukes who have clearly worked extremely hard to keep the standards of dance so high.
Music was led by Kelvin Towse and it sounded wonderful the whole way through. Lighting was designed by Nick Richings and it added so much depth and character to the show, especially during 'Joseph's Coat' where they changed each time a colour was sung.
The costumes were fantastic and so many used. There were numerous quick changes which happened very smoothly and with great speed. Wardrobe was headed by Alexandra Stewart and team so a huge well done to you all.
Not forgetting the onstage choir who were provided by Stagecoach Theatre School, Chester. There are 2 teams of children and they are brilliant, on stage during the majority of the show adding wonderful vocals and warmth to the show.
Overall, this is an absolute joy of a show and if you get the chance to see it, do so.
At the Floral Pavilion, New Brighton until Saturday 28th May 2016.
Reviewer: Damian Riverol
Reviewed: 24th May 2016
Picture: Mark Yeoman