An Accomplished Production - Insightful, Incisive and Thought-Provoking
Bread and Circuses is a new play by Merseyside writer Mari Lloyd and premiering at The Lantern Theatre Liverpool. Set in 2012, this is the year when Britain celebrated the Queen's Diamond Jubilee as well as hosting the Olympic Games and the corresponding national pride that evoked. It was also one of the lowest points during the recession and the play dares to look behind the flag waving of public celebration to reveal 'a world where there may be circuses, but the bread is definitely in short supply.'
The stage is set with a backdrop of ten photographs, each one carrying a question in relation to an aspect of inequality that demands consideration but are so often overlooked. It transpires that these are by photojournalist Colin McPherson and featured as part of the nationally acclaimed A 41 project. www.colinmcpherson.com
The cast of five - Sheila Jones; Danielle McLauren; Roisin McCusker; Franklyn Jacks; Richard Carlin - are sat facing the audience with a minimal set of props. Carlin rises, camera in hand and, ready to photograph, breaks the Fourth Wall and addresses the audience on the power and purpose of photography, a point which is reinforced throughout the evening by cast members in turn, and often with an accompanying and piercing observation: if you haven't got a story you're only a statistic; looking and seeing are two different things - what matters is the relationship, are but two of the lines that serve to drive the separate yet interconnected pieces that followed.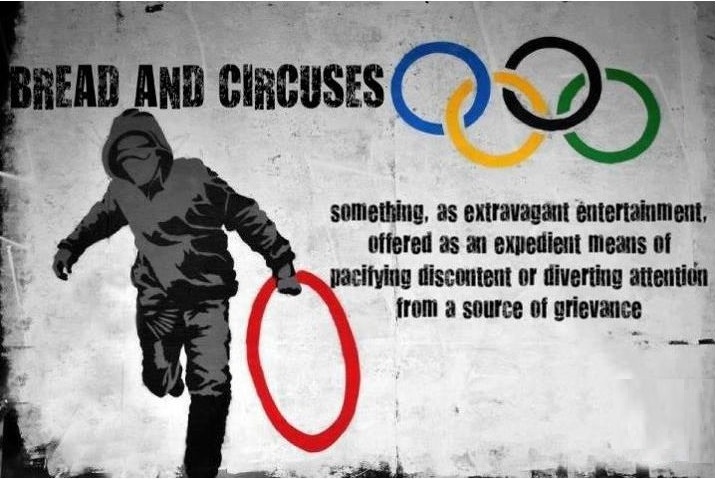 We are presented with over 30 vignettes of social observation, drawing out scenes that we can all recognise, whether because we've been there or because it is what we purposefully avoid, either as participants or observers. Is your head up or down when you walk along the street: what do you choose to see or ignore we are asked.
There are scenes of contrast - banquet vs. food bank; celebrity adoration and how far we may go to emulate that special person; the role of tabloids - scandal and exploitation; and sadder themes, including one that perhaps shame us the most - social isolation.
Some pieces were played for laughs that were deservedly heard from the audience; many had a twist in the tale part-way through that made you stop and think; and yes, some were sad and made you question what you would do. But all of them were tinged with reality.
And we also celebrated the Queen's Jubilee, the London Olympics and afternoon tea at Claridges which served to highlight a completely different set of values. Pause for thought: as we approach the Queen's official birthday (this weekend if you're wondering), the European Championship and the Olympics in Brazil four years on from when the play is set and we are apparently in better times, why do these issues and challenges presented tonight still resonate? Why haven't they gone away? Why do we still try and avoid them?
Directed by Rob Henderson and his assistant Lydia Searle, this was a wonderful and thought provoking piece of theatre that demands to be seen. It doesn't give you the answers but it does present you with a lot of questions to contemplate and work out what your values are. All of the cast were fantastic and the pieces came and moved together seamlessly. It was an enjoyable evening but one that comes armed with much food for thought and knows its audience is intelligent enough to ponder it.
Lantern Theatre Liverpool is an intimate, family run venue, nestled in the heart of Liverpool's creative playground that makes it the perfect location for unique, ground-breaking theatre. Details of this and upcoming productions are available on the website www.lanterntheatreliverpool.co.uk
Lantern Theatre Liverpool is a fringe venue whose main purpose is to promote and support exciting new work in theatre, music and comedy, acting as a springboard for emerging artists in the industry. With much relevance to tonight's production, this is not something that you measure in pound notes, its value is so much more than that and sadly the ongoing news remains the same - Lantern Theatre Liverpool's building has been sold as part of a development scheme and from the end of July they will be without a home.
Now the slightly better news - they have found a new venue in Liverpool but are unable to access any funding from the Arts Council. They need our support to keep this worthwhile journey going so whether that be through crowd funding or you are, or you know, a potential benefactor who will allow them to continue with their work unimpeded, then get in touch with them. www.lanterntheatreliverpool.co.uk
Bread and Circuses plays at The Lantern Theatre on Friday 10th and Saturday 11th June, both evenings at 8pm. Bookings can be made by telephone 0151 703 0000 or via the website www.lanterntheatreliverpool.co.uk
Reviewer: Mark Davoren
Reviewed: 9th June 2016
North West End Rating: ★★★★