THAT'S ENTERTAINMENT is a dazzling song and dance extravaganza jam packed with the greatest hits of the 40's and 50's. Iconic stars such as Judy Garland, Duke Ellington and the Rat Pack are celebrated throughout the show as well as hit songs from much loved musicals such as South Pacific and Carousel. Leading the production are Loula Geater, Emma Kate Nelson, Simon Schofield and Sean Smith who all impressively transition from different roles with ease, showing their versatility as performers as well as their stamina and commitment to the show. Their performances together in collaboration were smooth, smile inducing and full of energy whilst continuing to maintain a special star quality.
Particular highlights from the show include 'Knees Up Mother Brown', 'It Don't Mean A Thing (If It Ain't Got That Swing)' and 'You'll Never Walk Alone' which was, of course, a crowd favourite due to the connection with Liverpool Football Club and received a standing ovation from many who were moved in the audience. The show is energetic from start to finish and full of all the glitz and glamour that the period was renowned for. Faults were minimal in the show. The performers glided through each sequence seemingly effortlessly however a noisy curtain drop from time to time and issues with mic volume was unfortunately distracting from the impressive performances that were taking place on stage.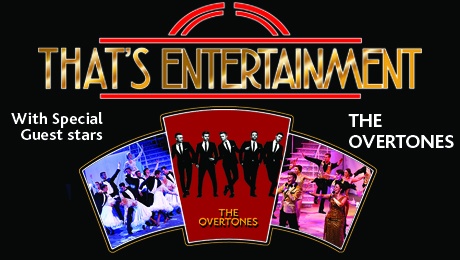 An important mention should obviously be given to The Overtones who were the special guest stars of the show. The five-piece vocal harmony group have achieved brilliant success over the years having sold over 500,000 copies of their first album and their fifth consecutive album charting in the top 10 in the UK. The group appeared on stage dressed impeccably and oozed charm and charisma at every opportunity; often charming the ladies near the front who appeared to be very passionate fans from all of the whooping and chair dancing that was occurring. Their harmonies were a joy to listen to and their friendly, laid back persona resonated well with the Liverpool crowd who were very pleased to have them on stage. A mic issue was handled professionally by the lead singer of the band, Timmy Matley, and would probably have gone unnoticed by many in the audience. They were clearly a crowd favourite and promised to return to Liverpool soon after expressing their love for visiting and performing in the city.
Fans of the 40's and 50's will not be disappointed by going to see this show. It encompasses everything you would expect when hearing about such a production and will cause you to leave the theatre thinking fondly of past times and your favourite music and musicals from that period. I would urge anyone with a passion for this music and period to go and see THAT'S ENTERTAINMNET. The show remains in the Liverpool Empire until Saturday 18th June so get tickets while you can!
Reviewer: Sarah Goldsmith
Reviewed: 14th June 2016
North West End Rating: ★★★