Sheffield People's Theatre return to stage the world premiere of local award winning writer Chris Bush's comedy "A Dream", a modern day mash up of Shakespeare romance, from Wednesday 13th - Saturday 16th July at The Crucible Theatre.
'Kiss me tonight. Anything else can wait 'till morning.'
It's Midsummer's Eve and there is mischief in the air. Music blasts out from the city below. The drinks are freely flowing, songs are sung, and the band is performing to a crowd of merry revellers. Meanwhile, the staff at the Northern Generals' A&E department are bracing themselves for another busy evening. As the night sets in, the A&E doors are in constant swing with some vaguely familiar faces, some of which appear to be under the influence of something very powerful…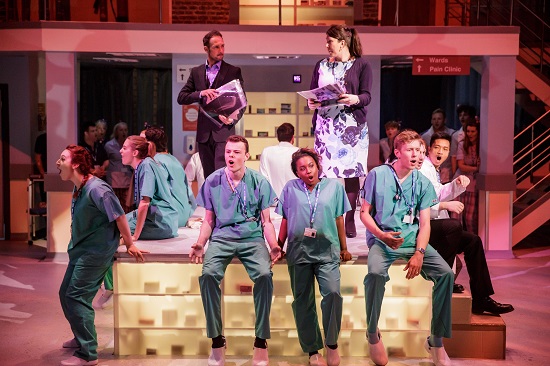 'A Dream' reunites us with some well-loved Shakespeare characters but reimagined for the 21st century with some twists and turns. With characters from the likes of Romeo and Juliet, The Tempest, Anthony and Cleopatra, Twelfth Night, As You Like It and of course, A Midsummer Night's Dream, 'A Dream' is a fantastic mixture of romance and comedy, with the odd occasional song thrown in for good measure. Made up of a cast and crew of over 100 locals from the Sheffield community, ranging from the age of 12-88, this modern day musical mash up has something in it for everybody.
The stage set is truly a dream in it's self, complete with several swift complete changes, from the raised stage complete with live band at the opening scene, teamed with metal security barriers, a Police Officer and Security Guard, to a two levelled hospital complete with lift and waiting room, and later an impressive pharmacy. At several points of the performance every inch of the stage was occupied by a cast member; with up to seventy cast members at a time. The songs and music add to the magic of the performance. With such a large cast with various leading characters, all giving an equally fantastic performance, however the two which gave the most memorable performances of the evening are Jonathan Syer as Mr. Ramsbottom, a member of the NHS staff, who gave the most comical performance of the night with his slightly bonkers character, giving hospital patients a script to memorise for an upcoming interview documentary being filmed in the hospital, and Mariah Louca as Tatiana, "Queen of Medicine" and "The Beyonce of palliative care", as without her, the 'dream' would never have taken place.
Sheffield People's Theatre was formed in 2011 by Andrew Loretto with the aim to give the opportunity for locals to be involved with theatre, both on or off-stage. The company offers at least one major production each year, with auditions available for anybody over the age of twelve with a passion for performing, alongside a range of other events and workshops.
'A Dream' is both gripping, entertaining with twists and turns from start to finish directed by Emily Hutchinson. With only a few more performances left, if you haven't already booked your ticket there is still time to catch this wonderful performance by a huge cast of local performers.
Reviewer: Lottie Davis-Browne
Reviewed: 13th July 2016
Rating: North West End Rating: ★★★
Photo: Mark Douet