The studio at the King's Arms is a compact space, perfect for a one woman show such as this. It begins with the timeless and haunting ethereal strains of Kate Bush's classic, Wuthering Heights, which more than adequately sets the scene. A dark evening, somewhere in the North, out on the wily, windy moors, Rosie Barton, played by Hannah Torbitt, has ignored the warnings about flooding and driven across the moors, only for her car to aquaplane in a foot of water and crash into a ditch. Likewise, Rosie crashes onto the stage dressed in her glad rags and glittering high heels. She comes careering unceremoniously to the floor as her shoe strap snaps; the fall was so realistic that I almost got up to help her. It transpires she was on her way to a vicar and tarts party (she doesn't normally dress like this).
Rosie was once a local reporter, now a young mum, married to Martin who is a sports reporter. Rosie loves being local and loves the moors and the small town far below. ("I live and breathe this town") but Martin, she tells us, foolishly dreams of the city lights and of providing the sports headlines in London.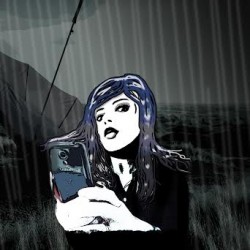 The monologue is addressed to the audience as sheep, as though Rosie, alone and vulnerable on the moors, is talking aloud to calm her nerves. The show is described as a "tragi-comedy" and there are certainly some very amusing moments and a fair amount of tragedy as well, as we guess how Rosie's life is unravelling, through a series of desperate phone calls for help, long before it finally dawns on her.
The twenty-five minute monologue showcases the talents of a spirited, gutsy young actress. Hannah Torbitt's delivery is enthusiastic, engaging and credible.
The use of sound is very effective, from the almost constant use of background bleating of sheep which very evocatively conveys the isolated loneliness of the moors.
The script, by Barbara Marsh, is well-paced and certainly holds the attention. If it was longer it would lose something. It is tight, compact and enjoyable. In the small space at the King's Arms this is an intimate and memorable show.
Reviewed: 8th September 2016
Reviewer: John Freeman